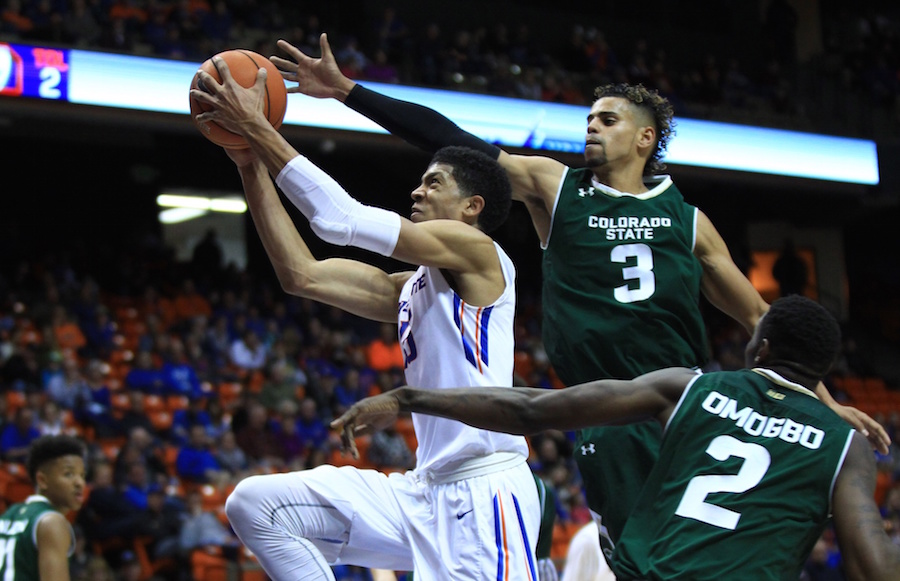 Read this story at CSURams.com
In its first road game of the Mountain West schedule, Colorado State could not hold off the hosts in the final minute and fell at Boise State, 74-73, Dec. 31. With the loss, the Rams fell to 9-6 overall and 1-1 in league play while the Broncos improved to 9-4 and 2-0 in conference action.
The two teams battled back and forth in the final 20 minutes as the game was tied at 69 with 2:17 to go in the game. On CSU's next possession, senior forward Emmanuel Omogbo put back a CSU miss for a two-point lead. A turnover and layup by the Broncos tied the game at 71 with 1:05 to play. The Rams could not score on their next chance but got the offensive rebound. Sophomore forward Braden Koelliker hit a fade away jumper as the shot clock expired to put the Rams up with 4.1 seconds to play. However, Chris Hutchison drove the length of the floor and banked in a highly-guarded three-pointer as time expired for the victory.
"I thought there was less time on the clock but they had just the right amount of time. We told them they were going to loop Hutchison and Gian (Clavell) did a great job on defense as he didn't get to the rim. He (Clavell) got a hand on it and he bobbled it," head coach Larry Eustachy said postgame.
Both teams got off to a good start shooting the ball as it was 10-9 CSU early on before the Broncos took a 3-point lead at 13-10 with 13:29 to go in the opening period. CSU then put a 7-0 run together to take the lead and Boise State tied it at 17. However, the Rams held the Broncos scoreless for almost five minutes and eventually took a 32-25 lead into the halftime break.
For the game, CSU shot just 22-of-56 (39.3 percent) while Boise State was 26-of-59 (44.1 percent). The free throw line was solid again for the Rams, as they were 21-of-25 (84.0 percent) as compared to 17-of-30 (56.7 percent) for the Broncos. Boise State won the boards, 39-37. 
Senior guard Gian Clavell had 22 points, while Omogbo scored a career-high 22 points and added eight rebounds and three assists. Sophomore guard Prentiss Nixon added 10 for the Rams. Boise State was led by Chris Hutchison with 20 points, while Paris Austin had 18.