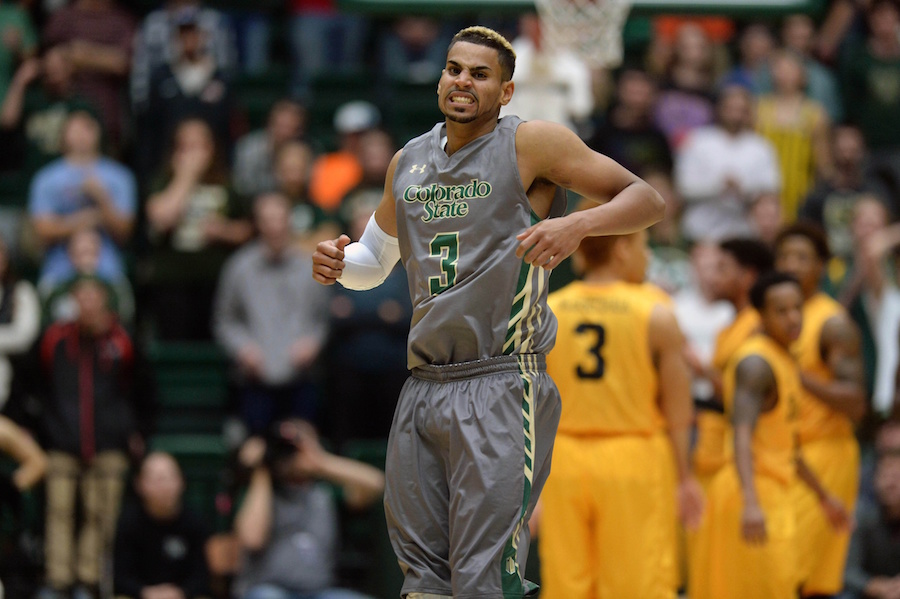 Read this story at CSURams.com
The Colorado State men's basketball team made a furious comeback but couldn't get the final bucket in a 56-55 loss at Long Beach State, Dec. 22. With the loss in their non-conference finale, the Rams fell to 8-5 on the season, while the 49ers improved to 5-10 on the year, winning their 10th straight home game.
Colorado State had another slow start in the first half, shooting just 7-of-30 (23.3 percent) from the field, but solid defense, including 8 Long Beach turnovers, kept the Rams close at 29-22 LBSU at the halftime break. The Rams trailed by as many as 15 in the second half, but put together a 13-0 run to cut the margin down to two. From there, there were several exchanges of points in the final five minutes, as CSU took the lead twice in the final two minutes. However, senior guard Gian Clavell's runner came up short as time expired. 
"I am not surprised about that early struggle because we are young. We are just really, really young. We are blending a player that has been out for a long time into this team. My only regret after the game was that Gian Clavell took that last shot. And I didn't listen to myself. I know better. My instincts are almost always right and Prentiss or Jeremiah deserved to," head coach Larry Eustachy said postgame.
CSU shot 40.5 percent (15-of-37) in the second half to climb back in the game and finished at 22-of-68 (32.4 percent). Long Beach State was 31.3 percent overall (21-of-67) and just 8-of-35 in the second half. Boards finished in favor of Long Beach State 56-45, including 22-14 on second chance points. CSU did win the turnover battle 15-7 and outscored the 49ers 14-3 off those turnovers.
Redshirt-freshman forward Nico Carvacho and sophomore guard Prentiss Nixon led the Rams with nine points each, while redshirt-sophomore J.D. Paige added eight. Senior forward Emmanuel Omogbo led CSU with nine rebounds along with his six points. Long Beach State was paced by Gabe Levin and Evan Payne with 16 points apiece.