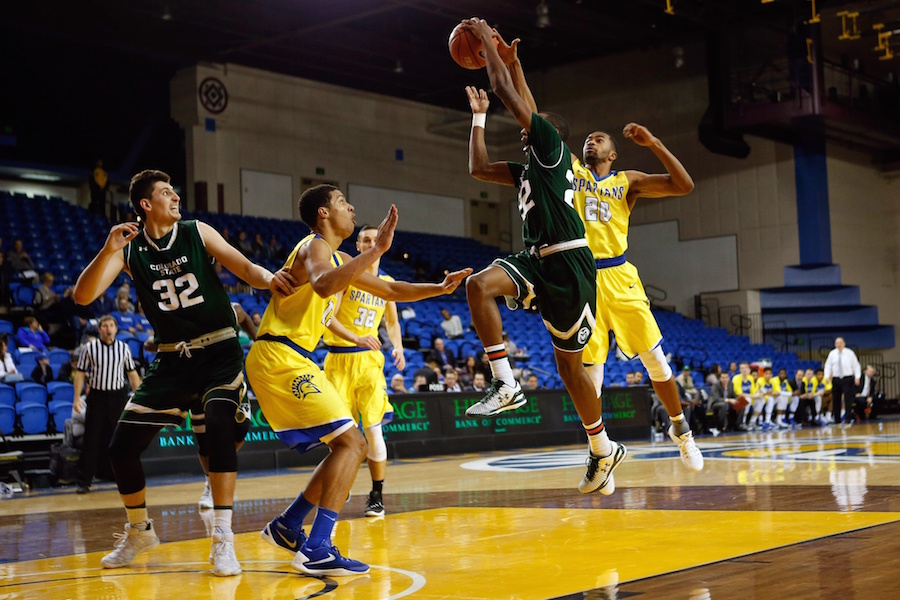 Read this story at CSURams.com
Colorado State picked up its first Mountain West road win of the season by holding off a pesky San Jose State squad, 76-71 at The Event Center, Jan. 4. With the victory, the Rams improved to 10-6 on the year and 2-1 in conference play, while the Spartans fell to 7-6 and 0-2 in the league.
The Rams opened the game on a 13-0 run, but the Spartans came back immediately with a 20-2 run of their own to lead 20-15 with 8:29 to go in the first half. CSU had a 6-0 surge at that point to re-take the lead before exchanges of buckets the remainder of the period before the visitors took a 34-31 lead into the halftime break.
CSU took the lead for good on a layup by redshirt-sophomore J.D. Paige with 13:04 to play and built as much as an eight-point lead in the second half. However, San Jose State cut it down to just a one-point margin at 72-71 with 1:43 remaining. Paige came up big with a jumper with just over a minute to play to make It a three-point game and senior forward Emmanuel Omogbo canned two free throws with less than four seconds to go to seal the victory.
"How resilient is this group of guys?!" head coach Larry Eustachy said postgame. "It was recently announced that we will be without players and late in the game, I let them played tired and kept those guys out there to finish it. I thought Braden (Koelliker) was huge. The only mistake I made was that Anthony should have been in there more because he is as good as the other guys. We're going to have to play near perfect. We absorbed Emmanuel missing some baskets he always makes but he was huge defensively. I challenged Gian and said if we were going to win these games, you've gotta make big shots and he did. And how about J.D. Paige – that basket was for the game. I just love this group of guys. I can't say enough about them."
The Rams shot 46.6 percent (27-of-58) from the field while the Spartans were 41.8 percent (28-of-67) from the floor, including 9-of-26 from the three-point arc. CSU made the free throw line count, going 18-of-24 (75.0 percent) as compared to just 6-of-8 for the hosts. The Rams won the battle of the boards, 37-33, while both teams had eight turnovers on the game. 
Colorado State had four starters in double figures, led by Paige and sophomore Prentiss Nixon, who scored 18 points each. Redshirt-senior guard Gian Clavell had 15 points, while Omogbo posted a double-double of 13 points and 11 rebounds.