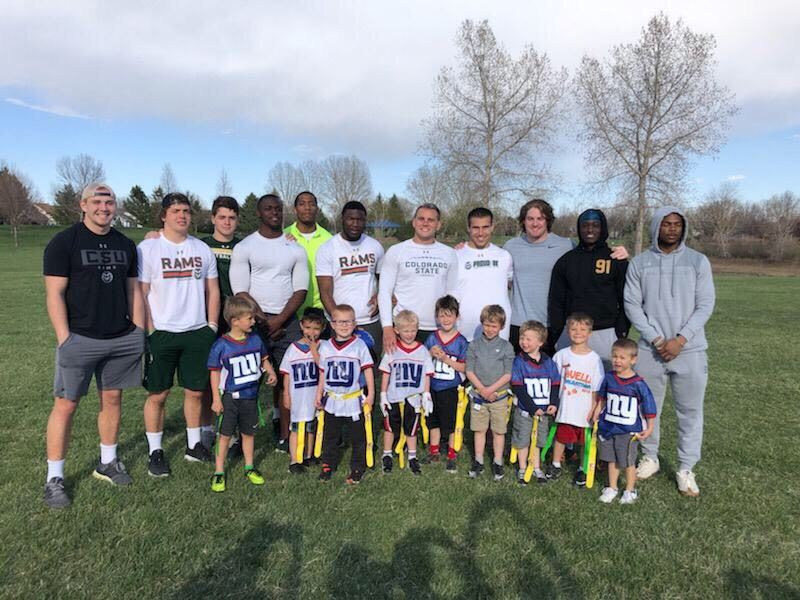 Courtesy of CSURams.com
For the second consecutive year, Colorado State junior fullback Adam Prentice has been nominated for the Allstate AFCA Good Works Team, a group selected annually for the contributions they make off the field.
The 2019 team will be narrowed down to 22 players on Sept. 12 from today's list of 137 nominees, 11 from FBS and 11 from FCS, Divisions II, III and the NAIA, along with one honorary head coach. To be considered for the team, each player must be actively involved with a charitable organization or service group, all while maintaining a high academic standing.
In the past two seasons, Prentice has made an impact away from Canvas Stadium. He takes part in elementary school visits, be it going to local Fort Collins schools to take part in the Reading with the Rams initiative, or groups of students coming to campus to spend time with athletes.
He also helped run events at a local elementary school carnival, interacting with them all evening, and helps coach youth football. Any occasion he is around the youngsters, he likes to explain to them the importance of education.
For the past two years, he has been involved with a Night To Shine, a prom-like event for students with special needs sponsored by the Tim Tebow Foundation, serving as a companion for a guest.
In May of 2018, he took part in CSU's Green and Global Campaign, joining 11 other athletes on a trip to Petersfield, Jamaica. He lived with a host family for 10 days, meeting with students of the community and helping to resurrect the community park and putting down gravel for the placement of a new playground at an elementary school.
Prentice believes giving back to the community influences others to do the same.
"It's important to do these little things. You don't know how it's going to affect somebody else, or somebody else can see you be involved in these things, and they'll be like, I want to do that, too," Prentice said. "It's only going to create good and spread that good.
"We all have a lot more to give. I just think if we have that time, then we should give it and use everything in our power. Life is short. You never know when your last day is going to be, so you might as well put everything into everything you do."
Prentice, a civil engineering major who is interning with CSU's facilities department, was named one of four season team captains by his peers in 2018. He played in every game, starting in six when the Rams employed a fullback on the first play. He finished the year with 16 carries for 62 yards, catching four passes for an additional 26 and led the team with nine special teams tackles as he earned academic All-Mountain West honors.