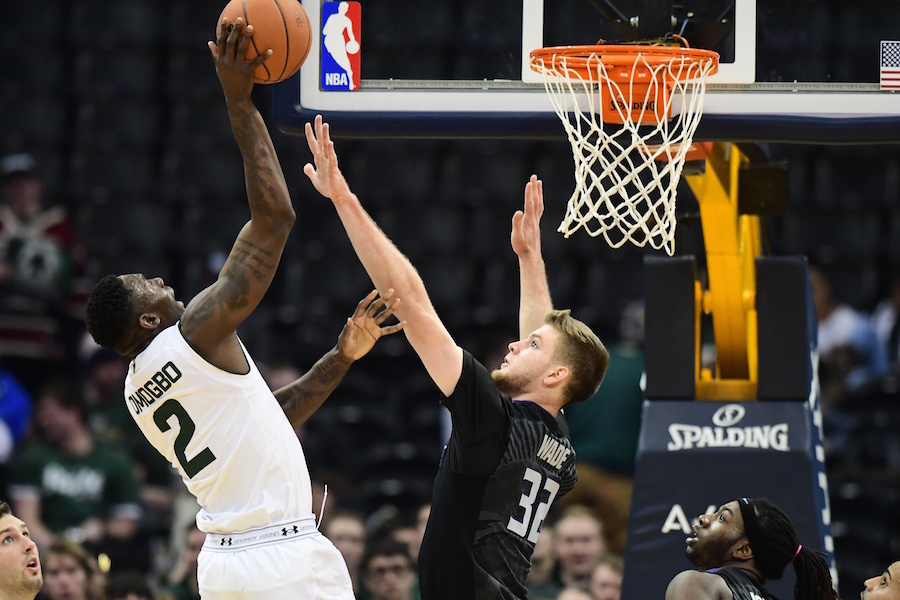 Read this story at CSURams.com
The Colorado State's men's basketball team couldn't hold off the Kansas State Wildcats in the #DUELinDENVER and fell 89-70 at the Pepsi Center, Dec. 17. The loss drops the Rams to 8-3 on the season, and bumps the Wildcats to 10-1.
The Rams came out hot and opened up an eight-point lead, holding a 29-21 advantage with 7:29 to go in the first half. It was all Kansas State from then-on though, as the Wildcats closed the half on a 23-8 run, taking a 44-37 lead and all of the momentum into the locker room. Timely three-point shooting from the visitors paired with a myriad of turnovers from the Rams, squandered any potential Colorado State comeback attempt, as the Wildcats saw their lead reach as high as 23 in the game's final minutes.
Sophomore guard Prentiss Nixon, senior guard Gian Clavell and junior forward Emmanuel Omogbo scored 59 of the Rams' 70 points, led by a career-high 30 points from Nixon.
"Prentiss was really good today," head coach Larry Eustachy said postgame. "Not because he scored 30 points, because he really showed a lot of leadership- a lot of heart. He stepped out and was able to move forward. You just see him getting better and better. Strictly against better teams."
Sophomore guard J.D. Paige and freshman center Nico Carvacho were held scoreless as starters, and Jackson (6), Bob (3) and Koelliker (2) accounted for the Rams' only bench points. Omogbo's 13 points, paired with 11 rebounds, gave the senior his fifth double-double of the season and 13th in a Colorado State uniform. Senior forward D.J. Johnson led the Wildcats with 19 points, 10 rebounds and three blocks. 
CSU shot 40.4 percent (23-of-57) from the floor, including 36.8 percent (7-of-19) from behind the arc, but couldn't get baskets when they needed them most. The Rams turned the ball over 14 times, which resulted in 21 points for the Wildcats, compared to just seven points of nine turnovers, conversely.