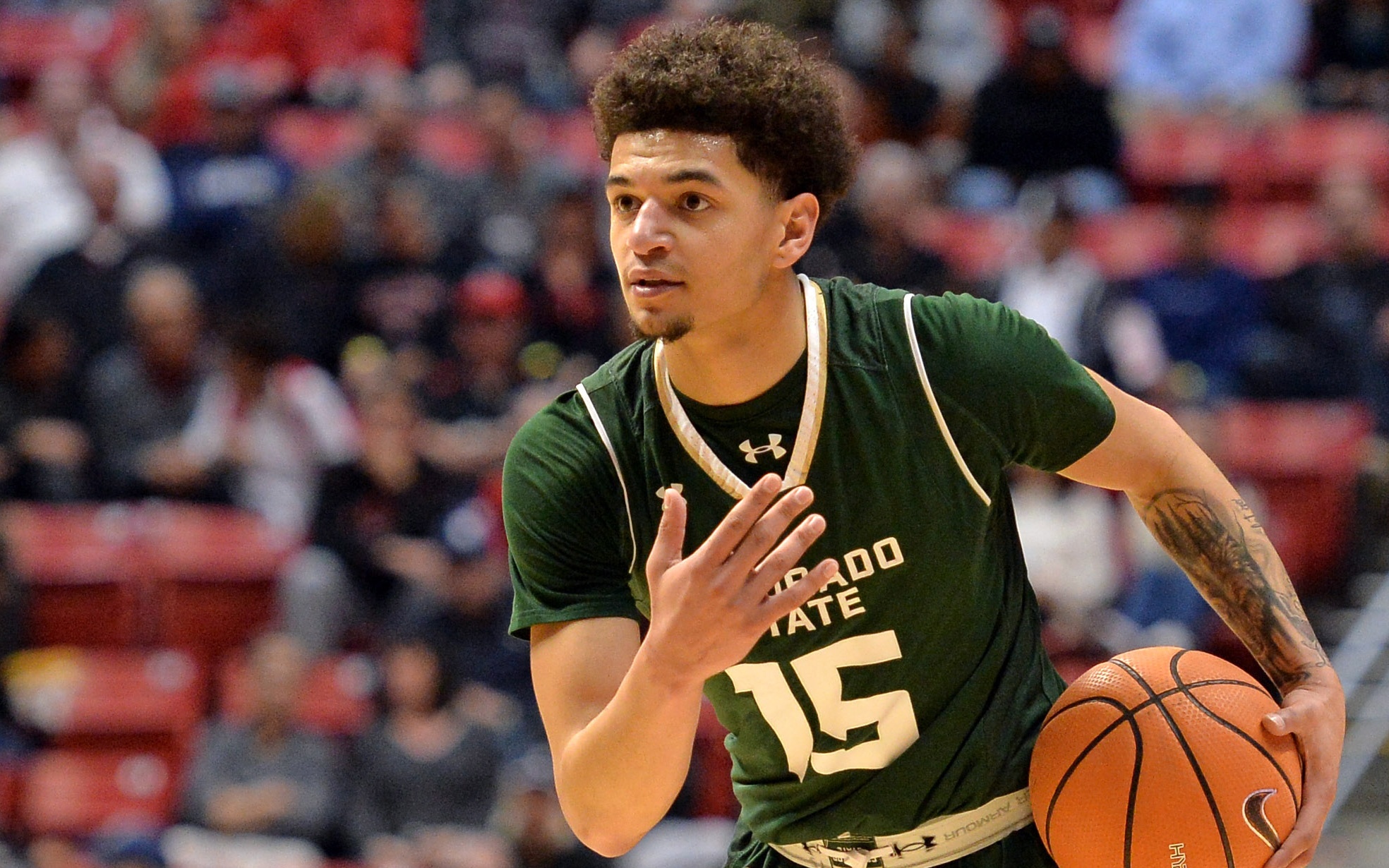 For the first time in eight games, Colorado State celebrated the final buzzer Saturday after cruising to a 90-79 victory over San Jose State.
For Jase Herl, it was his first game as head coach – following Larry Eustachy and right-hand man Steve Barnes being placed on paid administrative leave – and the young head coach had a message to his team: "Have fun."
"Everybody stated playing the game of basketball for the same reason, whether it was at eight years old, or five, or 14 or 15 like 'Quan' (Raquan Mitchell). You go out there because you get to play with your friends and get to have fun," Herl said Saturday. "So that's what we wanted it to be."
After two long weeks of having to play through coaching changes, hearing about their coach being placed on administrative leave through the media, the men's basketball team boycotted practice last Thursday. Then, they finally met with Athletic Director Joe Parker, and Parker also placed Barnes on leave, telling Herl the morning of the game he would take over as head coach.
At only 30 years old, Herl is the confidant of the players. They trust in Herl, and the youthful head coach knew it was important to not only get a win, but for the student-athletes to enjoy the game once again.
"He's just for us," breakout star forward Nico Carvacho said of Herl after his career-best game of 26 points and 20 rebounds. "We have a really good relationship off the court with him, I think all of us do. It just helps on the court. We just went out there, played for him and he coached for us. And just had some fun."
It's incredible what athletes can do when they step out of their own way, get out of their head, and just have fun. These are, after all, games; they should be fun, exciting, exhilarating, not supremely stressful as they worry they'll be berated for the smallest of mistakes.
When the Rams had fun Saturday – for maybe the first time during conference play this year – Carvacho enjoyed a truly dominant performance. But, it was also all about the little things for this team, this group of unique guys from all across the country who have banded together to become a force on the court.
The little things, like Anthony Bonner being asked to be aggressive in his scoring, helping him have the confidence to be a sharp-shooter. With Herl in charge, Bonner looked like he could be the team's sixth man, going 7-10 from the floor to score 19 while also snagging three rebounds.
The little things, like Robbie Berwick being given a longer leash and looking better than we've ever seen him in this long year at CSU. While having fun, Berwick was able to put up season-highs of eight points and three boards, relishing every second on the hardwood with energy and intensity.
It was all about the little things Saturday night, like Juan Sabino II coming in to drain a jumper near the end of the game. Sabino, a walk-on who was called on last year when three Rams players were declared academically ineligible, saw his first game action of the year and scored his first bucket, to which the crowd went wild. And his teammates were pumped for him postgame, too.
But going back to last year – and really, throughout the Eustachy Era at Colorado State – there has been much turmoil. In 2013-14, he berated Daniel Bejarano so much the two nearly went to blows in a game at San Diego State. In 2016, John Gillon was harped on so often that he decided to become a graduate transfer, going to Syracuse where he proved he was truly talented. And at the end of that year, key assistant coaches Ross Hodge and Leonard Perry left for head coaching opportunities at the DII level. Last year, Eustachy's "culture of fear" in 2013-14 was exposed, Emmanuel Omogbo nearly fought a New Mexico assistant coach after a game got dirty late at Moby and those three players lost their eligibility.
Incredibly – and partly due to the dominance of Omogbo and Gian Clavell – the "Magnificent 7" were able to run off 10 wins in the last 12 games of the season, coming up just short of the regular season and then conference titles, losing both times to Nevada.
Simply, this team has weathered the storm time and time again, and Saturday once again proved the Rams' resilience under pressure and against all odds.
"Starting from when we got here, we've always been built to go through adversity," redshirt sophomore Anthony Bonner said after the victory. "Two of the assistant coaches that recruited us left after our first year. It's just the college business, college basketball, college sports everywhere, you know. It just happened.
"Jase and Willy (Glover) did a good job of telling us, 'Just focus on the game. We just want you guys to have fun.' I think we have taken the fun out of it a little bit. The Air Force games, games like that. We've been too focused on the wrong things. We should just be focused on what we came here for, that's to do school work and play basketball with each other and have some fun out there."
The fun was infectious in Moby Arena Saturday afternoon. Prentiss Nixon drew charges, and after one forced turnover, roared like a wild beast as he enjoyed every second. Carvacho was skying high, rebounding over even taller men, scoring in their faces time and time again. And Raquan Mitchell showed off his hops, dunking the ball home emphatically as the crowd roared.
In a season filled with distractions, a seven-game losing streak, injuries and more; for 60 minutes, the Rams got back to what's really important: having fun playing basketball once again.