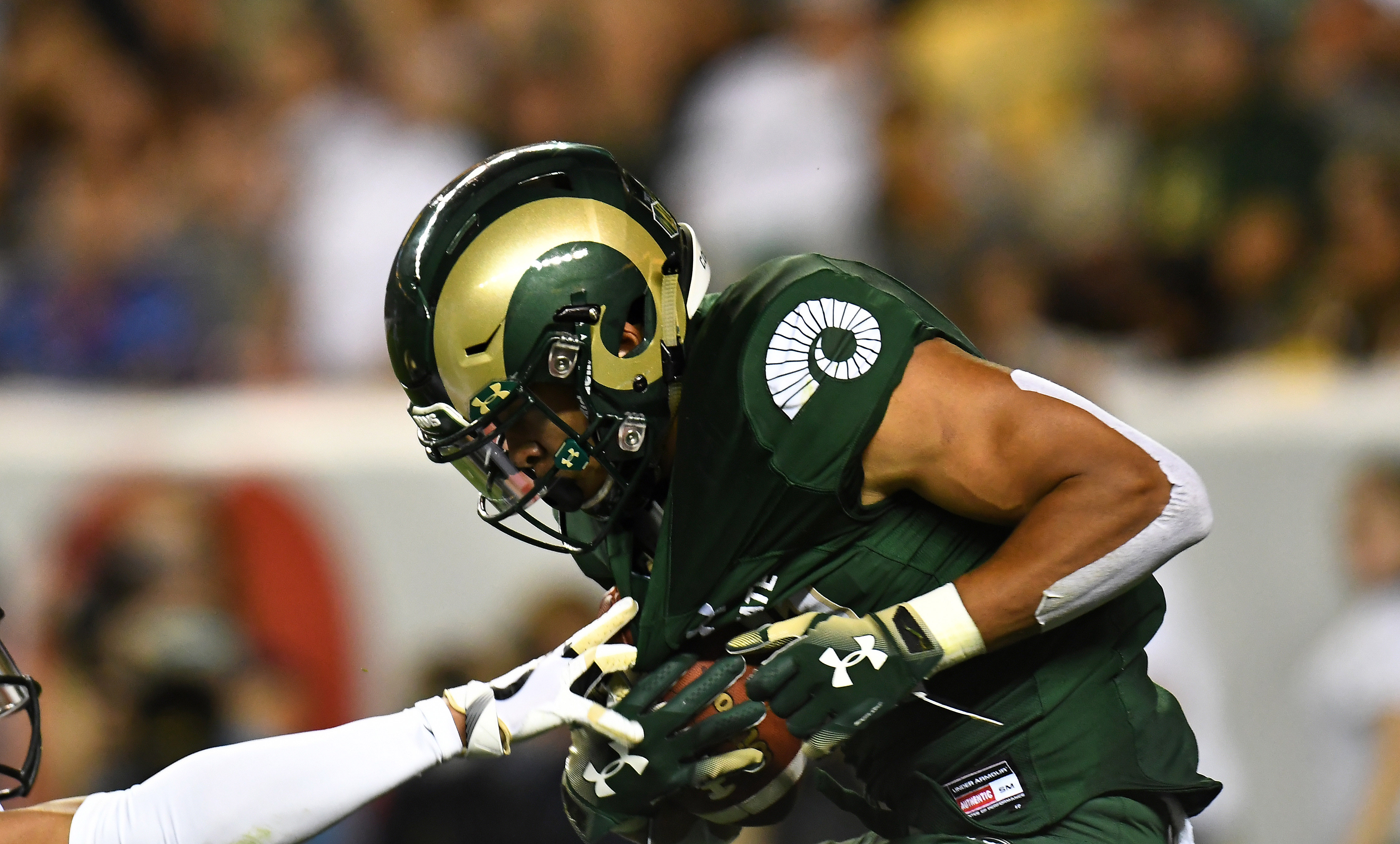 Olabisi Johnson is no stranger to playing with quality talent at the wide receiver position at Colorado State. In his time at CSU, he's lined up next to what is now NFL wide receivers Michael Gallup and Rashard Higgins. But that was the then and this is now as it's Johnson's time to be the lead man on the edges and so far, he's producing.
The senior leader on the Colorado State Rams offense, Johnson possessions strong skills and everything you want in a #1 receiver. Great body control, sure hands and big-play ability. Johnson ranks in the top ten in receptions, receiving yards and receiving touchdowns early in the year in College Football.
But even amidst the early success, Johnson says he certainly will not do it alone as he attempts to fill the shoes of Higgins and Gallup.
"There's definitely always pressure trying to fill those guys spots. I mean I've gone through it with Rashard [Higgins], I've gone through it with Michael [Gallup], but at this point it's my senior year. I'm just going out there and I'm trying to do as much as I can for this team," Johnson said to Jake Meier of the On Campus radio show, the Mile High Sports Radio Colorado State Rams football pregame/postgame show.
"We've got guys like Preston Williams, Warren Jackson and Brendan Fulton and when we're all out there as a receiving core working, it works out great and I think that we can be very dangerous."
Dangerous is right. Johnson and Preston Williams both rank in the top ten in receiving yards. When asked if he Johnson sees the balanced Rams attack contending in the Mountain West, Johnson says the potential is there for major success.
"Honestly, I really think we have a bunch of potential, but potential doesn't mean anything until we get out on the field and show it," Johnson stated.
"I think when we are working on all cylinders defensively and offensively we are an amazing team."
Johnson complimented not only the offense, but the Rams defense as well, who shut out Arkansas in the final quarter to set up the Rams thrilling come-from-behind victory.
"Defense really showed out in that last game (vs Arkansas.) The offense struggled at the start of it, but we came out in the second half and we were slinging it and everything was working. I think that when we are all playing together and believing as a team we can be great."
Johnson stats his goal for the season is 'definitely' a thousand yard season and the CSU Rams senior has his eye on the NFL.
"My goal for this season…I want a thousand yard season," Johnson said. "I definitely have NFL aspirations…since I was seven years old…I'm hoping it all works out and I stay healthy."
Catch Jake Meier on the On Campus Radio Show, airing pre/postgame on Mile High Sports Radio AM 1340 / FM104.7 and on the the all-new free Mile High Sports Radio mobile app for Apple or Android.
Catch Jake Meier pre-post game on Mile High Sports AM 1340 | FM 104.7 for reaction to every Colorado State Rams game, or stream live any time for the best local coverage of Colorado sports from Denver's biggest sports talk lineup. Download the all-new free Mile High Sports Radio mobile app for Apple or Android.