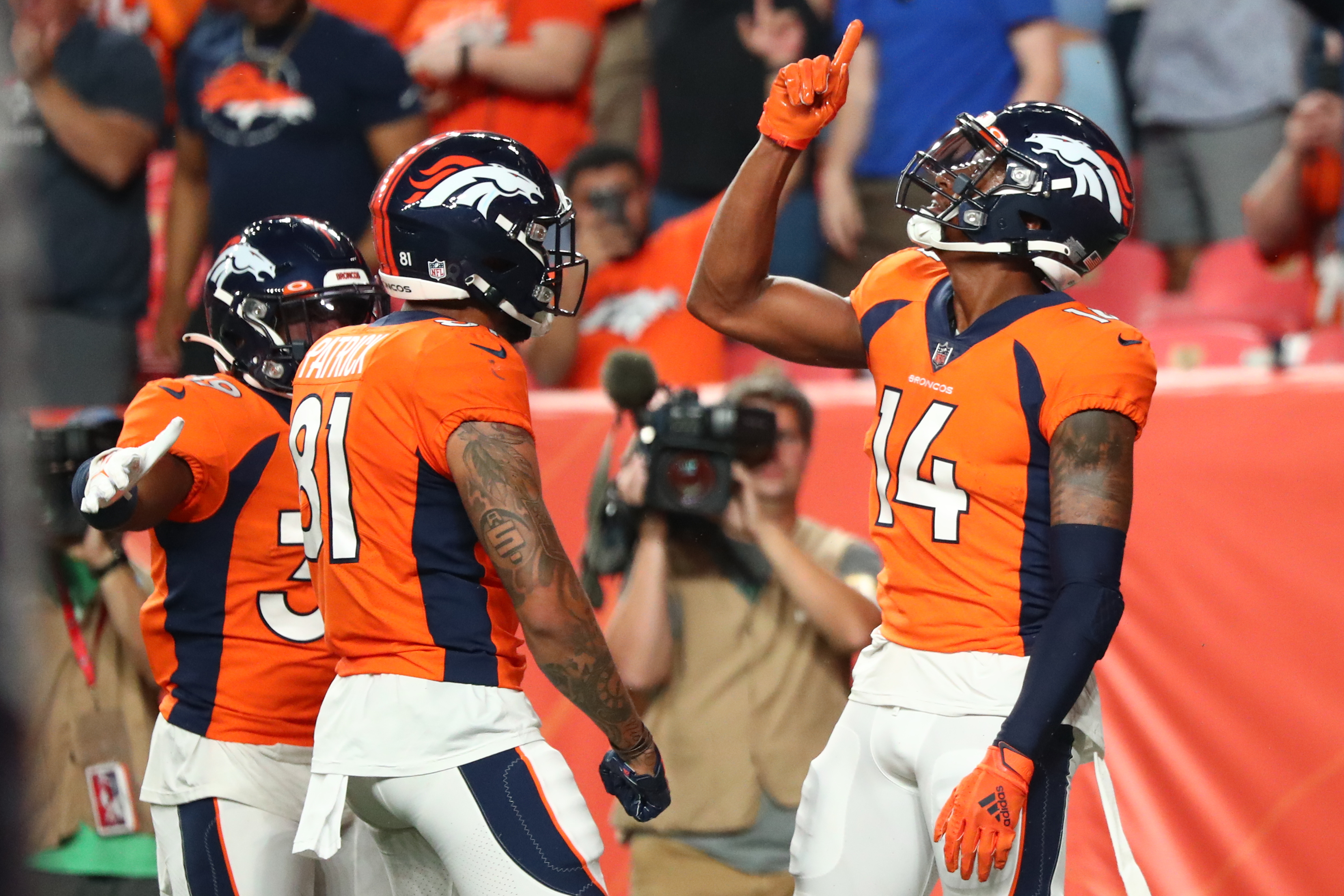 The Denver Broncos have overhauled their offense in recent years, and as a result, positions that were longtime weaknesses are now strengths, and vice versa.
Now, as most of the roster turmoil has come to a close, let's take a look at how the Broncos' offensive roster stands by analyzing which position groups are the weakest, and which are the strongest.
Note: We are looking at players and position groups based on how they're presently listed on the team's initial roster.
8. Fullback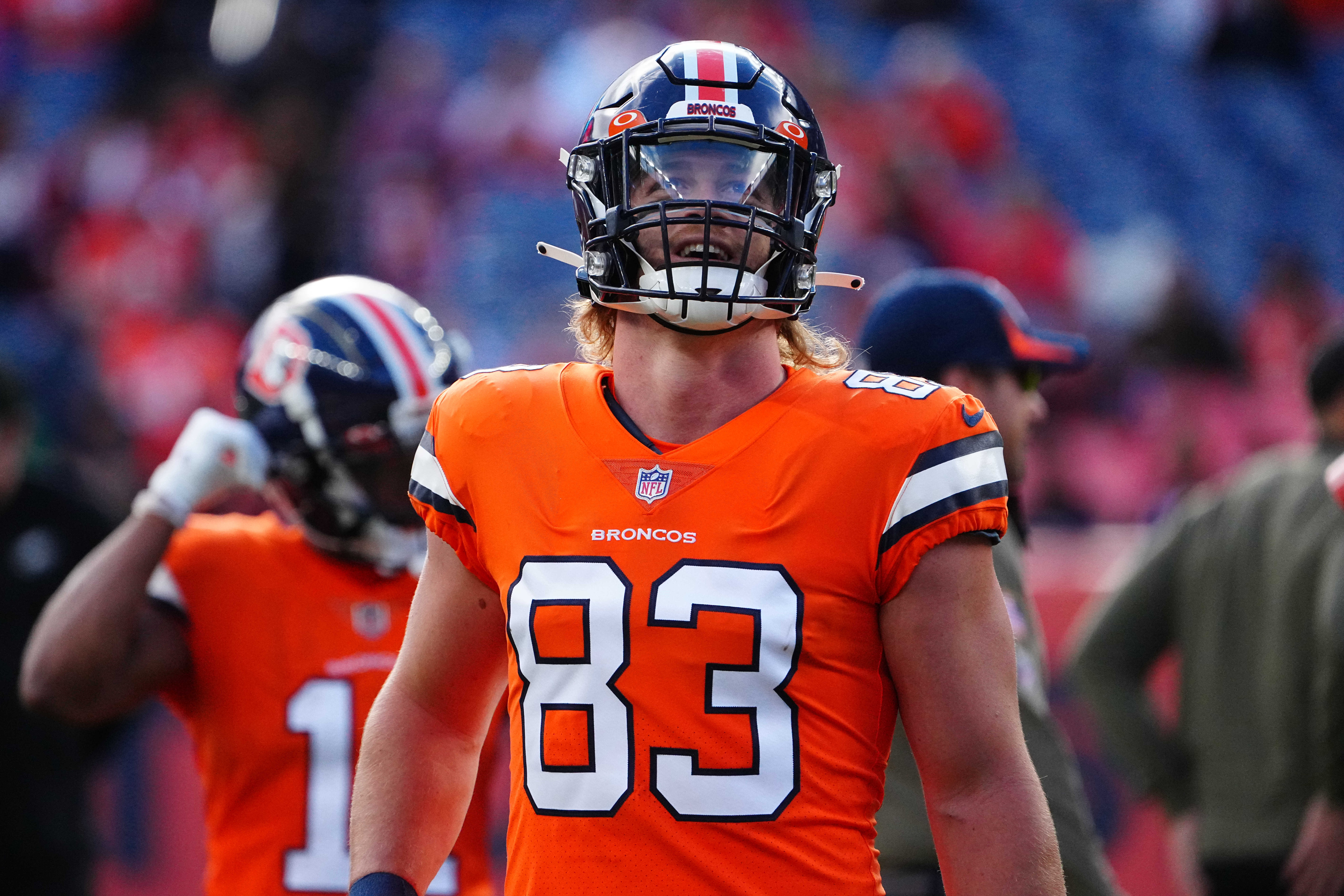 This is the easiest of all the offensive positions to rank because the Broncos don't have a true fullback on the roster.
The best they've got is Andrew Beck, who is a fine fullback but is far from spectacular and isn't even fully dedicated to the position, considering he's a tight-end/fullback hybrid. The fact there's also no true backup at the position, is also a concern
One would've hoped that the Broncos would've made a better effort to upgrade this position, especially considering the fact Hackett's offense is likely to use more two-back looks.
7. Center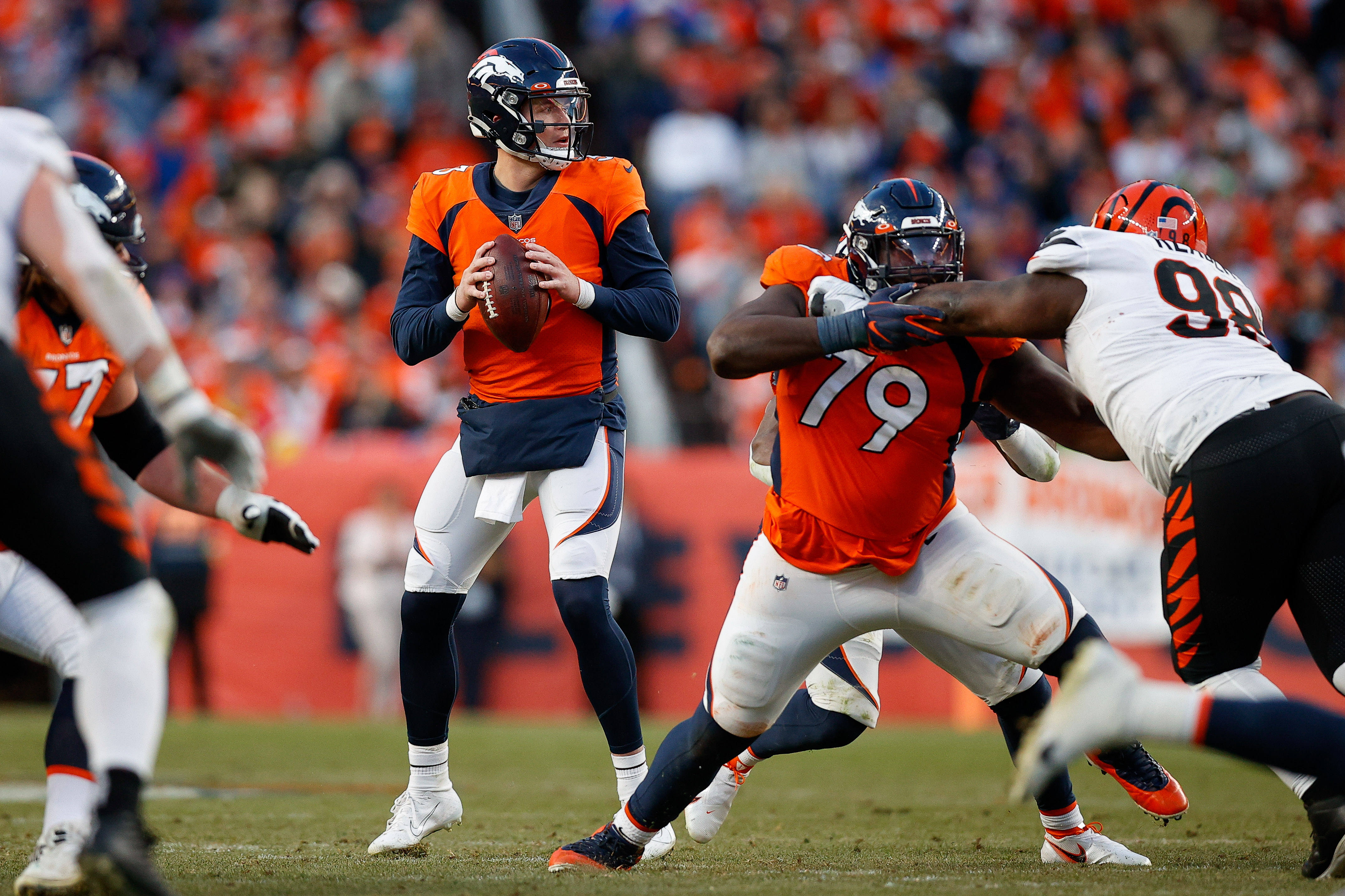 As it stands right now, the Broncos' center group is fairly uninspiring.
Lloyd Cushenberry III has struggled quite a bit throughout his first two seasons, and while he did show signs of improvement in 2021, the Broncos have seemingly been trying to move off the LSU product all offseason long.
Behind Cushenberry, the Broncos only have Luke Wattenberg, a raw prospect out of the University of Washington whom most didn't project would even be drafted.
The Broncos could potentially add Graham Glasgow or a free agent to this group, which would be a nice upgrade, but in its current state, it is comfortably one of the weakest position groups on the roster.
6. Tight end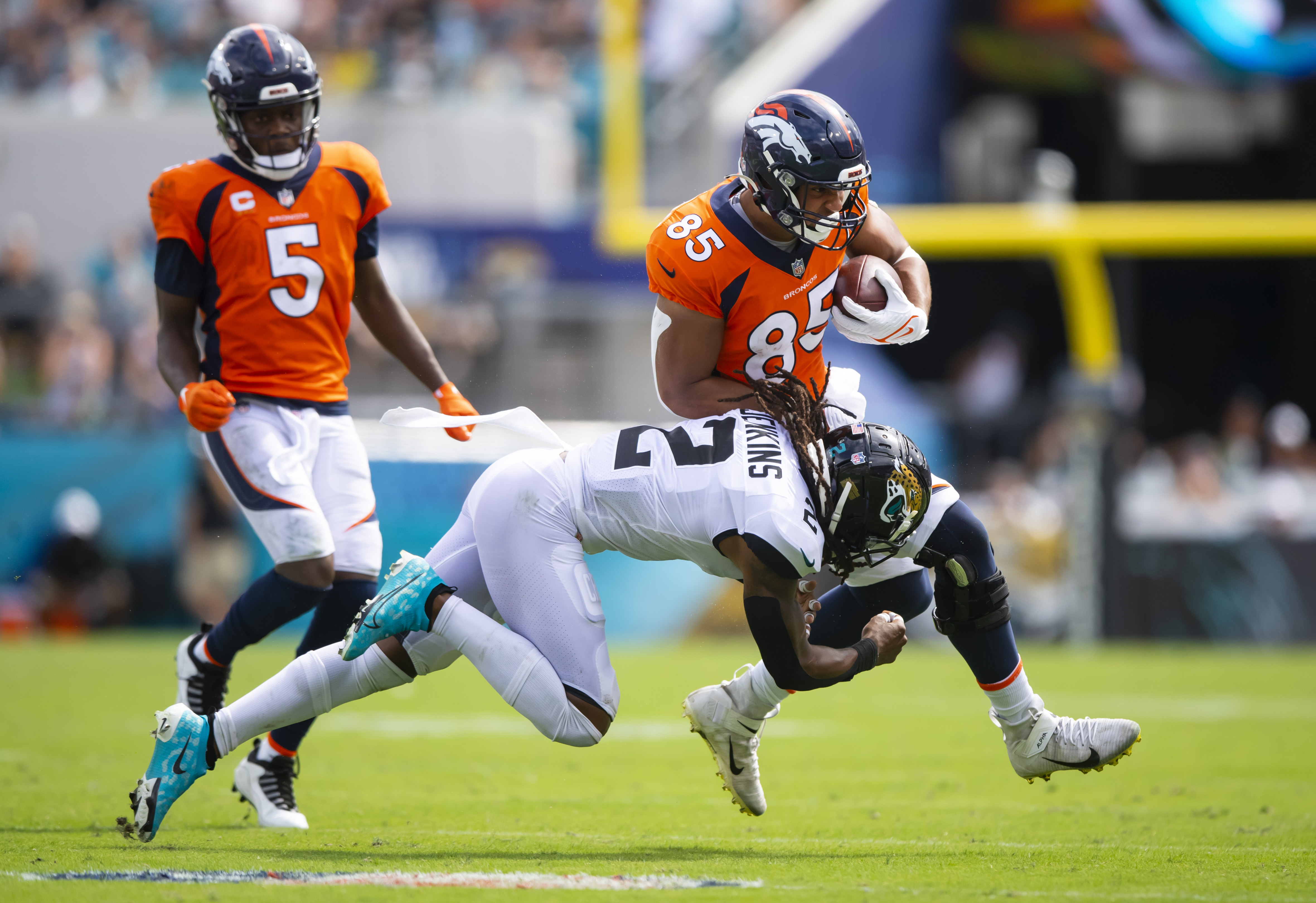 Trading away Noah Fant dealt a massive blow to this position group because it is now facing a lot of uncertainty.
Albert Okwugbunam did arguably out-perform Fant last season, but as a blocker, he's even worse than Fant, and his ability to block in Hackett's scheme is a major concern. Greg Dulcich is an exciting player, with a lot of upside, but it's unlikely he'll produce much as a rookie because rookie tight ends barely do. Fant's rookie year was a relatively strong one and he didn't crack 500 receiving yards.
Eric Saubert, Andrew Beck and Eric Tomlinson provide solid depth, but none is a great inline option. Beck and Saubert can both get the job done there, but both are replacement-level in that role at best, and Tomlinson is a glorified tackle.
5. Tackle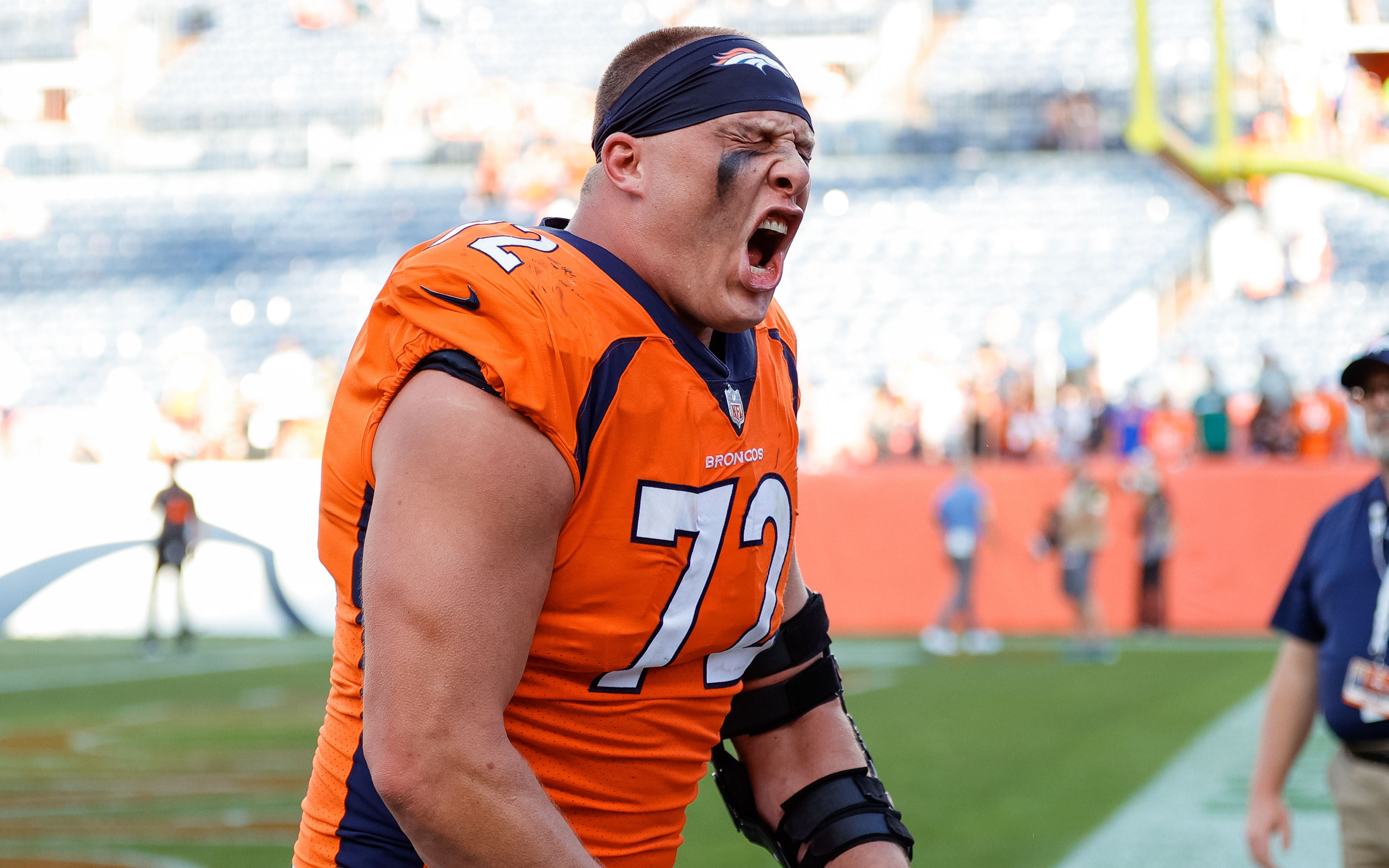 Right tackle is a concern, undeniably, but the Broncos shouldn't be much worse there than they were with Massie a season ago, and to make up for the troubles on the right side, the Broncos have impressive depth and a rock-solid left tackle.
Sure, Garett Bolles may have regressed from his All-Pro form of 2020, but he was still one of the NFL's best tackles in 2021 and is a fantastic top tackle for the team. While he is older than one would expect, at age 30, he's still got multiple quality seasons in the tank, and Hackett's zone scheme should better suit his talents.
Whoever wins the starting right tackle job, whether it be Billy Turner or Calvin Anderson, the Broncos are going to have a below-average starting right tackle this season. However, they make up for it by having remarkable depth, in the form of whoever loses that battle, and Tom Compton. Few teams have better tackles on the bench.
4. Guard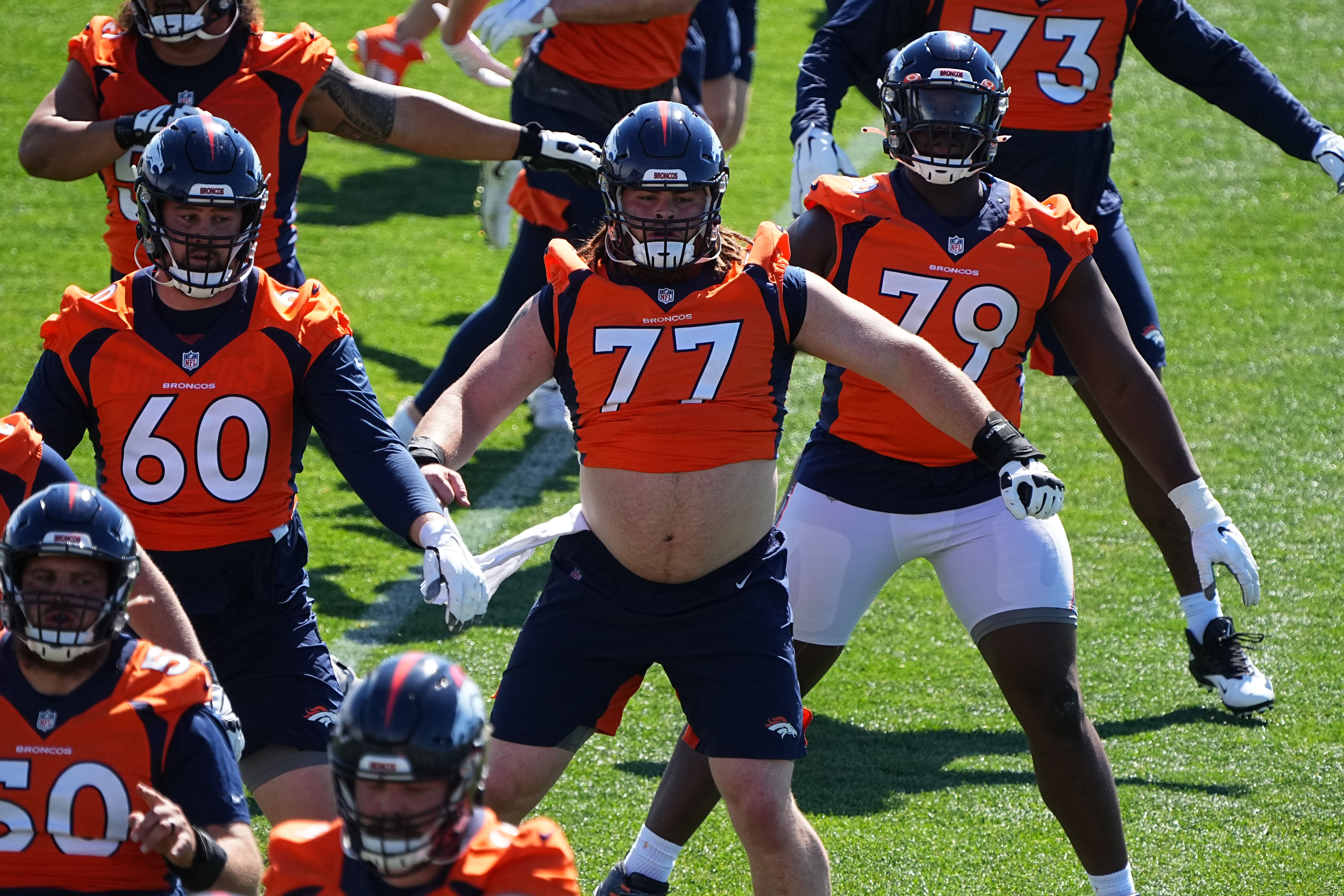 Broncos Country should rest somewhat easy about how the state of the guards on Denver's roster.
In Quinn Meinerz, Denver has acquired a pillar for their offensive line which they can build around for the next several years. Meinerz is also primed for a sizable year two leap, as he won't have to undergo the huge learning curve he dealt with last season, and he'll now be in a scheme that better utilizes his strengths.
The same can be said for Dalton Risner, who after two troubling seasons, is finally returning to the general offensive philosophy that helped him experience so much success his first year.
You also have Glasgow, who we could ultimately see at center, who was in competition with Meinerz for the title of 'best interior offensive lineman on the team' last season.
The Broncos then added Ben Braden and Turner from Hackett's last stop in Green Bay. Netane Muti is also still in the picture and saw the field a lot during OTAs and minicamp, so he shouldn't be overlooked.
Overall, it's a very deep position group with solid top-end talent and one big question remaining: Who's starting opposite of Meinerz?
3. Wide receiver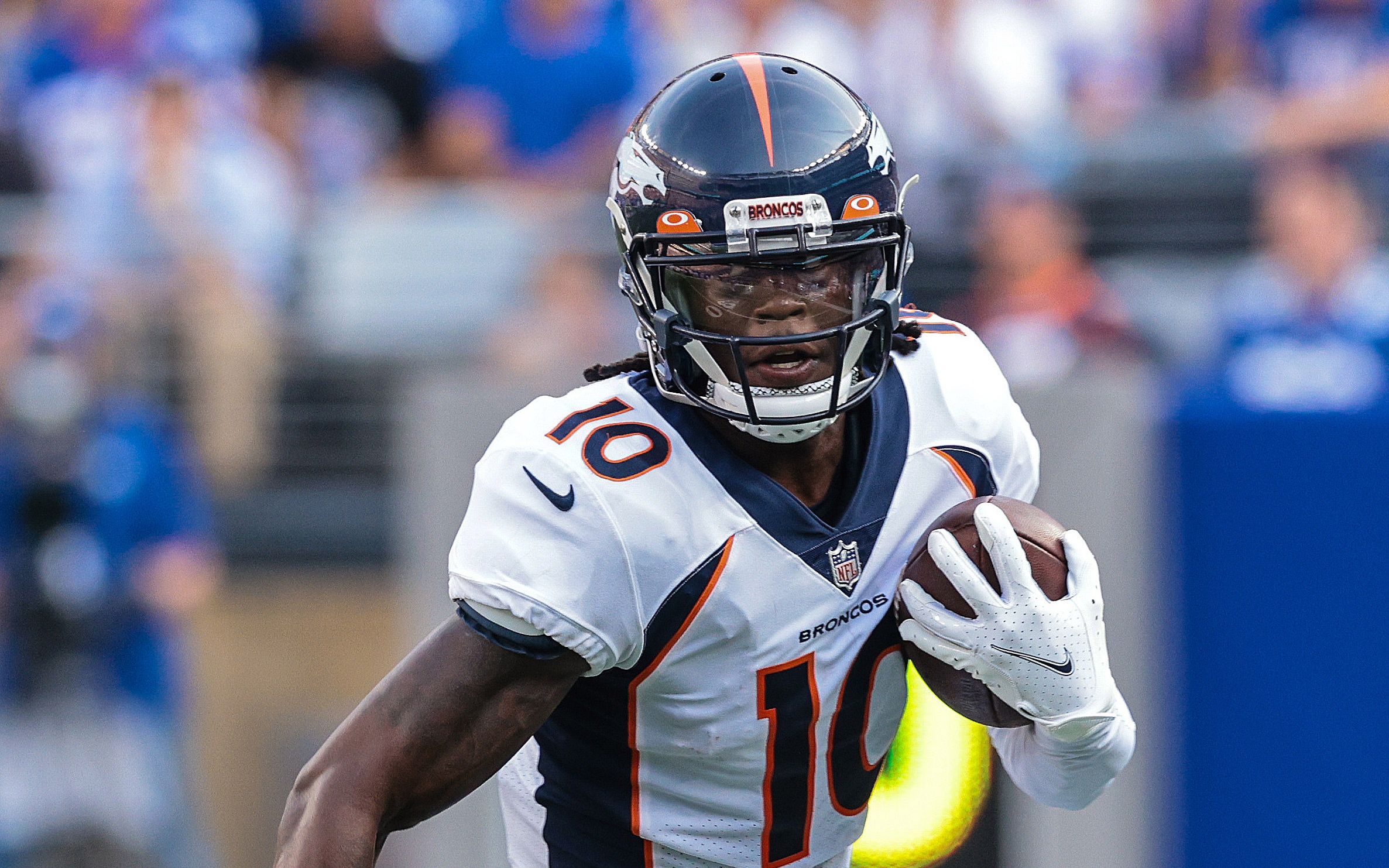 Finding a place for Denver's wide receivers on this list is very difficult, as they have the potential to be atop this list, but there's a lot of uncertainty surrounding most of the players at the position.
Tim Patrick is a terrific No. 2, and the epitome of reliability, but everyone else has a wide range of outcomes for 2022. Does Courtland Sutton look like the borderline superstar he was in 2019, or is he still a step slow? How about K.J. Hamler? Will Jerry Jeudy fit well with Russell Wilson?
Any of those three pass-catchers could have breakout seasons, or could deeply underwhelm, and neither outcome would surprise.
Although the theme of uncertainty is rather consistent, Denver's depth at receiver appears to be pretty impressive. Kendall Hinton has taken sizable steps in development every year he's played wide receiver; Montrell Washington was a standout performer during OTAs; Seth Williams and Tyrie Cleveland are intriguing options as Sutton and Patrick insurance; Travis Fulgham once lit Philadelphia ablaze by playing at a high level for a month of the regular season; and Brandon Johnson is a name to continue to monitor.
The talent is undeniable, which carries them this high, but they have yet to prove much of anything, which stifles them from flying any higher.
2. Quarterback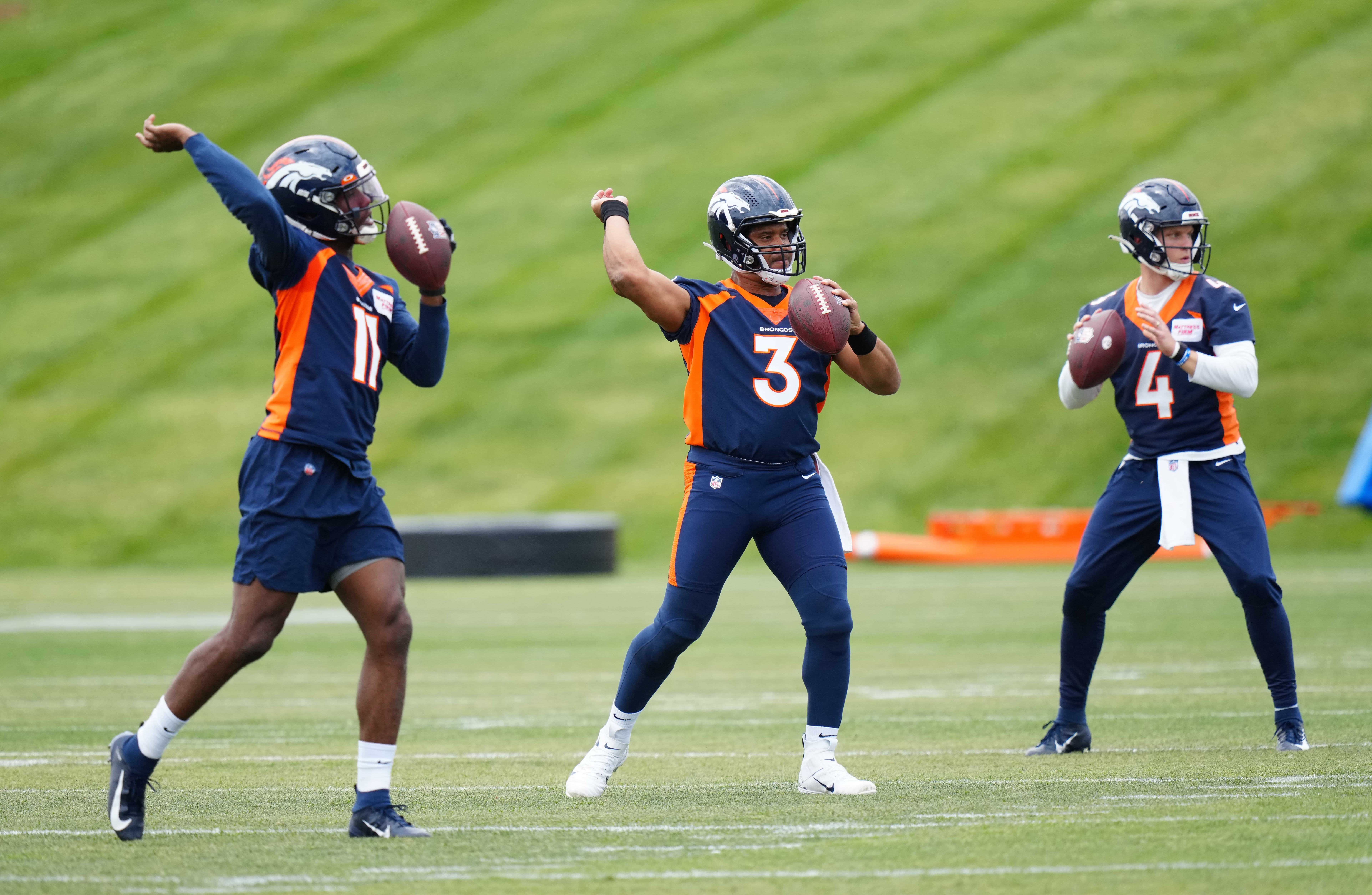 This room ranking towards the top should surprise no one.
Russell Wilson is already proven as an elite quarterback, which checks the most important box off the list — how good are your starters at the position?
Then, Josh Johnson might get slept on, considering how much he's bounced around, but he's consistently been a top-end backup. Last season he turned in two of the most elite emergency backup performances of anyone, and thoroughly outplayed second overall pick Zach Wilson, as a member of the Jets.
Lastly, the Broncos have Brett Rypien, who seems to be one of the better practice squad quarterbacks in the league, and likely has a career as an NFL backup not too far off.
1. Running back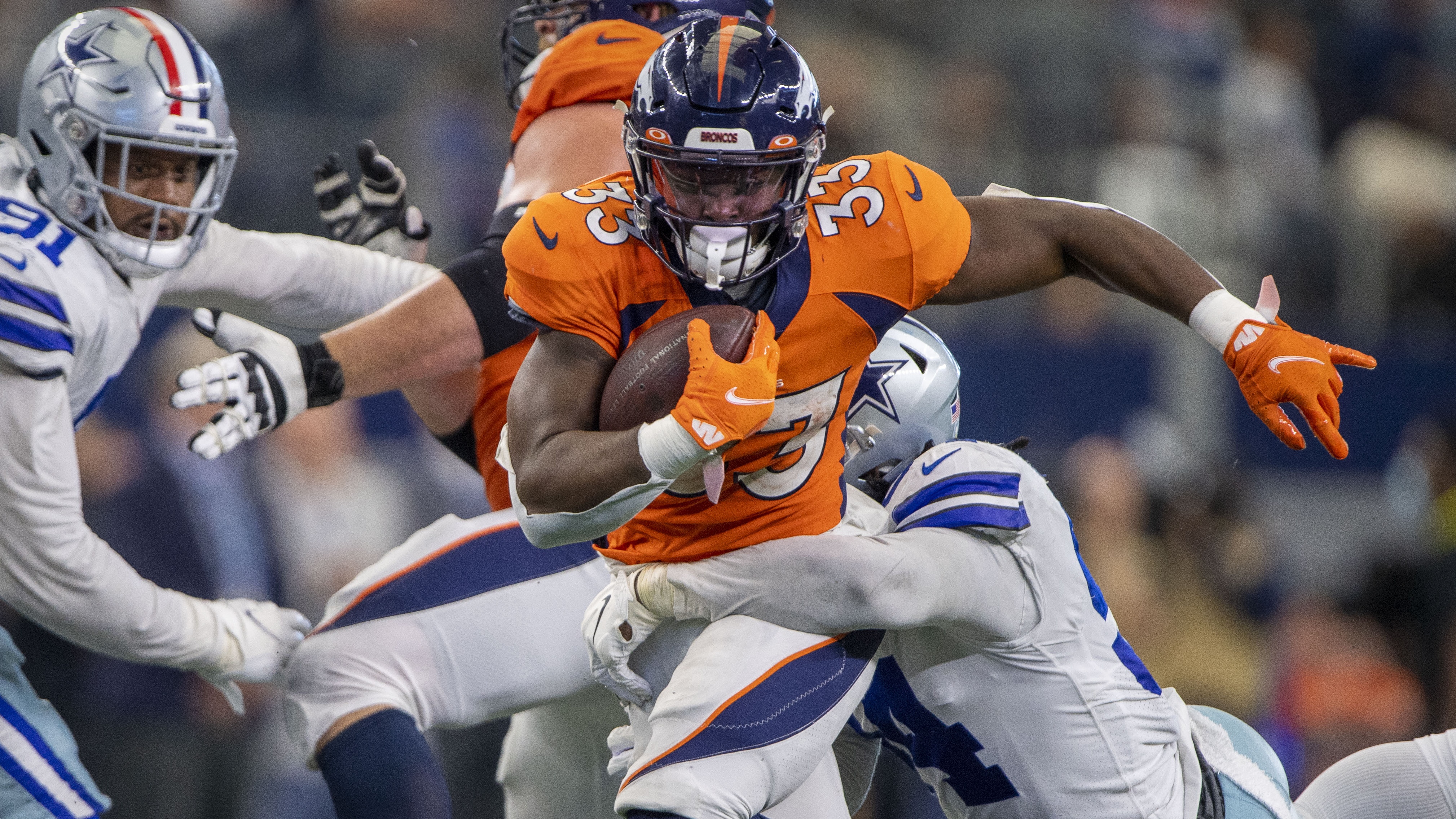 Looking at the position groups from top to bottom, it does feel like the running back position is the most well-rounded for the Broncos on offense.
In the starting role, the Broncos have Javonte Williams, who is comfortably placed as one of the league's best young running backs, and he has the chance to remove the 'young' qualifier from that statement this season. He's already arguably the hardest running back to tackle in the league and is gifted in every facet of the position.
Backing him up, the Broncos have Melvin Gordon, who has long been a top-10 running back and has arguably been the team's best offensive player the last two seasons. If Gordon doesn't drop off a cliff this year, like many running backs his age, Denver's one-two punch will be among the most potent in the league.
Mike Boone is the team's third running back, which is a testament to the talent of Denver's running back group. Boone would be more than adequate as a No. 2 option, as he demonstrated last year in Arrowhead, and he's terrific as a third back. He also offers valuable special teams upside.
Rounding out the room, the Broncos have Damarea Crockett and Tyreik McAllister, who have been practice standouts this offseason.
It would take a copious amount of injuries to get to the point where we're worried about Denver's running backs.