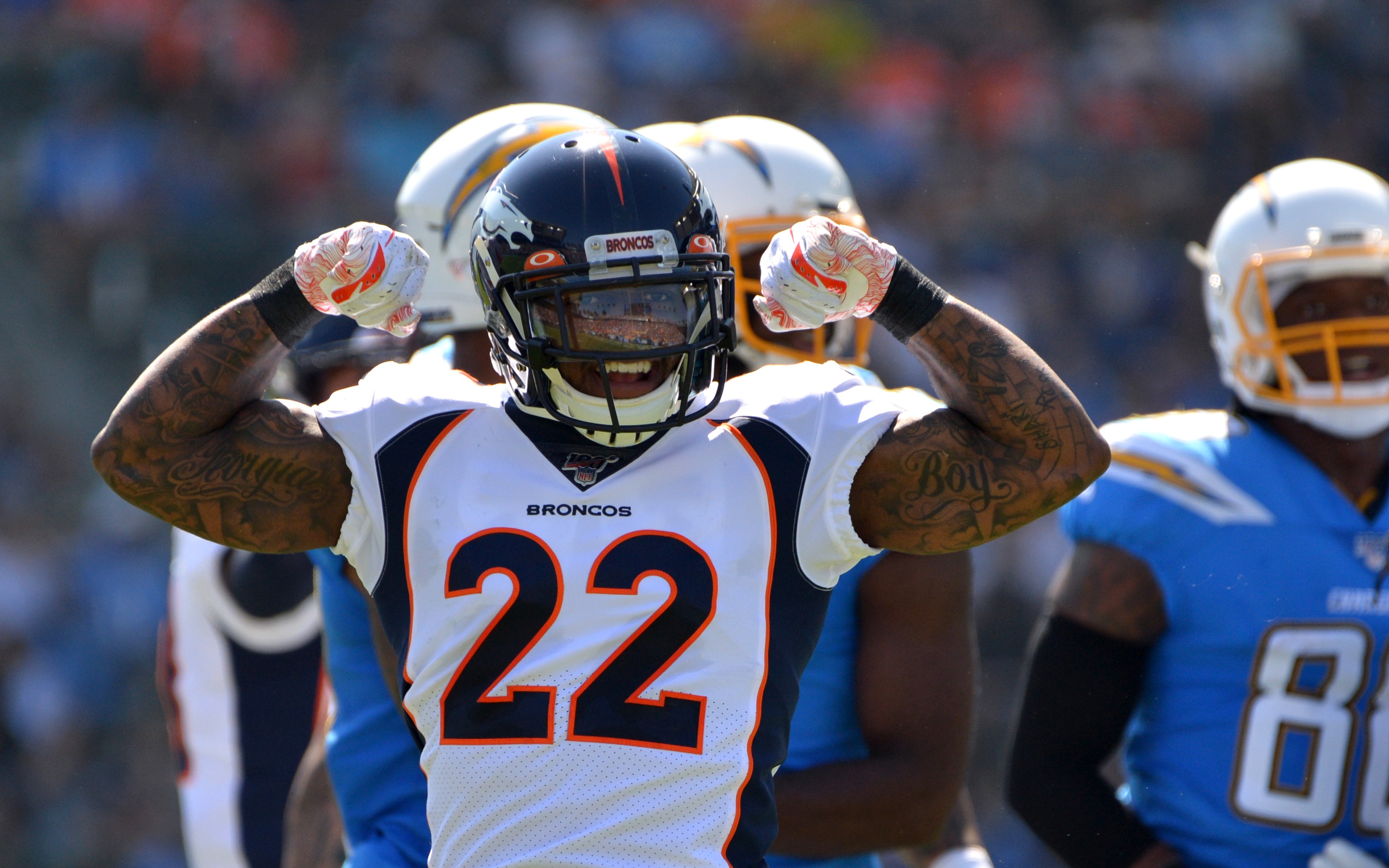 With OTAs and minicamp finish, we have entered the portion of the off-season that tests the true football fan's resolve. There are less than three weeks until training camp begins but it feels like that small gap between programming is more like a giant chasm.
Regardless, we have gotten a sneak peek at the vast majority of the players who will be contributing to this team and some of the position groups already appear to be stronger than others.
Defensively this team has loads of potential but everyone has a role to play in order to reach the level of dominance they strive for. Here is where each defensive group ranks on the defensive side of the ball for the Denver Broncos.
Last Place: The Defensive Line
Defensive Linemen: Shelby Harris, Mike Purcell, Dre'mont Jones, McTelvin Agin, Jonathan Harris, DeShawn Williams, Shamar Stephen, Deyon Sizer, Isaiah Mack, and Marquiss Spencer
It may seem harsh to rank this group in the basement of the Denver Broncos defense, but it is primarily a depth issue.
Anyone who has watched the Broncos in recent years is aware of the impact players that Dre'mont Jones, Mike Purcell, and Shelby Harris are, especially when they are all able to get on the field at the same time. These three Broncos make up a formidable first unit but behind them, it gets a bit dicey.
Prepping for a big Dre'Mont Jones year. pic.twitter.com/CAV41J6ye2

— Joey Richards (@JRDrafts) May 12, 2021
The injury bug has had an impact on this group and the mass of bodies that make up the second unit seem to be a slapdash mass that were salvaged off of the various trash heaps around the league.
Training camp will allow plenty of opportunities for these unknown guys to step in and begin to make a name for themselves and carve out a defined role on this team. If the Broncos can strike gold with one of these players, then this group will see their stock rise drastically.
There is still an opportunity to bring on a veteran as well who can bolster this group and offer some depth that Denver currently lacks. The likes of Kawann Short, Geno Atkins, and Jurell Casey have gone unclaimed and still may have something in the tank to give.
Fourth Place: The Linebackers
Linebackers: Josey Jewell, Alexander Johnson, Justin Strnad, Baron Browning, Josh Watson, and Curtis Robinson
Alexander Johnson and Josey Jewell have done a nice job as starters for the Broncos, each with their personal style, and have found a way to highlight their personal strengths on the field.
Johnson plays with more explosion and tenacity, making big hits and letting his athleticism shine. Jewell is headier and relies more upon technique and his ability to see plays develop. Each of them has done a nice job but they haven't necessarily been big impact players.
Last season, neither player had a takeaway; a glaring issue with the defenses' overall production in 2020.
When #Broncos rookie LB Josey Jewell wins, it's the intelligence and instincts that stand out most. This play is just like he was screen peaking off his buddy in Madden and knew the exact play. Leaning towards attacking that gap before the ball is even snapped. Blown up play. pic.twitter.com/WNqZy2ezG9

— Nick Kendell (@NickKendellMHH) August 13, 2018
Johnson and Jewell are both due new contracts beginning in 2022 so this will be a "prove it" year for both of these guys.
If they can elevate their play they just might find themselves with a nice payday and a few more years in orange and blue. If not, they could be off the roster before the season starts — though that does seem unlikely.
The players behind them have shown a good deal of promise.
Justin Strnad and Baron Browning are next down the depth chart and both have the ability to come in and push for playing time. Both have been derailed by injuries in their young NFL careers so bouncing back physically will be the first hurdle to leap.
Overall, the linebackers show promise but need to have a more game-changing impact on the field before they can be elevated in the rankings.
Third Place: The Edges
Edges: Von Miller, Bradley Chubb, Malik Reed, Derrek Tuszka, Andre Mintze, Jonathon Cooper, Pita Taumoepenu, and Peter Kalambayi
The name recognition of the edges is up there with the best in the league but there are still questions to break down when you are considering this group's ranking.
Bradley Chubb is coming off a Pro-Bowl caliber season and the Broncos were a top-10 team with 42 sacks on the season. He was great in the majority of his outing but even with his stellar play, those efforts were not translated into wins.
Von Miller suffered an injury causing him to miss the entirety of the 2020 season. He looks to be healthy and in good form, but as an aging veteran that has an injury history, it will be difficult to project what his impact will be this season. The hope is that Miller returns to old form and doesn't miss a step but he will, more than likely, need some time time to find his groove.
This unit has one more player that helps buoy it from falling farther down the rankings and that is Malik Reed. Reed tied for the team lead in 2020 with eight sacks and was a major contributor in Miller's absence.
Malik Reed today. Bradley Chubb vs. San Fran. pic.twitter.com/Zfn6XCFWSX

— Nicki Jhabvala (@NickiJhabvala) August 30, 2019
The top-end talent on this unit is borderline elite. If Von was a sure-fire lock to return to his previous form and stay healthy then I could easily move them up the list but until it happens, the skepticism remains. That doesn't even bring into question Chubb's injury history. 
That gives Denver two-and-a-half (that's just good math) established pass-rushers that can get after the quarterback. Behind them are the likes of Derrek Tuszka who is largely unproven and rookie Jonathon Cooper from Ohio State.
Again, depth and health are the biggest factors in determining where this position group finished overall.
Second Place: The Safeties
Safeties: Justin Simmons, Kareem Jackson, PJ Locke, Trey Marshall, Caden Sterns and Jamar Johnson
Kareem Jackson and Justin Simmons have the potential to be one of the most dynamic duos in the NFL barring some unforeseen event and have the ability to lock down opposing offenses.
This particular safety position is an especially interesting group because of its infusion of youth. Currently, the backup positions within this group belong to PJ Locke and Trey Marshall, but George Paton made a statement to these two players when he drafted Caden Sterns and Jamar Johnson back-to-back in this year's NFL draft.
Sterns and Johnson will have a real shot at winning a significant role within this defense and potentially ousting Locke or Marshall. The two rookies offer very different skill sets and give this unit a much-needed injection of talent.
It may be controversial, but the safeties really finish in the two-spot because of one player: Justin Simmons. Simmons is inarguably the best Denver Bronco on the team today and got a new contract to validate it.
From Free Agency Frenzy: The #Broncos and S Justin Simmons struck a deal, as Simmons ends up as the highest-paid safety in the NFL. pic.twitter.com/OTTSNh0uzL

— Ian Rapoport (@RapSheet) March 19, 2021
Miller may still be the most beloved Broncos and deservedly so but Simmons is in his prime shows his value on and off the field time and time again. His impact may not always show up in the box score but his presence on the field is felt by the opponent and is seldom prone to mistakes.
If Jackson and Simmons both play to their potential they will change the course of multiple games over the course of the season. They will also give the first-place ranked group even more opportunities to show out.
First Place: The Cornerbacks 
Cornerbacks: Kyler Fuller, Ronald Darby, Bryce Callahan, Patrick Surtain II, Kary Vincent Jr, Michael Ojemudia, Essang Bassey, Nate Hairston, Duke Dawson, Parnell Motley, and Mac McCain III. 
Last year, a case could be made that the cornerback room was Denver's weakest position group but that is no longer the case. Injuries to AJ Bouye and Bryce Callahan destroyed any hope of continuity and relying on the likes of Michael Ojemudia, Essang Bassey and Davontae Harris was not a blueprint for success.
Instead of relying on young talent to develop, George Paton decided to pour assets into a very weak defensive room starting with the signings of Ronald Darby and Kyle Fuller in free agency. Darby and Fuller are both legitimate starters in the NFL and will be contributors in this secondary, from the jump.
Kyle Fuller. HIT STICK. 😱😱 pic.twitter.com/079EC49gRg

— Complex Sports (@ComplexSports) October 9, 2020
Paton didn't stop there though, he then decided to draft Patrick Surtain II with the Bronco's first pick in the NFL Draft. Son of veteran NFL-er Patrick Surtain, the Alabama prospect impressed with his polish, technique, and man-coverage skills, and was highly touted as the draft's most talented cornerback prospect.
Paton also grabbed Kary Vincent Jr. in the draft adding a nice depth piece to his team. Vincent Jr was a talented track and field star at LSU as well as the starting corner for the Tigers, and his ability flashed more often than not. Having sat out of the 2020 college season, he may have a learning curve to overcome, but an athlete of his talent level is just one more strength to add to the cornerback room.
With the depth of talent at this position now, they have the potential to completely dismantle their rivals. This group may be the deepest in the AFC and an argument can be made that it is the deepest position group in the NFL period.