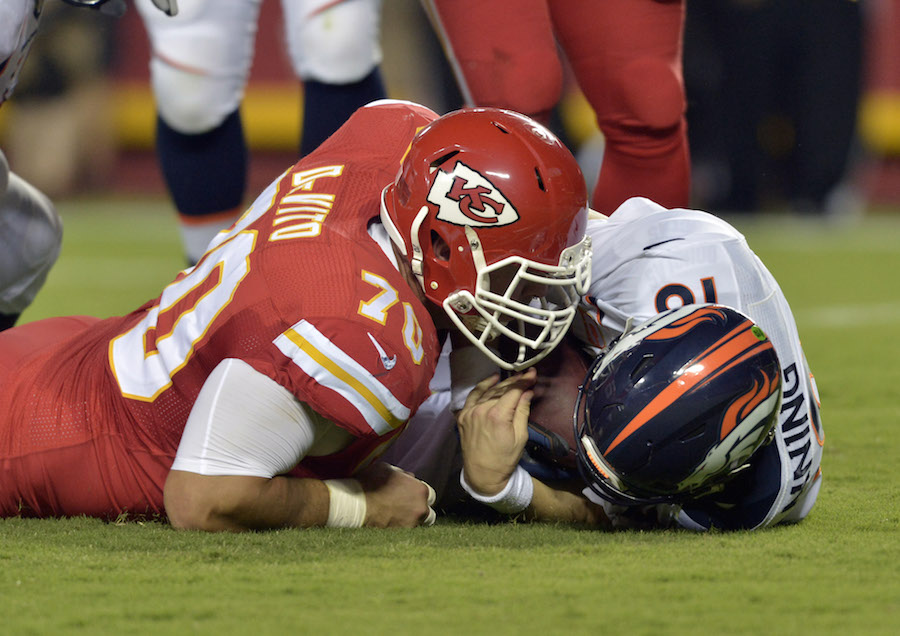 The Denver Broncos found themselves in a 14-0 hole with less than four minutes to play in the first half against Kansas City on Thursday night and as the second quarter unfolded it became more and more evident that Peyton Manning needs to run his offense if the team is going to have any chance to win. But a return to what Manning does best and a key interception by Aqib Talib in Kansas City territory leveled the game at the 30-minute mark.
After Denver failed to pick up a first down on a fourth and one on Kansas City's 22 yard line following Denver's second fumble recovery of the half – a possession that could have put Denver up 3-0 – things went quickly downhill.
Multiple personal foul penalties by the defense set up a long TD run for Jamaal Charles, which was followed immediately after by a 55-yard pick-six on a third down play that saw Manning nearly sacked for the third time in the half.
Manning battled back, however, on the very next drive and leading the offense from shotgun put Denver in the end zone on a cross to Emmanuel Sanders.
Without the penalties and a muddy offense over the first five possessions, Denver could have very well have been staring at a 17-point lead at halftime. They would settle for a tie game and all the momentum
As always, the MHS staff and the Denver media was all over the biggest trends of the game as they unfolded…
On the defense and penalties:
Chiefs pick up 24 on a pass to the TE and then another 15 yards for DeMarcus Ware hitting Smith low. Chiefs in Broncos territory. #DENvsKC

— cover32 Broncos (@cover32_DEN) September 18, 2015
Chiefs brass in press box furious at Ware hit. Lots of swearing.

— Paul Klee (@bypaulklee) September 18, 2015
Roughing the passer call is garbage what are you supposed to do when you're falling down off-balance.

— mark schlereth (@markschlereth) September 18, 2015
Late hit on Kilgo. Ugly series

— Vic Lombardi (@VicLombardi) September 18, 2015
Wow. #Chiefs making this look easy. High energy, smart play calling and bad penalties by the #Broncos

— Raul Martinez (@RaulSports) September 18, 2015
So, uh, poise on the road may be an issue. Three bad flags.

— Will Petersen (@PetersenWill) September 18, 2015
Let's just put flags on everybody and call it good. #NFL #Broncos #Chiefs

— Doug Ottewill (@Dottewill) September 18, 2015
I honestly don't mind Von running through Smith.

— Josh Pennock (@JoshPennock) September 18, 2015
When you ratchet up the defense with a more aggressive scheme, you're going to see more penalties. That's their 5th tonight.

— Vic Lombardi (@VicLombardi) September 18, 2015
Four 15-yard penalties against the defense. Only one of them is arguable. Good grief.

— Andrew Mason (@MaseDenver) September 18, 2015
#Broncos defense has potential to be great, but 4.15 yard penalties in 1st half is inexcusable & undisciplined & and deserve #Chiefs TD.

— Eric Goodman (@EricGoodman) September 18, 2015
Broncos offense can't score, so defense helped Chiefs score. Four personal fouls, all avoidable.

— Paul Klee (@bypaulklee) September 18, 2015
Chiefs already outplaying Broncos. Broncos with cheap shot penalties giving game away.

— Benjamin Allbright (@AllbrightNFL) September 18, 2015
On play calling:
Somewhere John Fox is standing, applauding and balling right now. This is SO bad.

— Will Petersen (@PetersenWill) September 18, 2015
Man, that's some terrible game management and play calling there. Cripes. This offense is so out of sync. #Broncos

— James Merilatt (@jamesmerilatt) September 18, 2015
Awful sequence. No other way to put it.

— Andrew Mason (@MaseDenver) September 18, 2015
This is on Kubiak (terrible play calling) and Elway (embarrassing o-line). Blaming it on Manning is silly. #Broncos

— James Merilatt (@jamesmerilatt) September 18, 2015
Two plays on that drive were out of shotgun; got 12 yards. Three under center; got one. Stick to Gary's offense, right?

— James Merilatt (@jamesmerilatt) September 18, 2015
You Run end around on 4/1 when you know you're oline can't block its way out of a wet paper sack.

— mark schlereth (@markschlereth) September 18, 2015
Eight yard pass on first down. Three straight runs equals a turnover on downs. Must be Manning! #Broncos

— James Merilatt (@jamesmerilatt) September 18, 2015
3rd and 3, empty backfield. Too predictable. When you can't run the ball, you become predictable.

— Vic Lombardi (@VicLombardi) September 18, 2015
Run what your QB can run. That's on the freaking coach. What did you do all OTAs and training camp? #Broncos

— James Merilatt (@jamesmerilatt) September 18, 2015