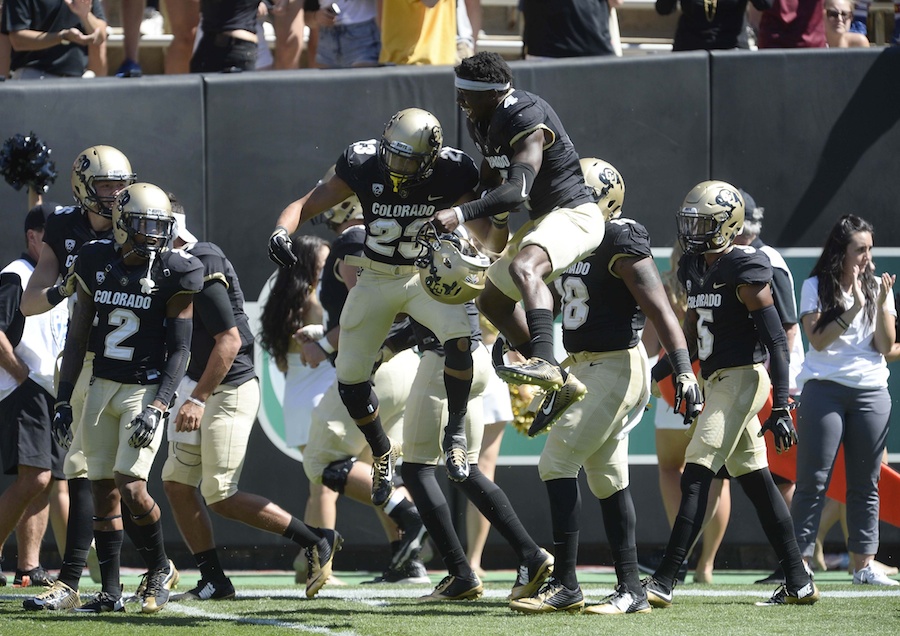 CU bounced back in a big way on Saturday, obliterating UMass in Boulder by a score of 48-14.
The Buffs got huge days from Michael Adkins II and Christian Powell who both rushed for more than 100 yards and found the end zone a combined three times.
So how'd it all go down? Here's some rapid reaction from Colorado's beat down of the Minutemen.
HERE COMES RALPHIE! The best tradition in all of sports JUST HAPPENED! #GoBuffs

— Colorado Football (@RunRalphieRun) September 12, 2015
#CUBuffs defense gets a 3-and-out on UMass's first offensive possession

— Chris Dempsey (@dempseypost) September 12, 2015
TOUCHDOWN! TOUCHDOWN COLORADO! @cpizzythoo get in from 15 yards out! #GoBuffs #UMASSvsCU

— Colorado Football (@RunRalphieRun) September 12, 2015
Gorgeous Day in Boulder, Colorado for CU's Home Opener vs #UMASS @MileHighSports pic.twitter.com/N3EHltXpHg

— Alex Ramirez (@finalwordmhs) September 12, 2015
TOUCHDOWN! TOUCHDOWN COLORADO. @SefoLiufau on a designed draw scores from 7 yards out on his first career rushing TD. #GoBuffs #UMASSvsCU

— Colorado Football (@RunRalphieRun) September 12, 2015
Looks like a shoot out in Boulder! 14-14 start of the 2nd QRT!!

— Alex Ramirez (@finalwordmhs) September 12, 2015
CU answers quickly, Michael Adkins 21-yard TD run gives the Buffs a 21-14 lead with 10:29 in 2nd quarter. Drive: 6 plays, 75 yards, 1:53

— Chris Dempsey (@dempseypost) September 12, 2015
Nelson Spruce the All-American decoy. . . 1 catch for 9 yards. . . Throw him the fargin ball. . .

— Gil Whiteley (@Gilfest) September 12, 2015
A perfect hit is now a penalty in college football too. #GoodellEffect

— James Merilatt (@jamesmerilatt) September 12, 2015
Crowd still booing the call, two plays later

— Chris Dempsey (@dempseypost) September 12, 2015
What? That's a horrible call. . . Great hit and an incomplete pass. . . CU can't even manage homer refs. . .

— Gil Whiteley (@Gilfest) September 12, 2015
INTERCEPTION BUFFS IN THE END ZONE! Ryan Moeller! #BallDontLie #GoBuffs

— Colorado Football (@RunRalphieRun) September 12, 2015
The #CUBuffs have rushed for 207 yards in the first half. Michael Adkins has 97 of them on 14 carries, a 6.9 average.

— Chris Dempsey (@dempseypost) September 12, 2015
The #CUBuffs have rushed for 207 yards in the first half. Michael Adkins has 97 of them on 14 carries, a 6.9 average.

— Chris Dempsey (@dempseypost) September 12, 2015
Attendance at Folsom today announced at 35,094

— Chris Dempsey (@dempseypost) September 12, 2015
Congratulations to @nspruce22 for becoming Colorado's all-time leading receiver. One class act replaces another @smcknight21 in the books.

— Kyle Ringo (@KyleRingo) September 12, 2015
Buffs are now up 48-14. They've scored 34 unanswered points since the game was tied at 14. #CUBuffs

— Chris Dempsey (@dempseypost) September 12, 2015
This, for the #CUBuffs, will be their first win since Sept. 20, 2014 — a string of 357 days between victories. #whew

— Chris Dempsey (@dempseypost) September 12, 2015
FINAL SCORE: Colorado 48, UMass 14. BUFFS WIN! #GoBuffs #UMASSvsCU

— Colorado Football (@RunRalphieRun) September 12, 2015