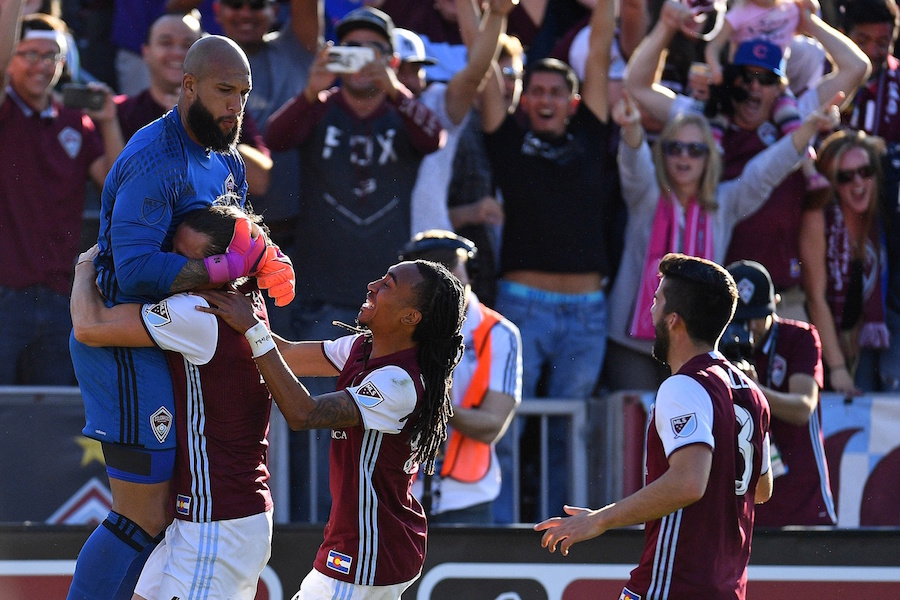 The Colorado Rapids were busy over the weekend shaping their roster ahead of the 2016 Expansion Draft, scheduled for Dec. 13. Colorado made a series of moves and shored up their protected and unprotected list in advance of the selection process.
Rapids begin shaping roster after deep 2016 playoff run
Following a record-breaking season and a trip to the Western Conference Championship, the Colorado Rapids Soccer Club announced that the club has exercised contract options on nine players and will not exercise options on four others for the 2017 campaign.
The Rapids have picked up contract options on goalkeeper John Berner, defenders Bobby Burling, Marc Burch, Dennis Castillo, Eric Miller and Axel Sjöberg, midfielder Dillon Serna, and forwards Dominique Badji and Caleb Calvert.
"We believe that we are in a fantastic position heading into the offseason, in which we will look to make additional roster improvements for next year," said Tim Hinchey, Colorado Rapids President. "This core group of players will play a key role in our long-term plans and we are excited to build on the success achieved on and off the pitch in 2016.
The five players already under contract for 2017 are goalkeeper Tim Howard, defender Mekeil Williams, midfielder Dillon Powers, and forwards Kevin Doyle and Shkëlzen Gashi.
In addition, goalkeeper Zac MacMath, defender Jared Watts, and midfielders Micheal Azira, Sam Cronin and Marlon Hairston have all re-signed with the club to long-term deals.
Meanwhile, the club has not exercised options on defender Sean St. Ledger, midfielders Marco Pappa and Zach Pfeffer, and forward Conor Doyle.
Midfielders Jermaine Jones and Sébastien Le Toux are currently out of contact, with Le Toux eligible for free agency.
"We would also like to thank Sean, Marco, Zach, Conor, Jermaine and Sébastien for their service and for being part of this historic campaign with the club," Hinchey added. "Despite not picking up their options, the club will remain in discussions with some of the players about a possible return."
Greenspan traded to Minnesota for SuperDraft selection
Colorado Rapids Soccer Club has traded defender Joseph Greenspan to Minnesota United FC in exchange for Minnesota's 2017 Natural 3rd Round selection in the 2017 MLS SuperDraft.
"Joe has been the complete professional during his two years with the Rapids," said Pablo Mastroeni, Colorado Rapids Head Coach. "We respect and admire the commitment he made to serve his country, while also working to chase his dreams. On behalf of everyone at the club, we would like to thank Joe for his contributions on and off the pitch and wish him the best of luck in the future."
Greenspan, 24, was selected by the Rapids with the 26th overall pick in the 2015 MLS SuperDraft. An active member of the U.S. Navy, Greenspan appeared in four regular season matches (two starts) for the Rapids. This past season, Greenspan also spent time on loan with Charlotte Independence (four games) and Colorado Springs Switchbacks FC (seven games).
Rapids exchange international slot with Atlanta for SuperDraft selection
Colorado Rapids Soccer Club have acquired Atlanta United FC's 2017 Natural 2nd Round SuperDraft selection in exchange for one international slot for the 2017 and 2018 seasons.
"We believe this trade provides good value for our club and one that will help us continue to execute our plan for roster development in the offseason," said Tim Hinchey, Colorado Rapids President.
As Atlanta United FC are one of two 2017 MLS expansion teams, the second round selection acquired will be either the first or second pick of the second round (23rd or 24th overall) in the upcoming 2017 MLS SuperDraft.
2016 MLS Expansion Draft Protected and Unprotected List