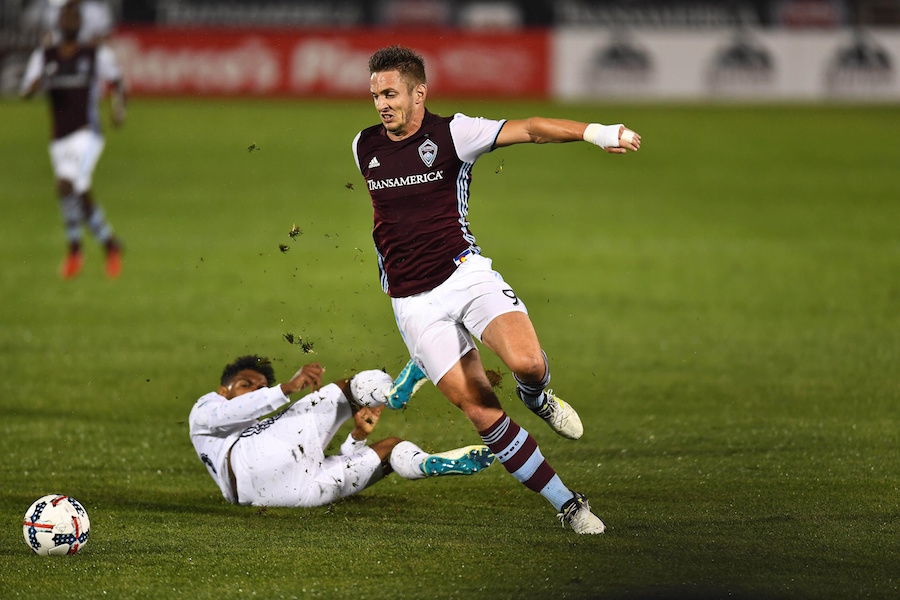 Axel Sjöberg and Kevin Doyle both found the net as the  Colorado Rapids earned a 2-2 draw against Vancouver Whitecaps FC on Saturday night at Dick's Sporting Goods Park.
Playing their first home match in over a month, the Rapids conceded just five minutes in when Tony Tchani side-footed a first-time effort from outside the box past Rapids goalkeeper Tim Howard. It was a quality strike from the six-foot-four Cameroonian midfielder as the burgundy boys found themselves facing an early deficit.
Undeterred, the Rapids equalized just ten minutes later through Swedish center back Axel Sjöberg. After a cross from Shkëlzen Gashi was cleared out of harm's way, Mohammed Saeid then lofted a ball to the back post off the head of Mike da Fonte and in to the path of the onrushing Sjöberg who tucked the ball through the legs of Whitecaps FC goalkeeper Davis Ousted.
The Rapids came out firing following the halftime break and nearly took the lead just two minutes in when Kevin Doyle bounced a point-blank header off the leg of Ousted.
With the match still level at the 54-minute mark, the Rapids sprung free on a counter attack, culminating in a clever back-heel pass from Marlon Hairston to Doyle. Not to be denied again, Doyle hammered his effort in to the back of the net giving the hosts a 2-1 lead.
"I thought that we started bright," head coach Pablo Mastroeni said after the match. "I thought the front four guys in [Dominique] Badji, [Kevin] Doyle, Marlon [Hairston], and [Shkëlzen] Gashi really got into the game early. Gashi has been out quite some time now and I thought he added a real bright spot to the group, really allowed the team to come forward, combine and really take the sting out of the game. We've been talking about just driving, going forward and being brave, and I hope that moment there really resonates with the group."
As the game ebbed and flowed, the Whitecaps FC soon found an equalizer of their own. Fredy Montero beat the Rapids defense and latched on to a free kick to head home his ninth goal of the season.
"We lost this game, and I say lost because where we are at in the season it's a loss," Mastroeni said. "We lost this game on a set piece and I think that is something we work on several times a week. We have conceded two goals in the last two games on some kind of set piece. This game is about those moments and when they arise you never know and you got to be alert and your teammates got to keep you alert. It's unfortunate tonight we let that slip away, but you got to learn from that and move forward."
Next up for the Rapids (6-12-3; 21 points) is a trip to Frisco, Texas. Kickoff with FC Dallas is set for 6:00 p.m. MDT at Toyota Stadium.