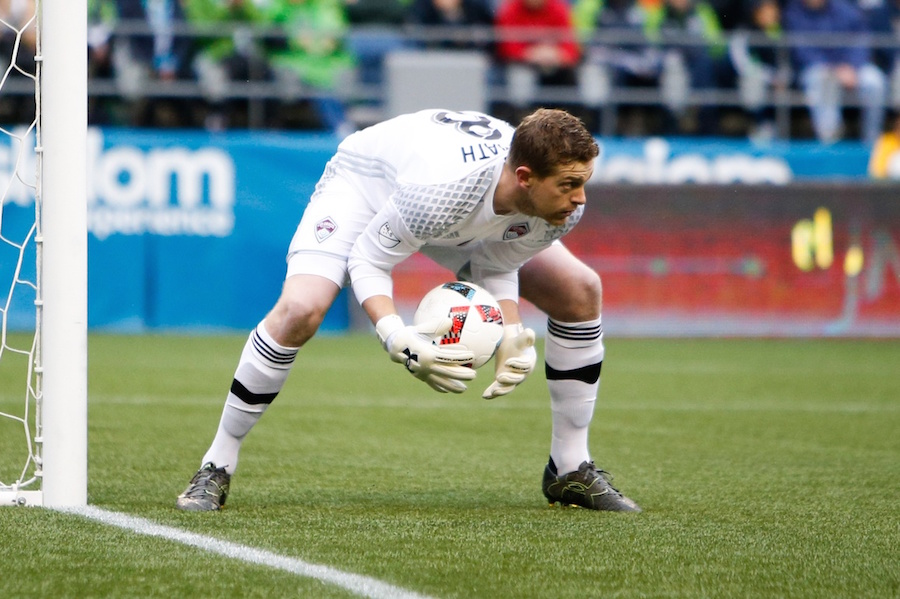 When the Colorado Rapids take the pitch in Seattle on Tuesday, Nov. 22 for the first leg of the Western Conference Championship, things are going to look very different. Then again, they're going to be the same as they've been all year.
Take the venue, for example. The last time Colorado was in Seattle, May 21 they were welcomed by 41,028 screaming Sounders fans – one of the biggest crowds they'd see all year. The Rapids silenced the loudest stadium in MLS with a 1-0 win. It won't be so easy this time around. Tack on another 20,000 (at least fans) when they expand the stadium to full capacity and the din will be deafening.
"Home teams have an exponential advantage in the playoffs," head coach Pablo Mastroeni acknowledged during a media roundtable on Tuesday. "I don't know if it's the buzz, the craziness of the fans, but there's definitely a home-field advantage … But as far as game plan, we've stuck to the same game plan all year, which is be hard to beat and be lethal with our chances."
The chance to be lethal in that last visit came on a corner kick from Marc Burch, when Axel Sjoberg headed home the game's only goal. Burch took both of Colorado's corners in that game.
Since that time, corners have taken on a different look for Mastroeni's club. In their road defeat in the first leg of the conference semifinals, for example, Shkelzen Gashi took all five opportunities. He took another two in their victory on the home leg before leaving the game with an injury.
Gashi won't likely factor in to the first leg of the conference finals, though; Mastroeni announced Tuesday the attacking midfielder is doubtful in Seattle as he continues to heal.
But dealing with injuries in the midfield is more of the same for Mastroeni, who has juggled his lineup all season long. Jermaine Jones and Marco Pappa both missed significant time during the heart of the regular season because of injury. Jones is with the national team and still finding his way back to full fitness after a knee injury, but figures to be ready to be his usual disruptive self. Pappa saw limited action down the stretch, but scored a critical shootout goal to help Colorado advance to the conference finals. Mastroeni says he and Marlon Hairston both figure to impact the game in Gashi's absence.
Gashi's injury is merely a footnote, however, in comparison to the news that came down Monday that Rapids Co-MVP and a player Mastroeni called arguably the best goalkeeper in MLS, Tim Howard, was lost for the season after suffering a groin injury playing for the U.S. national team last week. Yet, again, it's nothing really new for Mastroeni's squad. They've already dealt with a change at keeper once this year.
Howard, acquired in the offseason, joined the team at the July 4 transfer window, thus shelving the hottest keeper in MLS at the time, Zac MacMath. With his 17 MLS games played this year and 0.76 goals against average, MacMath is about the best possible backup Colorado could ask for in the wake of such devastating news.
MacMath was in net  for Colorado's win in Seattle in May. He was the victor in a dominant 3-1 home win before that. Mastroeni is confident his defense will hold up in the hostile environment of CenturyLink Field, regardless of who is in goal.
"There will be moments where [Seattle's] going to be very good and their 12th man is going to help them and they're going to push us back a little bit," Mastroeni said, "but we don't fear defending from any position. We don't fear not having the ball. We fear nothing."
That fearless approach, even amidst seemingly constant change, now has them within reach of the MLS Cup.