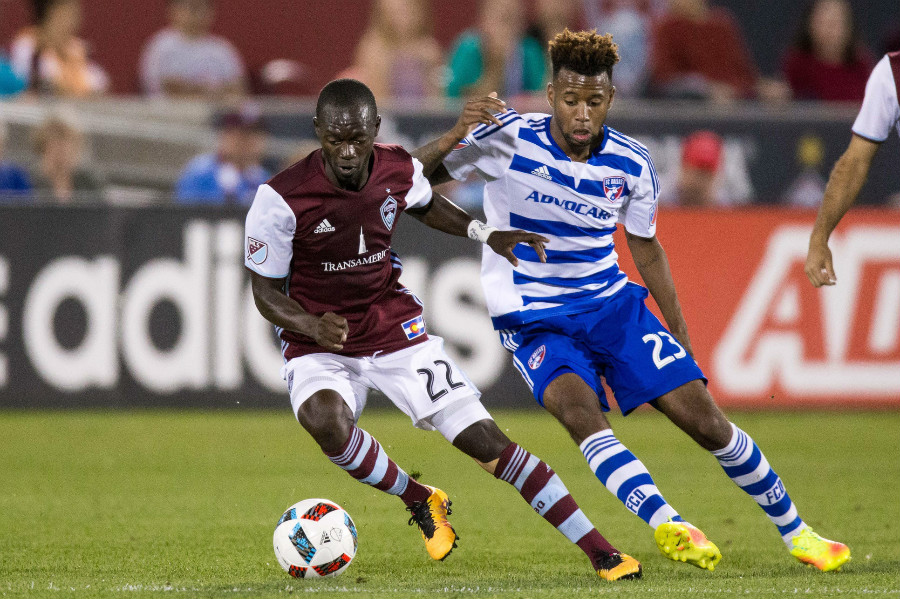 The Colorado Rapids walked away from Dick's Sporting Goods Park on Saturday with another draw, but had it not been for a lack of offensive creativity, they could've snatched all three points from FC Dallas.
Rapids television analyst Marcelo Balboa discussed on Mile High Sports Radio AM 1340 | FM 104.7 how Colorado's lack of originality on the ball may catch up with them as the season goes on.
"Teams are starting to figure out how Colorado plays," Balboa said. "They're starting to figure out the movement and where they like to feed the ball into. If Colorado doesn't get creative offensively, they're going to start being left behind little by little."
Colorado had nine shots Saturday night, but just two on target. One of them was a great header in the box from Shkelzen Gashi in the 91st minute, and the other was Marlon Hairston's 44th minute goal.
Besides those two chances, however, the Rapids failed to pose any kind of offensive threat towards their counterparts.
"I didn't see last night, anybody being like, 'Oh wow, he's dangerous today,'" Balboa said. "Doyle was off his game. Gashi had a few opportunities, set pieces. If Atiba Harris turns to the outside and kicks it into the stands, that play's done."
Hairston's second goal in two weeks was a product of stripping Harris near the top of the box and taking the ball in before putting it past Chris Seitz.
This weekend, the Rapids travel to a very offensive-minded New York City FC team that's coming off a 4-1 loss to the Red Bulls in the New York Derby.
"The game against New York this weekend will be a completely different game altogether," Sam Cronin said in postgame. "It's a small field, their style is a little bit different, they'll try to play a little bit wide in the back. They're not really a counter attacking team, they're going to try to possess the ball."
After the Big Apple, Colorado will face two of the most offensively prolific teams in the Western Conference in Vancouver and Los Angeles. The Rapids played the Galaxy to a scoreless draw in June before grabbing a point in Vancouver in the game's dying seconds.
The Rapids are making a continual push towards another MLS Cup, but if they don't find more ways to generate offense, that ultimate goal could fall through.
"In order for this team to have to fight for a championship," Balboa said. "They need to be more creative. I think they're too predictable right now. I think it's too predictable how Colorado plays, and I think teams are starting to adjust to them."
For more from Balboa on the Rapids' lack of offensive innovation, click on the podcast below…
Catch From the Pitch Sundays from 4p-6p on Mile High Sports AM 1340 | FM 104.7 or stream live any time for the best local coverage of Colorado sports from Denver's biggest sports talk lineup.