This story originally appeared in Mile High Sports Magazine. Read the full digital edition.
The Colorado Rapids have a new vision.
And they want you to know about it.
Transparency is their new buzz word. But no one says that's a bad thing.
It was a summer, fall and winter of change for Colorado's professional soccer team – one that is being embraced by supporters far and wide – and one that is being driven by a largely new front office and coaching staff hell-bent on proving to their fans that what they're doing is going to work.
"Listen, the supporters are the lifeblood of any soccer organization. It's really important that [the fans] feel not only a part of what we're doing here but that they understand how successful that we want to be. It's something that were very cognizant of from the start – we're not frightened by putting ourselves out there and saying what we want to do and what we want to achieve," Colorado Rapids Executive Vice President and General Manager Pádraig Smith said over the phone in mid-February.
Smith hasn't had that title for all that long.
In fact, it's only been this way for a little more than a month.
Let's hop in a time machine.
In August 2017, the Rapids organization took a bold step. Really bold.
The Denver Post was their platform, but the byline didn't belong to two journalists. Smith and current Senior Vice President of Business Operations Wayne Brant wrote an op-ed for Colorado's flagship newspaper.
The details are revealing.
The piece, titled "The Rapids Way: An Evolution," clearly outlines the club's plans for 2018 and beyond.
A sampling:
Who are we? What do we stand for? What do we want to achieve? These are perhaps the most important questions that any organization can ask itself, in large part because answering them truthfully requires complete honesty. It also requires committing to a strong set of values, acknowledging shortcomings, and perhaps most importantly, it requires looking ahead to the future.
We believe that to earn the fans' trust, we must be transparent about what our vision is and how we plan to get there. We must also be held accountable when things are not going the way they should. In doing so, it allows fans to see us taking the concrete steps needed to turn that vision in to a reality.
Internally, we call our vision The Rapids Way. But as we sit here today, we realize that to be successful, The Rapids Way must evolve.
The last few seasons [haven't been good] enough. It's simple — we have to improve. And in doing so, we need to become a more attack-minded team. We need to invest our time and resources in becoming bolder, and more creative in how we conduct ourselves.
With that in mind, going forward we will look to target players who play with boldness and urgency. We will look for players with high soccer IQ and game intelligence. Explosive players with good mobility. Players whose first instinct is to drive forward, to seek out the line-breaking pass, and to take on his opposite number. Players who, at the end of the day, exhibit the same burning desire to win that we do.
We want to be a high-intensity team that is willing to take calculated risks in the right areas of the field — but all the while maintaining the defensive discipline that is part and parcel to who we are, and always have been.
In short, we'll hold tight to the things that this club stands for, but we must find evolution in the areas that we aspire to improve.
There are, of course, other pieces to the puzzle. Continuing the work being done in our Development Academy, getting the absolute most of our sports science and data analytics teams, and moving away from a player acquisition policy that in the past has been agent-driven, to one that is system- or philosophy-driven.
 Above all, though, we want to make our supporters proud. We want them to know that we are evolving and that we stand with them as one club. We want them to know that success is not far away. And that there is a plan in place to achieve it. 
When is the last time a professional sports team in a major city took the time to do something like that? The Internet probably has your answer, but it's certainly a rare sight – particularly in the current climate of mistrust of the media.
Smith and Brant took things into their own hands.
They didn't let someone else write the story; they wrote it themselves and did a brilliant job.
The response to the op-ed was overwhelmingly positive. Even if you drift into the dark corners of online message boards, it was hard to find a negative review. People are jackasses on the Internet, but because Smith and Brant were willing to attach their names to the piece, fans across the Rocky Mountain region applauded the sincerity.
Eventually, it earned both gentlemen promotions, as each had the "interim" tag removed from his title in early January.
Even six months later, Smith, fancy new title in hand, is still proud of the transparency. And he doesn't hide his goals for the club. They start this season.
"We want to be a perennial playoff team, we want to bring an MLS Cup back to Colorado and we want to do that playing a certain style of soccer. I think so far the fans we've engaged with have been encouraged by that. I think making sure everybody understands not just what your vision and goal is for the future, but also your pathway to achieving that," Smith said. "I think it's important that everyone's on the same page and we're all in this together."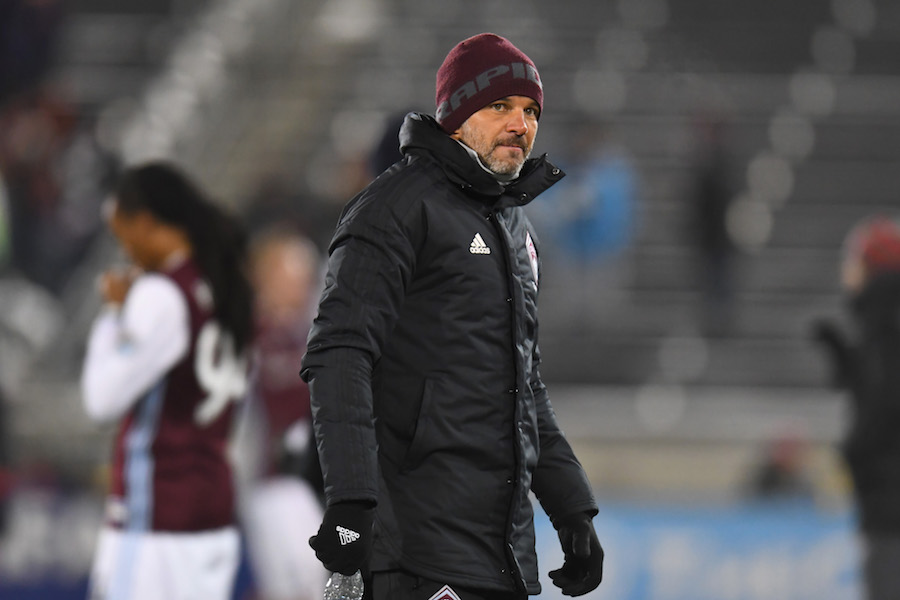 It was a global search.
We're talking truly global, as the Rapids were willing to think across borders.
They were going to find the club's eighth permanent head coach by turning over stones all over the planet – Europe, South America and Asia. They found him in New Zealand – Anthony Hudson was the selection.
Hudson has an international soccer (they even call it football) résumé that stacks up with the best coaches in MLS. He was lauded after his introductory press conference in late November, and after a few months on the job is fitting in with the club nicely.
The relationship between Hudson, and his boss, Smith, is off to a solid start. The communication Smith and Brant touted in the op-ed wasn't just lip service. Behind closed doors, even though the Rapids hadn't played a game, things seemed to be clicking.
Just ask Hudson.
"I've been really pleased. What's been good is that the whole scouting team and Pádraig Smith and everyone's been really supportive and aligned in how we want to play. The sort of end product of what we want to look like as a team on the pitch and off the pitch and then going out and recruiting players that fit that style of play. I have to say in a short space of time there's been a lot of change – not only personnel change but obviously staff as well," Hudson said.
Look, Hudson wasn't going to make the leap to MLS unless he was comfortable with the situation and had support from the club. This was a two-way street: Hudson wanted to be part of the Rapids, but the Rapids really wanted Hudson as well.
The relationship between Smith and Hudson is as transparent and unified as the op-ed piece.
It's very clear when you ask both of them independently about their goals, because the responses are similar.
"I think the goal for us, all the staff and all the players, it's clear we want to win a championship. We want to be a successful team in this league," Hudson said bluntly. "One thing is for sure, we have a lot of belief in how we're working and we really believe in this standard within the team, and I think if we continue to do that the process will be quick.
"For us, certainly, this season we want to get into the playoffs at a minimum. That's the minimum standard for us."
Still, the new head coach is also a realist.
"The reality is these things do take time and how long that takes you just never know. I think everyone in the team believes we can do that and we believe in the players we brought in. That's this season – that's the minimum for us – and certainly beyond that we want to win a championship and there's no questions about that," said Hudson.
Despite the emphasis on offense – and a new attacking style – don't you dare forget who plays goalkeeper for this club.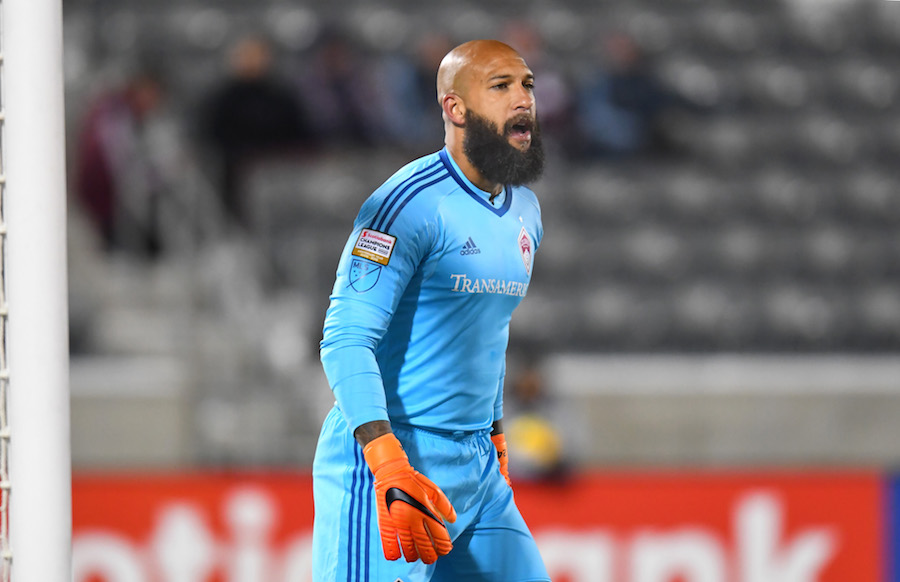 Pádraig Smith is proud of the roster he's assembled.
It's one the team's new full-time GM will continue to tweak – because that's his job – but for now Smith is thrilled about one position in particular.
Even if you're a casual soccer fan, you know the name.
He's been called an American hero.
And while the word "hero" may spark debate, there's no doubt Tim Howard is a world-class goalkeeper.
That's just a fact.
Smith reaffirms how excited Rapids fans and potential new fans should be that the legendary keeper plays in Colorado.
"Tim's been fantastic from day one, but there's no doubt after suffering such a bitter disappointment for not qualifying for the World Cup we've really seen him take a leading role on the group. He wants to be successful. He goes out there and shares the same kind of burning desire that Wayne [Brant] and I do to be successful and to do it a certain way. He really is an extension of what we're trying to do in the front office and brings that into the team," Smith said.
It's been a transition for Howard, who played for the likes of Manchester United (2003-07) and Everton (2007-16) before joining the Rapids.
But that experience was a vital reason the organization brought in Howard. And while the club has seen some tremendous highs with Howard in goal (including a monster playoff win over L.A. Galaxy), it's also not a secret that Smith expects to see even a little bit more out of his veteran goalie in 2018.
"I think he's been terrific all along and he's excited about some of the changes that we've made, the direction we're going as a group, and he's a big part of what we're trying to do here. I think it can be forgotten at times that he's – without a doubt – the greatest U.S. goalkeeper that's ever taken the field and one of the greatest U.S. players to have ever taken the field. To have him be part of our group is a big thing for the club," said Smith.
Howard is on board – there's no doubting that. Of the op-ed piece, the international superstar said the words written by Brant and Smith were anything but "lip service," demonstrating instead the club's "clear vision."
While Brant and Smith run the show on a day-to-day basis, there are plenty of other very important folks involved.
Rapids Senior Director of Communications Ryan Madden recently took some time to explain the leap the club took this offseason in its operations department. Kroenke Sports was clearly comfortable handing Brant and Smith the keys; Madden explained why via e-mail.
"At the end of the day, laying out our vision for the future of this club was important, but what really matters is executing on that vision," explained Madden. "In the Op-Ed, Pádraig and Wayne talked about modernizing the club and embracing things like data and analytics, as well as sports science. Enter then Fran Taylor as our new Assistant General Manager, one of the most respected people in the data and analytics field; and Chad Kolarcik as our new Director of Performance and Sports Science. Pádraig and Wayne also talked about exercising greater financial intelligence. So enter Ena Patel, a legal expert who was specializing in tax law at one of the biggest international law firms in the world.
"Now, add on top of that between 10-12 changes to the first-team roster, including the arrival of numerous high profile European players to help bolster the attack – guys like Stefan Aigner, Johan Blomberg, Danny Wilson, Jack Price, Tommy Smith and Joe Mason, not to mention Edgar Castillo, the only player to ever feature for both the United States and Mexican Senior National Teams – and what you have is not a just a vision, but a very clean plan to bring that vision to life. The future is bright here."
The Rapids consistently use the word transparent.
And it's clear they mean it.
Between the op-ed and the changes to both the front office and player personnel, a new era of Rapids soccer is about to kick off in Colorado.
The team is an original, charter MLS club, which, under new leadership and with a new crop of talented players, is undergoing a complete, pragmatic – even global – overhaul. There's an understanding that in recent years, with the exception of the 2016 season, the results simply haven't been good enough. The Rapids, on and off the field, aren't shy about owning up to this truth and, as the plan outlines, are busily rewriting the narrative.
It is perhaps the most substantive shift in club history.
The Rapids are attempting to build something special. It seems there has never been a more promising time to be a Rapids supporter.