This story originally appeared on InfinityParkatGlendale.com. 
Another weekend and another win came and passed for the Glendale Raptors as they took their third-straight in a 52-0 shutout victory against the Santa Monica Dolphins. The win improved the Raptors' record to an unblemished 3-0 in Pacific Rugby Premiership (PRP) play.
The hosting Dolphins had several key injuries at key positions including fly half, center and lock, but the Raptors were keen on doing their due diligence against the weakened opponent.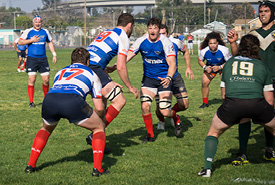 "Once again, Santa Monica is one of those teams that you can't underestimate," Raptors head coach Andre Snyman said. "We just went in with the mindset of focusing on ourselves, our game plan and structures and our goals. I'm really proud and happy with the way my team played from the start."
The Dolphins showed their grit by holding Glendale scoreless for the opening 12 minutes of the match. Zac Pauga eventually broke through for the game's first try which opened the floodgates for the Raptors. DeWon Reed and Martin Knoetze also got in on the scoring action as Glendale built a 26-0 lead by halftime.
Knoetze's two first half tries were part of a hat trick on the day for the winger.
"Obviously without saying, [Knoetze] found some really good lines and found himself in the right place at the right time," Snyman said postgame.
It was a team effort, with Snyman crediting solid ball distribution and ball carries for the offensive explosion as Knoetze was joined by Dannie Papike, Peter Dahl, and Luke White on the scoresheet in the second half.
The win wasn't without sacrifice, however. Sean Mills went off in the first half with a broken collarbone and young gun Christian Wiessing went off with an ankle injury in the second half.
"I'm not sure how severe the ankle is, we'll have a look this week," Snyman said of Wiessing's status.
The big win was another step in the defense of Glendale's PRP title, but with a coach's critical eye, Snyman is still looking for areas of improvement.
"We need to work on our breakdown," he explained. "The ball carrier does all the hard work. Better teams can hurt you if the arriving player is not there quick enough and there are opportunities to steal the ball or turn it over."
All points of emphasis will be critical for next Saturday's match, when the Raptors embark on another road trip to face 2014 PRP Champions San Francisco Golden Gate (SFGG).
Image credit: Glendale Raptors