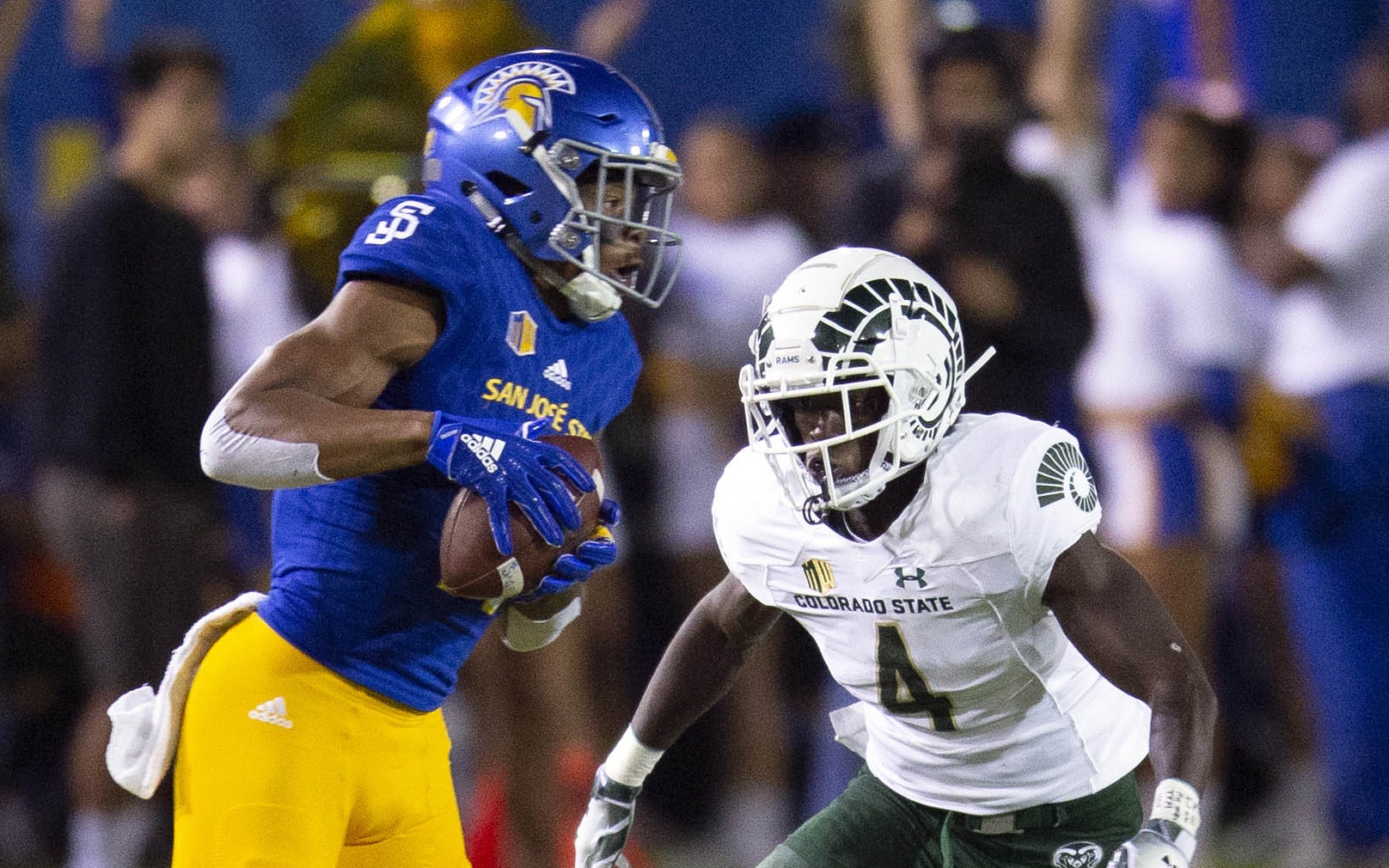 In a season clouded by darkness, Rashad Ajayi has been a bright, shining beacon of light.
The Rams didn't hope to be 2-4 at the mid-way point of their season, but without Ajayi's phenomenal pick-six late Saturday night, Colorado State may have not won that second game of the season.
With his Rams leading 35-30 — battling back after giving up 30 points in the third quarter alone to lose their lead — Ajayi stepped up and picked off San Jose State quarterback Josh Love to push the green and gold ahead 42-30.
That pick-six was massive for the Rams — who only had four interceptions on the year going into the game — and it helped boost Ajayi into the Pro Football Focus Team of the Week:
The Week 6 National Team of the Week on defense

For the full team ⬇️ ⬇️ https://t.co/L4nLWYsKYw pic.twitter.com/YaaGVrapK2

— PFF College (@PFF_College) October 8, 2018
According to PFF, Ajayi was targeted 12 times and only gave up two receptions for 12 yards.
Their writeup on the true freshman cornerback:
"Ajayi was targeted 12 times in coverage for the Rams yet he allowed just two receptions for only 12 yards. He brought down an interception while he also had four more forced incompletions and a 4.9 passer rating when targeted."
Even as a true freshman, Ajayi has proven to be one of the best players on the Rams roster this year. He supplanted Anthony Hawkins at starting cornerback and has brought a physical style of play to the field starting back in August, during the team's fall camp.
Ajayi is an all-around cornerback, making plays not only in the defensive backfield, but all over the gridiron. He has 16 total tackles, one tackle for a loss, a sack, the interception and a forced fumble. And, his five pass breakups lead the Rams.
Colorado State still has a long way to go in terms of climbing the Mountain West, especially this season. But, with Ajayi likely locking down one half of the defense for years to come, the future is bright in Fort Collins at cornerback.