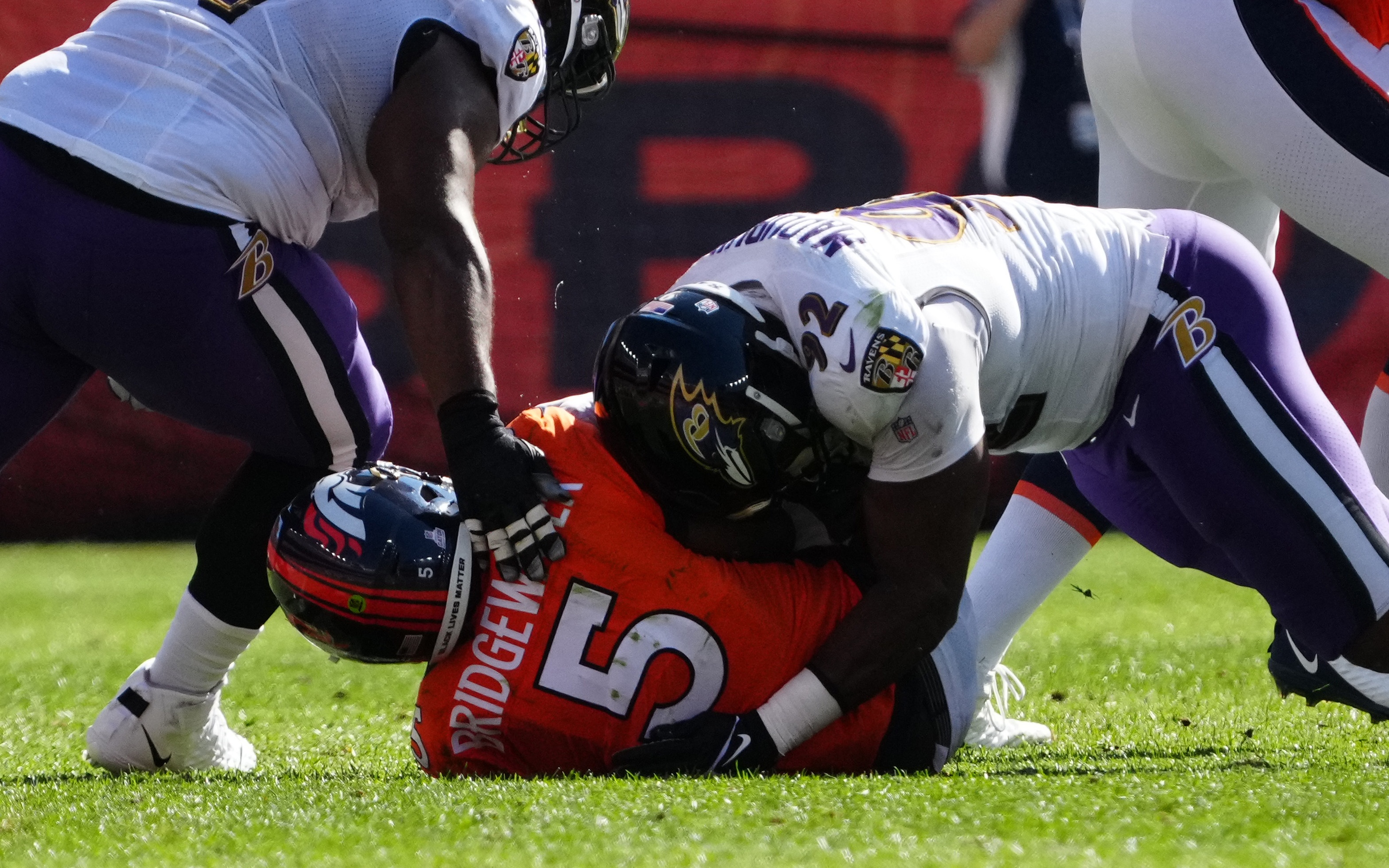 Denver came into the game beat up — with 7 starters unable to go — which included two offensive linemen and it showed all game long.
The visiting Baltimore Ravens have long been known for tough, physical defense which pounds opponents into submission, and that's what they did to Broncos starter Teddy Bridgewater on Sunday afternoon.
Bridgewater came into the Week 4 contest as the second-most accurate passer in the NFL (76.8%), keeping defenses off balance by connecting with eight receivers per game. There was no way to know where "Steady Teddy" was going in the first three games.
But on Sunday, the Ravens gave him little time to throw. They broke through fill-in guards Netane Muti and Quinn Meinerz, and even pushed Garett Bolles back which resulted in a sack.
Yes, Bridgewater stood in there courageously, but he continued to get pummeled throughout the first half. He was sacked twice before the half and went 7-for-16 before the break due to a lack of time on many drop-backs. And in that first half, Denver amassed a mere 129 yards and nine first downs, going 1/7 on third downs.
Unfortunately, though, that last hit of the first half was the toughest yet.
Bridgewater not only got hit as he threw — a ball which fell short of the intended receiver — but he got hit in the head, too.
Here's the hit that rang Teddy's bell. @Broncos pic.twitter.com/NDCEk2Ak5V

— Vic Lombardi (@VicLombardi) October 3, 2021
Now, how that's not a penalty is a huge question. Although, it wasn't seen in live action by the officials nor the television commentators, so it wasn't that obvious.
After the hit, Bridgewater was evaluated for a concussion during halftime and when the team came out of the locker room, the starting quarterback didn't go to the sideline.
So, Drew Lock went in for his first action of the season, and even on his first throw of the day, Lock was sacked.
Update: As of 8 minutes left in the third quarter, Bridgewater has been downgraded to OUT.
As of now, the Broncos are down 17-7 to the Ravens about halfway through the third quarter. Without their starting quarterback and unable to stop the Ravens pass rush, Denver seems to have little hope at this point of pulling off the comeback win.