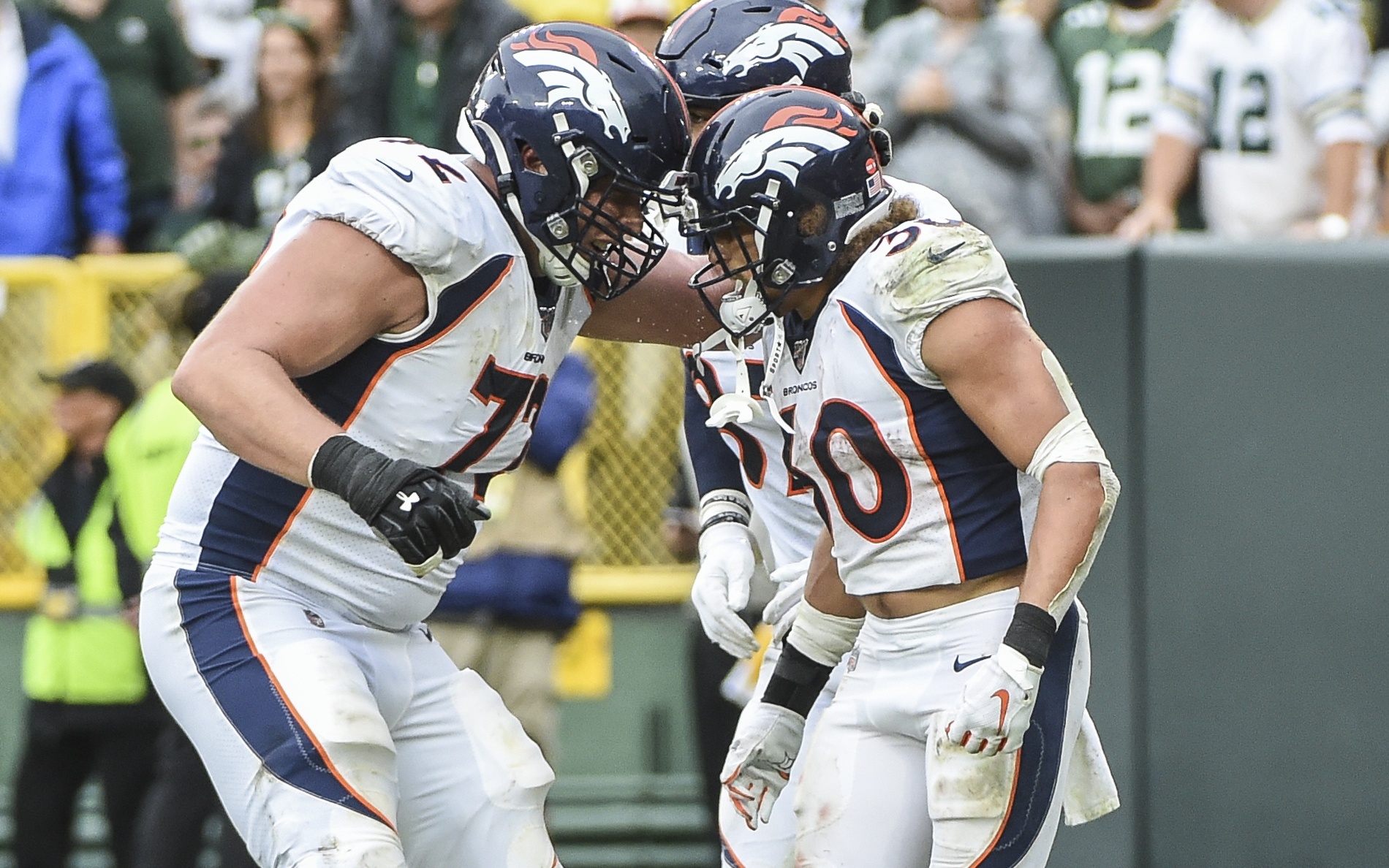 Garett Bolles has long been the subject of ridicule, and with good reason.
The first-round draft pick in 2017 has never lived up to the billing of the No. 20 overall pick. Not only that, there has also been little evidence he's improving, even into this, his third season.
Well, that may finally be changing. Just like his Denver Broncos as a team couldn't find a way to put it all together on the field to create a win until Week 5, Bolles put one of his best efforts into that field in Los Angeles on Sunday.
According to Pro Football Focus, who grades every player, every week, Bolles was the fourth-highest graded offensive lineman in the NFL last week in terms of pass blocking.
Against the Chargers, Bolles' pass-blocking grade was a superb 84.6, while his run blocking struggled a bit at 62.0 (which was still his second-best grade in that category this year).
Even that very high pass-blocking grade is not to say he had a perfect game — one Chargers defender did get around him and sack Joe Flacco, stripping the ball simultaneously. But, considering that massive mistake, Bolles must've really excelled throughout the rest of the game to earn such a high grade.
And, no offense to backup right tackle Elijah Wilkinson, but Bolles was leaps and bounds better than his tackle mate on Sunday. Wilkinson, who's done decently to fill in for the injured Ja'Wuan James, was called for one penalty and a sack as well as two more pressures on Joe Flacco.
What it means is, when James is finally healthy, and he's getting closer to playing condition, the Broncos may finally have strong tackles once again. Of course, part of that depends on how well James plays and currently he's a bit of an unknown considering how little he's been on the gridiron with Denver.
The good news is that Bolles is looking like he's finally turned a corner. But, Broncos fans should be a little wary because his career has been marked by big-time ups and downs to this point. What Bolles needs to do now is build on this effort, continue to head the advice of Hall of Famer Mike Munchak and develop into that cornerstone on the offensive line Denver has been desperately needing. The great news? His 84.6 grade last week built on the 86.9 grade he earned in Week 4 in the pass-blocking department. It seems Bolles has finally figured out how to pass block with consistency. Now, he's got to sure up the run blocking part of his job.
This week, Denver (1-4) faces Houston (3-2) in Denver at 2:25 p.m. MT this Sunday.