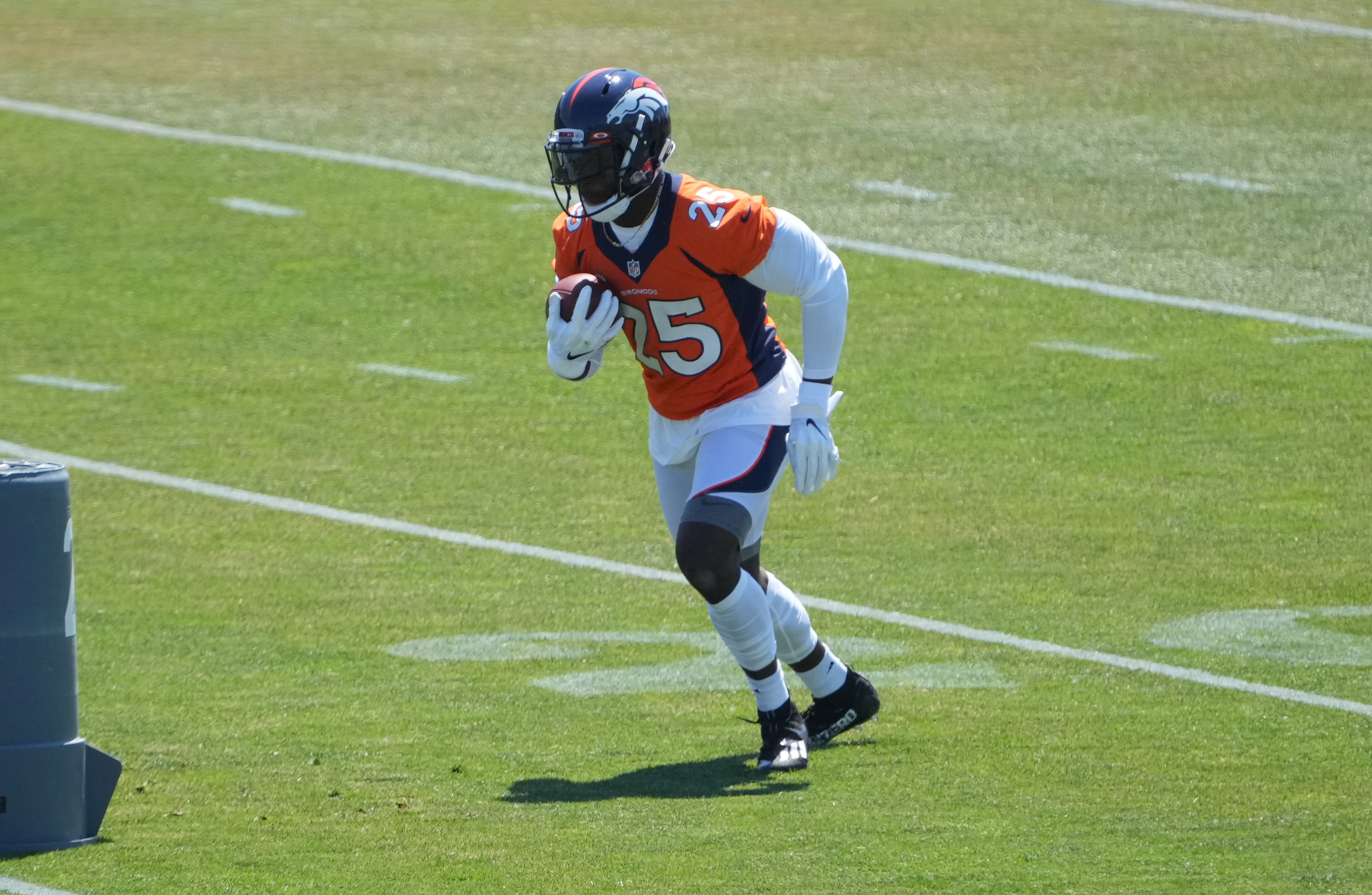 The Denver Broncos have the makings of a very dynamic backfield with Melvin Gordon and Javonte Williams, but only one can start, and the battle to determine who that is will be hotly-contested.
"I think they are some good players. We're competing, but it's early, and we still have a lot of work to do," Melvin Gordon told the media on Tuesday. "I think both of them have really good feet and good hands. I think they're going to be—we could all be special. We're definitely going to come out here and compete. [I] can't wait until training camp with guys flying around. OTAs are kind of—it's tough right now with the linemen and everything. Some looks don't be as realistic. As far as those guys, they have good feet. You can tell [Mike] Boone been in the league for a while, and you can tell that Javonte [Williams] has potential. We're going to grow as a group, and we're looking to be the best running back group in the league."
Despite all the praise Gordon gave both Boone and Williams, you better believe he still has the utmost confidence in his own abilities.
"I'm very confident, man," Gordon said when asked about his confidence level in the running back competition. "We're just going to go out there—I'm just going to go out there and just do my job and compete. Wherever the cards fall, they fall. I can't really worry about that too much."
Gordon was quick to make it clear that while he did feel confident entering the running back competiton, his goal wasn't to win the starting job, but to win games instead.
"I know that's kind of the talk," Gordon noted. "The media is making it Javonte versus Melvin. Who's going to start? This and that. It's not really about that. It's about us winning football games [and it's] about us competing. I'm going to go out here and do what I need to do as a [running] back. I'm going to go out here and give my everything to this team because that's what this team deserves. [We're] trying to put the Broncos on the map and keep us on the map. Like I said, I don't feel like we're getting the respect that we deserve. We have been losing and we had a losing season last year. It comes with that. Right now, it's about competing and going out there. I'm going to do my job, so I'm not really worried about that. You definitely need two backs. At some point in time, we're going to need him, we're going to need [RB] Royce [Freeman] and we're going to need Boone. It's a tough game and we have an extra game this year. We have to do what we have to do."
When asked about the competition, head coach Vic Fangio was also quick to give a team-friendly answer.
"Well I think there's enough work to be had for everybody if everybody proves they're worthy," Fangio said on Wednesday. "I think you have to throw [RB] Mike Boone in that when you talk about that position too. All three of them just need to come back. We'll carve a role for them. Obviously Melvin is an established back in this league, played good for us last year, and we like him. We obviously like [RB Javonte] Williams and we like Boone. So you never have enough backs, and I'm confident that there will be enough work for all of them."
While there certainly could be enough work for everyone to be satisfied, that likely won't be the case, which will mean making a good impression on the head coach will be key. Fortunately for Williams, he's already impressing Fangio, who told reporters on Tuesday that he saw "no limits" to the rookie's game.
"I don't see any limits with him," Fangio said. "We could work him and [RB] Melvin [Gordon III], just spelling [him] as it goes. One can get the predominant third-down stuff. It'll work itself out. We think he's capable on all down and distances and all situations for us. We believe that he and Melvin will be a good combination back there along with 'Booney' (RB Mike Boone)."
The quarterback competiton may generate more headlines, but the running back competition is set to be far more entertaining.