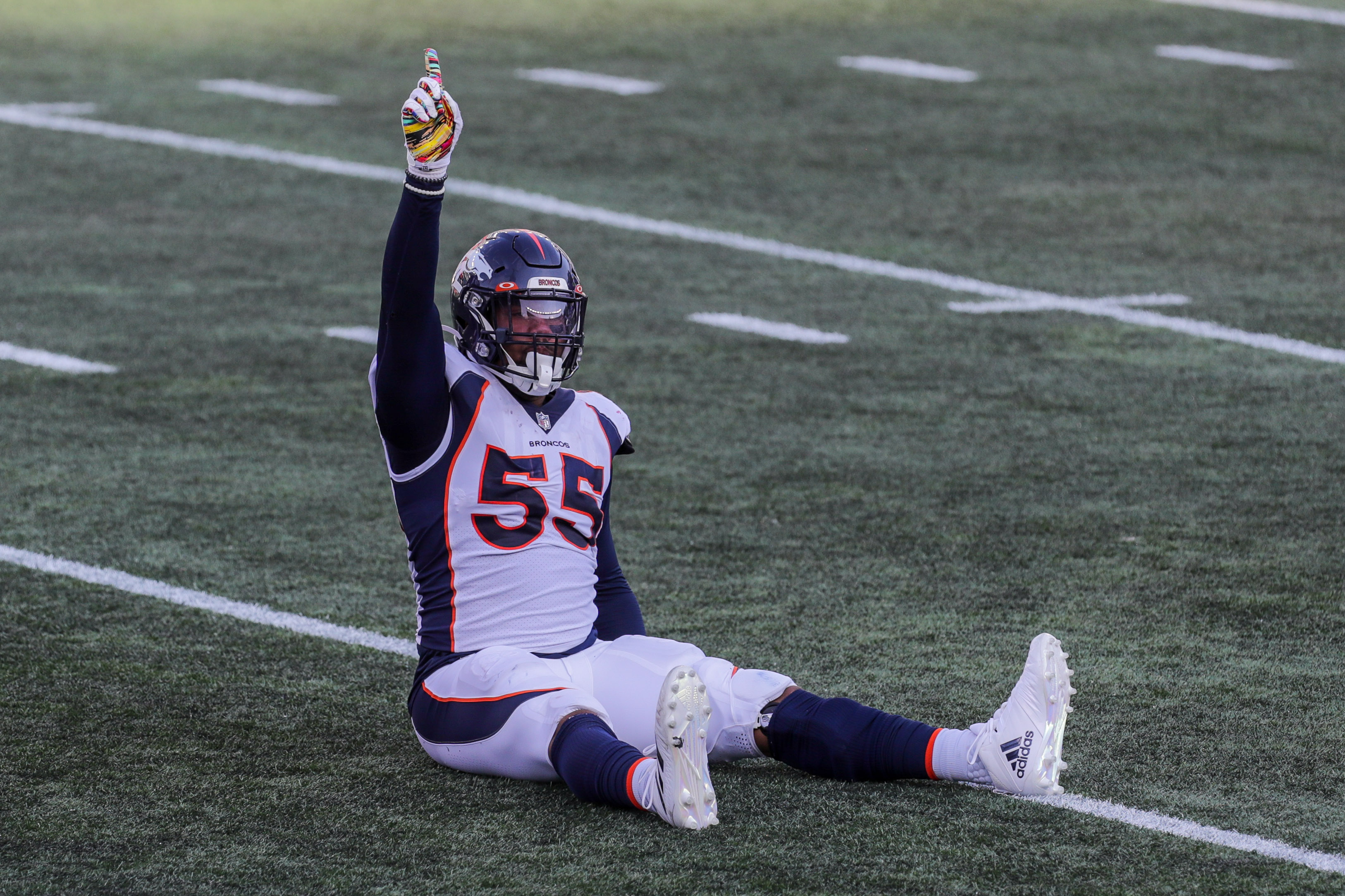 Consider yourselves lucky, Broncos fans. Your team has a lengthy record of success. Three Lombardi Trophies. Eight trips to the most famed game in sports. Playoff appearances in 22 of the franchise's 51 NFL seasons. But you already knew that.
Which is why the last five seasons haven't exactly sat very well. No rings. No postseason. And only one winning season back in 2016.
While recent history isn't so pretty, the history of the organization might reveal some good news: Generally speaking, when the Broncos have a top-10 defense – in either yards allowed or points allowed – they're playoff bound.
And by all accounts, the Broncos are expected to have one of the NFL's best defenses this season.
Consider than in 51 seasons, the Broncos have only missed the playoffs 11 times when they've had one of NFL's top defenses (remember, in either yards allowed or points allowed – not necessarily both). That number looks all the more impressive considering that only five of those teams missed the playoffs after 1980 (meaning, six Broncos teams had excellent defenses throughout the '70s without an offense to match).
Now consider this: In the Broncos 22 playoff appearances, only three teams did not have a top-10 defense. Those three teams were Brian Griese's 2000 Broncos, a team that ranked No. 2 in offensive points and yards; Tim Tebow's 2011 team, one that can really only be explained by miracles; and Peyton Manning's 2013 Broncos, arguably the greatest offense of all time.
The math boils down to a simple fact, when the Broncos have a top-10 defense – something the franchise can boast 29 times – they go to the playoffs 62 percent of the time (and 75 percent of the time if you eliminate anything before 1977).
And conversely, more than 1/3 of the Broncos teams to earn a playoff spot have done so without a top-10 offense.
For those who are optimistic, it's easy to point toward 2015, a season in which the Broncos had a dominant defense, ranking 4th in points allowed and 1st in yards allowed. In that campaign, a Peyton Manning-Brock Osweiler-led offense ranked a measly 19th and 16th in points and yards respectively. Can Teddy Bridgewater produce at a rate similar to the Manning-Osweiler duo? That doesn't seem unreasonable.
Then again, the Patrick-Mahomes-led Chiefs weren't running roughshod over the AFC West back then either. Still, the model provides hope, even if Bridgewater isn't Manning and even if the 2021 defense isn't quite as good as 2015's unit. Asking the defense to be that good might even be a taller task than asking Bridgewater – or the combination of Bridgewater and Drew Lock – to finish with an offense ranked somewhere near the middle. That doesn't seem unreasonable (especially considering the weapons Denver's offense possesses).
Another model in which to point might be he 1991 Broncos, a team that lost in the AFC Championship Game to the Bills following an injury to John Elway. That team ranked 3rd and 5th in points and yards defensively, but only 12th  (at that time, fairly close to the middle of the pack) in both points and yards offensively.
Furthermore, the '91 Broncos were a run-first offense, presumably what this year's team will be. That year, the Broncos ranked 4th in rushing attempts and 8th in rushing yards. And despite having Future Hall of Famer John Elway under center, the Broncos vanilla offense only ranked 24th in passing attempts, 17th in passing yards and 20th in passing touchdowns. One key to that particular season was that the Broncos offense ranked 6th in the NFL when it came to turnovers; in other words, they weren't fancy, but they held onto the ball very well.
It's true that the modern NFL is a high-flying affair, where offenses light up the scoreboard. But when looking at rankings (rather than total yards or total points), allows some relativity to take place. In other words, it allows more of an apples to apples comparison between eras. Besides, despite the week-to-week fireworks, defense still wins championships, just as it did for the Tampa Bay Buccaneers last season.
Are the Broncos a Super Bowl contender? Even with a defense that's supposed to be superb, it's unlikely. Of the Broncos eight Super Bowl appearances, only one team – the 2015 team – failed to have an offense that boasted either a top-10 ranking in points or yards. In fact, five of them had offenses that were top-10 in both. But again, that's only looking at Super Bowl teams.
With a top-10 defense, all the Broncos need to be on offense is "decent." Middle of the pack should be just fine. If they just so happen to sneak into the top-10 in either yards or points, it's practically a lock they be playoff bound.
One final stat with which to enter the season: Since the team's NFL debut, only six teams that had a defense that finished in the top-10 for points or yards didn't have winning seasons – each of those offense ranked in the league's bottom half, two of which (2019 and 2017) ranked among the bottom-five offenses.
History points out that the bar is certainly within reach. Assuming the Broncos defense is as good as expected, the Broncos should have a winning season (so long as the offense isn't colossally bad) and even has a decent shot at making playoffs if their offense is somewhere around average.
That's not a lot to ask.