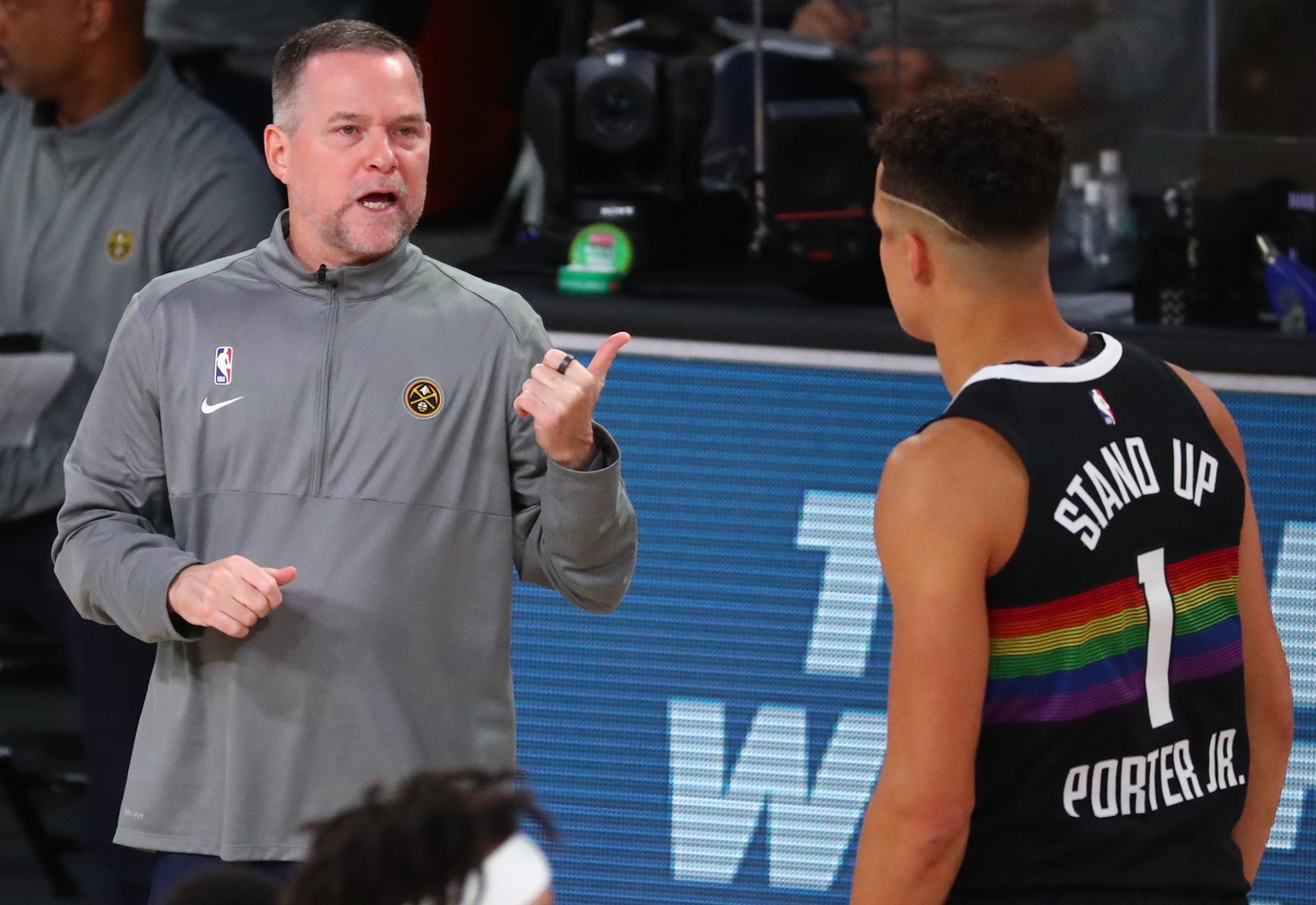 Sure would be nice to have a third scoring threat on the Denver Nuggets right about now, wouldn't it?
On Tuesday night, a depleted Nuggets team – a roster that was highlighted by the absence of five significant injured contributors – took one on the chin in Boston. The Celtics were at full strength while Denver was thin at best. Nikola Jokic and Jamal Murray were the best players on the court, but for Denver, it looked as if they were the only players on the court.
The Nuggets needed another guy. Just one guy to step up and have a game. But nobody did.
One Nugget not sitting out with an injury was Michael Porter Jr. He might as well have been though, as the third-year sharp shooter was dreadful, going 0-for-8 from the floor and contributing exactly zero points in 24 minutes. Perhaps this should have come as no surprise though – Porter Jr. has been awful of late. In the month of February, he's shot a paltry 35 percent from the floor and just 22 percent from beyond the arch. He's only scored in double digits twice in seven games.
Beyond the stat sheet, however, it gets worse. Porter Jr.'s body language is depressing. He looks like a beaten dog, afraid to make his next move and possessing no life or confidence. He's currently a player who can't help but taking frequent glances at the bench in anticipation of who's going to be checking into the game in his place. He's a far cry from the player he was in The Bubble, or the starter who scored 24 points on 60 percent shooting on opening night, or the player who slapped 30 on the Mavericks last month by going 4-for-5 from three-point land. At current, he's not that player. Not even close.\
Michael Porter Jr. is supposed to be the Nuggets third scoring threat. As a matter of fact, the Nuggets need Michael Porter Jr. to be that third scoring threat.
He's not. And the Nuggets can blame nobody but themselves.
This season was supposed to be Porter Jr.'s breakout campaign. It was finally time to let all that potential loose en route to becoming the Nuggets' "third star" – a necessary asset for any team with hopes of winning an NBA title. Since the Nuggets can't seem to attract that third star via free agency, or have more than enough faith in their in-house talent to venture into a blockbuster trade, it was (and is) imperative that the 22-year-old Porter Jr. got every opportunity to develop into a star this season. And with Jerami Grant's departure for Detroit, there's nobody standing in the way of the minutes required to truly let Porter Jr. shine.
Yet, that hasn't really happened. The leash on Porter Jr. is shorter than a shoelace. When he makes a mistake, he's typically yanked in dramatic fashion. There are not-so-subtle consequences that accompany bad plays or bad games. He's playing "decent" minutes (26.8 per game) but ranks fifth on the roster. For a player destined become one of the Nuggets "Big Three", he's started in just 10 of the 17 games he's played this season.
Porter Jr. is a professional and consequences are to be expected. But even though he's in his third year as a pro, he's yet to play a full season's worth of games (the loss in Boston was only his 72nd regular season game). In his true rookie season, Porter Jr. never saw the court as the Nuggets patiently let him heal from back surgery. As a second-year player healthy enough to play, Nuggets coach Michael Malone eased him into things with limited minutes and a limited tolerance for defensive mistakes. At times, Porter Jr.'s useage, or lack-there-of, was the subject of great controversy amongst those who follow the Nuggets.
Fast forward to 2021 and the minutes have grown but so too has Malone's frustration and stubbornness as it pertains to Porter Jr. There's an obvious unwillingness to let his youngster play through mistakes. Meanwhile, there's a palpable double-standard when it comes to Malone's tolerance for the mistakes and poor play of other Nuggets.
To point: Just ahead of Porter Jr. in minutes-played is Will Barton – a good player whose ceiling is a known commodity, and who is still capable of making poor decisions on the court despite having been in the Association for nine seasons now. Barton is a good but not great defensive player; offensively, he's fearless and has the ability to win a game in clutch situations. He's also a player who's just fearless enough to shoot his team out of a game when things aren't falling. Over his career, Barton has shot 43 percent from the floor and 35 percent from beyond the arch. By comparison, Porter Jr.'s still young NBA career boasts percentages of 50 percent and 40.5 respectively. Somehow, however, Barton has mysteriously become a crutch of sorts for Malone when he's not pleased with Porter Jr. There's certainly a place for Barton on any NBA team – this is not a knock on him – but that place probably shouldn't be standing in the way of the only Nugget on the roster who has the potential to become a star alongside Jokic and Murray.
Last night in Boston, Malone awarded equal minutes to rookies R.J. Hampton (23:55) and Zeke Nnaji (26:28) who contributed 4 and 2 points respectively, both on 33 percent shooting. Porter Jr. couldn't hit the broad the side of the barn, but for what it's worth, he was a plus-2, while the rookies' plus-minus numbers came in at minus-16 and minus-18.
In short, if the Nuggets believe that Porter Jr. can be the star they so desperately need, they're certainly not treating him like one. Stars might not come to Denver on their own, but if one is developed here, there's a decent chance they'll stay. Whether he becomes a star or not, it's reasonable to conclude that Porter Jr. has enjoyed neither his time nor treatment in Denver thus far.
Certainly, Porter Jr. is not without blame. The beauty of sports is that any player has the opportunity to silence the naysayers – even a stubborn ol' ballcoach like Malone – by playing so well that it's impossible to keep them out of a lineup. Porter Jr. – with or without valid excuses – has yet to do that.
Nikola Jokic has played at an MVP caliber. Jamal Murray has been inconsistent, possibly because of nagging injuries, but still has the ability to play at a star level. Outside of those two, though, there's nobody on the Nuggets roster capable of becoming a consistent third weapon.
Except, possibly, Michael Porter Jr.
Yet, for some reason, Malone and the Nuggets have done their best to tinker with both his confidence and his development. They've mysteriously toyed with Porter Jr. like a cat plays with a ball of yarn.
In essence, the struggling Nuggets are reaping exactly what they've sown when it comes to the enticingly talented Michael Porter Jr.
Next up, the Nuggets play the Washington Wizards. Michael Porter Jr. has the chance to play like a star, and Michael Malone has the chance to treat him like one. What happens from there will likely determine the fate of the Nuggets.