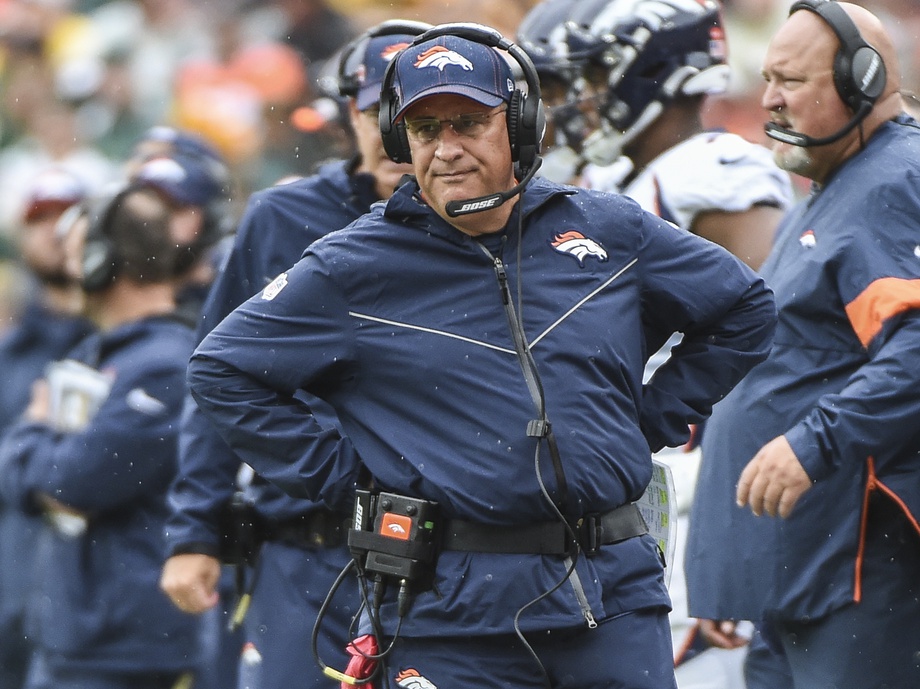 A lightning rod for controversy.
Did anyone ever think that's what the Denver Broncos were getting with Vic Fangio? You know, the oldest rookie head coach ever hired in the NFL, the elderly gentleman who needed a sweatshirt during training camp, the curmudgeon who banned music at training camp.
At best, the Broncos were getting a guy who'd put in the time. A coach who'd built great defenses through years of experience, hard work and relationships.  A pro's pro who'd only been passed up because it had become trendy to hire the young hot shot – a "Sean McVay-type" – instead of the high-mileage, nuthin' fancy, pick-up truck who'd always gotten the job done.
At worst, those who chose not to hire him as a head coach were right. Once a coordinator, always a coordinator, you know, that sort of thing. At worst, Fangio would turn out to be more Wade Phillips and less Gary Kubiak – both great football minds, but sometimes that doesn't translate at the very top of the coaching org chart.
Fangio, now 62, is just 20 games in as a head coach, so it's tough to say exactly what kind of head coach is. He hasn't been indisputably great – don't forget to use those timeouts, coach – but he also hasn't been dealt the best deck of cards; Lombardi himself wouldn't scare the Chiefs with these Broncos.
But Unfiltered? Controversial? Polarizing?
Apparently, that's what the Broncos have in Fangio – the maskless rebel favorite subject of every talking head in sports.
Now, that's not my belief. But Google "Fangio whiney" and no less than 10 minutes of mindless entries will pop up (including this one once it's published). Everyone is talking about the coach who doesn't even really like to talk all that much.
In just a few short months, Fangio, who'd just as soon not be bothered unless you're asking about the 3-4 defense, has managed to tick off just about everyone. In the country's great state of unrest, leave it to Fangio to say just the wrong thing at exactly the right time.
At first, he suggested that racism wasn't really a thing in the NFL. Did he mean that maliciously? After a clear-the-air meeting with his team that followed, it's safe to say that his players departed with a better understanding of their coach and what he meant.
Then he didn't wear his mask on the sideline, got fined and said he had to do better.
And on Sunday, after learning that his team's schedule would be changed yet again, he offered up the latest.
"In a weird way, I'm kind of happy to see some of this stuff happen because you see who the whiners are, who the bitchers are, and who can't handle adversity,'' Fangio told the media following the news that was just as new to him. "I'm going to try hard that the Denver Broncos don't fall into any of those categories."
You'd have thought he'd just called the Pope a bad name.
Now, there are a lot of ways one can take Fangio's comments. I suppose if you're a Broncos player who'd just expressed displeasure about the news on Twitter, you might take it, oh, let's say, personally.
Then again, it's also safe to say that Fangio, who said he'd been in the Broncos facilities before the sun came up, didn't arrive to mindlessly scroll his Twitter and IG feeds. If all these fancy schmancy new sports betting apps that somehow work on a phone could put odds to it, the smart money is on Fangio having no clue any of his players had even spoken up on social media.
But, if you're like a lot of woke folks these days, everything and everyone should be wildly offended.
Take Keyshawn Johnson and Jay Williams, who lambasted the ol' ball coach. You'll get no argument from me that Fangio's comments weren't smart, but these two want him fired.
They also somewhat suggested that Fangio's comments reflected a lack of concern for safety and an overall dismissal of COVID-19 – for anyone who actually heard or read Fangio's comments, that's not what he was saying at all.
Williams, who said mockingly, "Sorry that a pandemic has ultimately affected how your players deem safety," was making the assertion that Fangio's comments were directed at his own players, as well as criticizing them for wanting to be safe. In reality, most of the Broncos players were wanting to play, safe or not. They were (understandably) upset because they'd prepared then didn't get to play, and because a team that potentially had not been as safe as they were had been let off the hook by the league. The collective reaction had more to do with disappointment and frustration and less to do with their concern for safety. Fangio certainly wasn't calling out players because they wanted to be safe. In fact, it seemed as if he was rallying his troops to put the league's decision behind them, accept the strange circumstance and move on.
Or at least that's one person's translation. But, you know, in 2020, if comments of any kind from anyone don't upset you, then you're probably reading them wrong.
Is Vic Fangio a good coach?
That's a big fat TBD (at best).
Is he good with a mic in his face?
Definitely not. In this day and age, he'd be wise to take a page out of John Fox's book, the one that taught Foxy how to say absolutely nothing to media gatherings and do so over the course of five or 10 minutes, all with a smile on his face.
Is Fangio a bad guy who deserves to be fired for simply and honestly expressing what he thinks in the moment – even it's said gruffly, perhaps even insensitively?
I'm not ready to go there. Personally, whether I agree or disagree, I can appreciate someone – anyone – who actually answers a damn question. That's what we all want our politicians to do, isn't it? But when a football coach says something we don't like, well, that's real cause for concern.
In the case of Fangio, few took issue with an older fellow making millions because he has a nice grasp on the Xs and Os of our favorite sport. Yet, we're seemingly shocked, then infuriated, when he speaks honestly (and at times irresponsibly) saying something dumb or disagreeable on issues much bigger than sports. A football coach knows football, not everything else.
Yet, we keep asking them.
And we're still angered by their answers.
Who's dumber, him or us?