After an up and down 2018 season that saw him left off the team's postseason roster, Rockies pitcher Jon Gray attacked every aspect of his pitches to find a new groove
The following article is from the June issue of Mile High Sports Magazine.
By Aniello Piro
It all started with Moneyball. When the Oakland Athletics and general manager Billy Beane decided to use analytics, stats and data in an attempt to build a championship contender on a budget, the flood gates opened for the future of America's Pastime. While Oakland never hoisted a championship trophy, they did pave a new path for player devolvement for clubs all around the league. Advanced analytics and data have revolutionized the way teams assemble their rosters. The idea of using data and science to retool a player is the new age way of thinking around the game – just ask Colorado Rockies flamethrower Jon Gray.
Gray worked out last offseason at Driveline, a data-driven baseball performance training facility located in Washington state, in an attempt to revive his pitching career following a dreadful 2018 season which ended with him being left off of the Rockies' postseason roster.
"I was having troubles last year, and it was something I felt that wouldn't hurt to try, so I made the trip," Gray said. "I was trying to find the answer to everything and every time it seemed like I was doing the wrong things. Driveline is where I started to understand how my pitches work and what I need to see out of the hand."
Upon arriving, the team at Driveline stripped Gray's game down in every way imaginable. The intake process is a comprehensive assessment that includes throwing a bullpen session in a motion capture lab to track biomechanics and kinetic data. This session provides an in-depth picture of how Gray's pitches move, why they move and what position the ball is in after he releases it.
"We use a very integrated approach," Sam Briend, Driveline's director of player development said. "Everything we do is connected. When Jon came in, we had a meeting with both a pitching coach and a strength coach, and we look at everything. We put together a comprehensive plan. Having a fully integrated picture allows us to set specific programs up to guide that development so we can make lasting, functional changed for an athlete."
Gray has four primary pitches: A fastball, slider, curveball and changeup, all of which he worked on at Driveline using a Rapsodo device. Rapsodo is used to analyze spin rate, movement and other forms of data related to pitch ability and potential.
Following the motion-capture session, Gray underwent a series of tests to determine his active and passive range of motion and assessment of strength. This was followed by a meeting with a physical therapist.
After completing the assessment, a group of eight-or-so people, all with different roles, analyze the data and design a program to maximize a player's potential.
Driveline's research and development team is the company's largest department and includes a director, quantitative analyst, bio mechanist, engineer, and data analysts, all working towards the same goal: To design a program that is the quickest and most efficient way for a player to adapt and improve.
Aside from wanting to improve his all-around game, Gray felt that training at Driveline would help him re-establish his wipeout pitch, the slider, like the training has for other players such as former teammate Adam Ottavino and Cleveland Indians starting pitcher Trevor Bauer.
Upon reviewing the data collected from Gray's intake, the analytic gurus deemed that Gray has never actually thrown a slider; instead, he was throwing a cut fastball.
"He did not have a really good put away pitch last year," Briend said. "There was not anything he could generate a lot of strikeouts with. Looking at the data, we discovered that he was throwing a cutter."
Part of the problem with the cutter is that it looks similar to Gray's fastball, making it much easier for hitters to pick up on out of the hand.
Gray's most significant issue with the "slider" was the amount of vertical lift on the pitch. Sliders are known for their downward movement through the bottom of the hitting zone. The first slider Gray tossed at Driveline had 12 inches of vertical movement and later dropped to six-to-seven inches after some initial adjustment. By the end of his sessions at Driveline, Gray averaged between an inch-to-negative two inches of vertical break, a significant improvement from where he was upon his arrival.
"That's where I started to understand my slider needed forward spin on it," Gray said. "The last two years I have been throwing it with backspin, and it's been a cutter."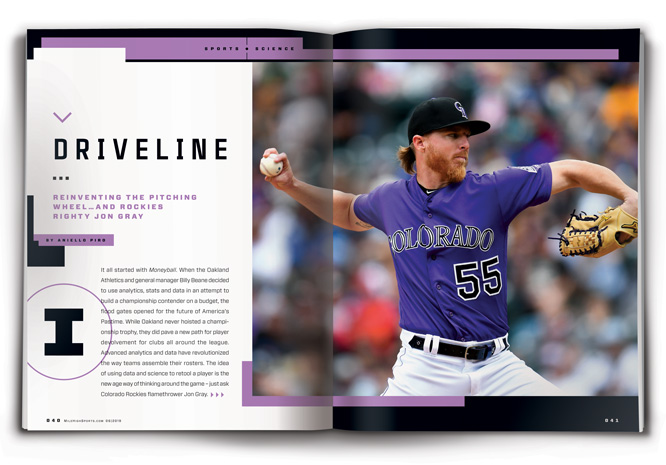 After tinkering with the grip of the slider among other things, Gray feels he has evolved into a more knowledgeable pitcher in 2019. He has posted the second-highest monthly marks of his career in categories such as raw number of whiffs and groundballs for BIP so far in 2019.
Gray also worked on enhancing his curveball to compliment his power fastball further. Before visiting Driveline, Gray did not have much confidence in his curveball, but after looking at data and video, he learned how effective the pitch could be for him if he trusted his ability.
"It gave me more confidence in the other pitches I thought were not as good," Gray said. "So I don't have to rely on my best pitch. It helped me understand that every one of my pitches, if I use it a certain way, it's really good."
One way Gray unlocked the potential of his curveball was by slowing its velocity. Gray use to throw his curveball up to 81 mph but has since slowed it to around 77-78 mph which has created more spin and thus more deception.
Gray's curveball had a spin of 2,457 in 2018 and this year he has seen that number rise to 2,521.
"They told me when I throw it slower around 78 MPH it's really good," Gray said. "When it's around 77-78 it actually would have better action."
One element Driveline focuses on is the concept of hip-to-shoulder separation. An elite level pitcher's pelvis rotation in his delivery should reach its apex at 0.05 seconds before the torso does. These measurements are so minute that they require high-level equipment and cannot be recorded on the typical phone camera. The measurements detect how efficiently energy is moving to help identify an optimal transfer of energy in the delivery process.
Gray's torso was a captured at seven degrees at foot plant with a pelvis angle of 37 degrees. With this alignment, he was generating about 30.75 degrees of shoulder separation at foot plant, with the average sitting at around 40 degrees.
Measurements like shoulder separation, spin axis, and spin efficiency might not make sense to the typical baseball fan or even a major league pitcher at first. Through the early portion of his career, measurements and stats like the ones recorded at Driveline were not on Gray's radar; however, over time he decided to become a student of the game to improve his performance on the mound in 2019 and beyond.
"There are so many different things that they look at," Gray said. "I used to think it was just a place you go to gain velocity, but it's a lot different. We started to do different tests, and I was able to understand why things were happening to my pitches."
The increased usage of analytics within teams around the league has revolutionized how teams develop players through the minor league system. The new way of thinking has brought controversy within the sport with regard to how to properly develop players.
While Driveline is very dependent on analytics, data and science, it recognizes the history of success with traditional development methods and apply new age thinking to streamline the process. The incorporation of data provides affirmation and nullifies confirmation bias.
"You can't turn pitchers into a number," Briend explained. "All [analytics] do is allow a coach to do their job more efficiently with more information to support that he's guiding the athlete in the right direction."
Jon Gray is one of the latest pitchers in the big leagues to value advanced analytics to retool his game on the mound. Thus far, the trip to Driveline has paid dividends, as Gray looks more comfortable on the mound than ever before while his pitches have increased movement.
Following a set of training sessions at Driveline, Gray's mental and physical strength are at a peak. With a rejuvenated mindset, Gary is striving to finally develop into the ace many thought he would be upon his arrival in the big leagues.
***
*For more from Mile High Sports Magazine, subscribe here!