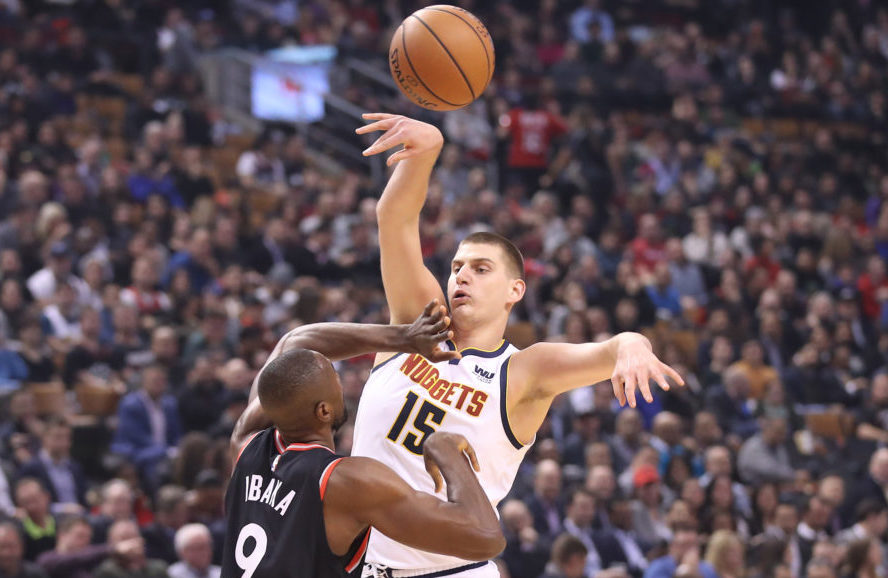 Nikola Jokic is coming off one of the most dominant games of his very young career.
He led the Denver Nuggets into Toronto to take on the Raptors, who were in sole possession of the best record in the NBA. No one expected the Nuggets — who had won five-straight games prior to their matchup with the Raptors — to come into Toronto and continue their winnings ways, but Jokic's magnificence was enough to propel Denver to their sixth-straight victory by a score of 106-103.
By the time the final buzzer had sounded, Jokic had accumulated 23 points, 11 rebounds, and 15 assists in 35 minutes for his second triple-double of the season. Jokic's triple-double was also the 18th of his career which placed him as the sole owner of the second-most triple-doubles for a center in NBA history trailing just Wilt Chamberlain.
Between his passing and scoring, Jokic accounted for 58 of the Nuggets 106 total point by himself. Even with that being said, the most spectacular aspect of his game in Toronto had to be his 15 assists on the night so let's dive into the ins-and-outs of all 15 of Jokic's assists.
Nikola Jokic's 1st assist – Kick-out pass to Juancho Hernangomez for the 3-pointer
Jokic got things started with his bread and butter; grabbing an offensive rebound and finding the open shooter as the opposing defense falls asleep.
Once Jokic comes down with this offensive board, he is already scanning the floor. He notices that Pascal Siakam is in no-man's land, but instead of rushing the pass when Siakam could still close out to Hernangomez, he waits until Jamal Murray cuts down the middle of the paint to draw Siakam's attention. Because of Jokic's patience, Hernangomez has an split-second more to get off his silky smooth jump shot and splash a 3-pointer for the Nuggets first points of the game against the Raptors.
Nikola Jokic's 2nd assist – Dribble handoff jumper to Juancho Hernangomez
Jokic always knows which of his teammates has the hot hand, and he also knows how quickly Hernangomez can heat up. Because of those two facts, Jokic made the calculated decision to use Denver's second offensive possession to get Hernangomez his second-consecutive shot after he hit his first look.
Jokic actively sought out Hernangomez, dropped the pass to him as he began his hop-step into his shot, and set a screen with an angle that made it difficult for Kawhi Leonard to contest Hernangomez's shot. Because of the angle on Jokic's screen, he gave Denver the best possible odds of converting their offensive possessions into points. Everything about this play was premeditated and orchestrated by Jokic. The only negative was that Hernangomez had his foot on the line making this a 2-point shot and not a 3-point shot.
Nikola Jokic's 3rd assist – High-post pass to a cutting Paul Millsap for a layup
The Nuggets offense was humming after two possessions, so Denver continued to feed Jokic at the high post and let him slice up the Raptors as he saw fit. On the third made basket of the game, Jokic notched his third assist as hit hit Paul Millsap cutting to the rim.
First and foremost, credit has to be given to Murray, who set a great pin-down screen on Siakam to make Millsap available to receive a pass from Jokic. Secondly, great job by Millsap to recognize that Kyle Lowry has to stick with Murray, who is popping out to the 3-point line. Because of that quick observation, Millsap knew that he just needed to keep Siakam on his back in order to have great position. Third, great job by Jokic to make those reads in live time and for putting his pass in front of Millsap which allows him to keep his superior positioning.
Nikola Jokic's 4th assist – Give and go to Jamal Murray relocating for a 3-pointer
This play is just even more evidence of Murray and Jokic's improving two-man game. Jokic and Murray both work together to get each other the ball by keeping their passing angles available, but where this play becomes most impressive is when both Murray and Jokic realize simultaneously how to exploit the defense.
Once Murray makes the initial pass to Jokic after receiving the screen, he is forcing Danny Green to stick with Jokic. At the same exact time that Green is realizing he has to switch onto the rolling Jokic, Murray passes to Jokic and immediately relocates out to the 3-point line. Ibaka fails to fully switch onto Murray which allows to Murray to nail a fairly open 3-pointer.
Nikola Jokic's 5th assist – Dribble handoff with Gary Harris for a floater
This is the Nuggets best fall-back play. Just run a simple dribble-handoff set with Gary Harris and Jokic and let that tandem go to work.
In the play above, Harris hits a floater off of a feed from Jokic, but regardless of the outcome, it is very rare that Denver fails to create a high-percentage shot out of a dribble-handoff with Harris and Jokic. This set is easily Denver's best, and most efficient, play.
Nikola Jokic's 6th assist – Hit-ahead pass in transition to Monte Morris for layup
When Jokic begins leading the break in transition for the Nuggets, it usually spells doom for their opponents and that was exactly the case against the Raptors.
The best part of Jokic's sixth assist of the night is how he already knew that Monte Morris was flying up the opposite lane in transition. All Jokic does is catch the outlet pass, turn, and put a two-handed chest pass right on the money to a full-speed Morris who converts the layup.
The more the Nuggets can get Jokic facilitating in transition the better.
Nikola Jokic's 7th assist – Low-post pass to a cutting Juancho Hernangomez for a layup
This is quintessential Nikola Jokic, but he gets an assist from Hernangomez who had one of the smarter off-ball cuts of his young 2018-19 season giving Jokic his seventh assist of the first quarter against the Raptors.
Hernangomez throws a post-entry pass to Jokic and begins to look for a lane to cut through. He then realizes that Mason Plumlee is still getting back down the floor which has Raptors center Jonas Valanciunas pulled out to the free throw line. Instead of cutting directly for the rim, Hernangomez drags OG Anunoby between Valanciunas and Plumlee. The second that Hernangomez reaches Valanciunas' outside shoulder, he plants his foot and cuts behind him to the rim effectively using Valanciunas to screen his own teammate in Anunoby.
Jokic is watching all of this transpire and waits until the perfect moment to throw a pass right past the ear of Valanciunas that leads Hernangomez right to the front of the rim giving him the best possible shot at making the layup.
Nikola Jokic's 8th assist – Cross-court, one-handed pass to Jamal Murray in opposite corner for a 3-pointer
Everything about this cross-court, one-handed missile of a pass from Jokic to Murray is absurd.
First of all, Jokic starts off the play by taking Serge Ibaka off the dribble with his left hand — his off hand. Then, as Jokic somehow spots an open Murray through bodies of five different players, he stops on a dime, spins around on his pivot foot, switches the ball to his right hand, and fires a picture-perfect bullet of a pass right into Murray's shooting pocket. Jokic could not have placed his pass to Murray in a better spot if he walked over and handed the basketball to him.
Jokic having the vision to see Murray in the corner and physical ability to execute that obnoxiously difficult pass is just mind-boggling, but even more insane is that he has made this type of pass many times in his young career. Jokic is flat-out one of the greatest passers in the entirety of the NBA.
Nikola Jokic's 9th assist – Dribble handoff leading to a Malik Beasley 3-pointer
Malik Beasley's confidence is at an all-time high and this 3-pointer off of a dribble-handoff with Jokic is more proof of exactly that.
The second that Jokic realizes that Lowry was taking a shallow angle into the dribble-handoff, Jokic took one slide step to the elbow to force Lowry one extra step away from Beasley. Once Lowry went under Jokic's screen, Beasley had already made the decision to rise up and nail the 3-point look. There is really nothing else to this assist from Jokic.
Nikola Jokic's 10th assist – Extra pass in transition to Jamal Murray for dunk
Jokic has said before that passing makes two people happy while scoring just makes one person happy. This play is the living embodiment of that saying as Jokic elects to drop the ball to Murray for the open dunk in transition.
The one other interesting subplot of this possession is why Jokic made this pass. Sure, he would rather get a teammate a bucket instead of himself, but this was more of a mathematical reasoning. Jokic could probably score himself, but giving the ball up to Murray, who has a full head of steam going towards the rim, gives the Nuggets a better percentage chance of scoring. Jokic will always make the decision the gives the Nuggets better odds of scoring.
Nikola Jokic's 11th assist – Dribble handoff leading to Jamal Murray floater
Here is yet another display of Jokic and Murray's budding two-man game.
Murray takes the dribble-handoff pass from Jokic, realizes that Jokic is defended rolling to the rim, and he pulls up to hit the floater just early enough to keep Ibaka from blocking his shot.
Murray and Jokic are developing better and better chemistry with every game played together. The more that they continue to grow with one another, the more deadly they each become offensively.
Nikola Jokic's 12th assist – No-look, tightly-contested, cross-court pass to Torrey Craig for a 3-pointer
While Jokic's one-handed sling pass to Murray for the 3-pointer got the most publicity, this pass to Torrey Craig for a 3-pointer of his own was just as impressive if not even more spectacular.
Jokic has the ball at the 3-point line on the right wing and no one comes to him to run a dribble handoff. Once Jokic realizes he is on an island, he begins to scan the floor for an open teammate. Even as Ibaka begins to crowd his airspace, Jokic unleashes a no-look, two-handed, over-head rocket across the floor to the opposite corner to Craig who hits the open 3-point attempt.
It is bewildering how Jokic was even able to get this pass off with Ibaka draped all over him, but to add in the no-look aspect of the pass and how perfectly Jokic was able to aim his pass into Craig's shooting pocket, the difficulty becomes unquantifiable. This is flat-out one of the most insane passes Jokic has ever made.
Nikola Jokic's 13th assist – Lob to a cutting Paul Millsap for the uncontested dunk
If any team playing the Nuggets leaves a cutter open on the baseline, Jokic is going to make them pay.
Siakam and Green both fail to communicate who is supposed to pick up Millsap and the second that Jokic realizes he is unguarded, he attacked the defense off the dribble, forced them to step up to defend him, and delivers a perfect lob to Millsap for the uncontested alley-oop dunk.
Nikola Jokic's 14th assist – High-post lob to Mason Plumlee for reverse dunk
Jokic does not just pass to players who are open. Jokic has the ability to pass players into open shots just like he does above with Mason Plumlee.
Jokic gets the ball in the post, realizes that Plumlee is in the short corner with a smaller man on him, and simply throws a pass at the front of the rim. In order for Plumlee to finish the play, all he has to do is jump straight up from where he is standing, catch the pass before it hits the rim, and easily lay in the reverse dunk.
Jokic literally creates easy shots out of thin air.
Nikola Jokic's 15th assist – Hit-ahead pass in transition to Malik Beasley for run-out dunk
Jokic's last assist of the night was yet another display of his incredible accuracy on his passes.
Jokic corrals the rebound after Plumlee blocks the shot, dribbles the ball up the court, looks up the floor, sees Beasley sprinting towards the rim, and delivers a perfect pass that allows Beasley to keep his momentum going toward the rim for an uncontested dunk.
Jokic just makes life so easy for his teammates when he is throwing passes like this. When Jokic is as dialed in as he was against the Raptors, he can become completely unstoppable.