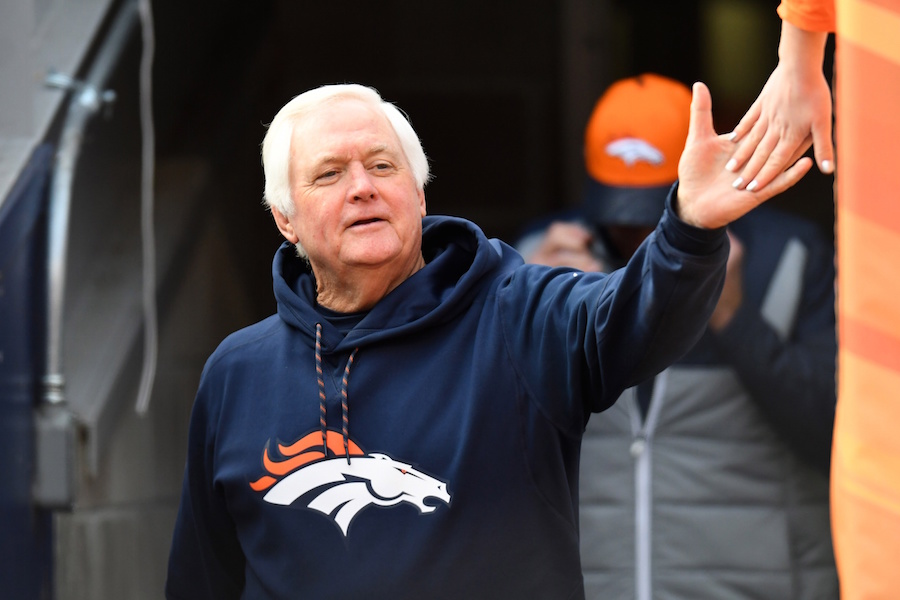 As the Denver Broncos prepare to begin organized team activities later this month, they will have a number of adjustments to make.
Of course, they have a new head coach leading the team. Gary Kubiak he was forced to step down as head coach because of health issues. Vance Joseph has been coaching in the NFL for over 10 years, but this will be his very first stint at the head man in charge.
For the first time in three seasons, pass rusher and veteran mentor DeMarcus Ware will not be on the roster.
The Broncos have also signed a few new players in free agency that will be vying for playing time.
Ron Leary and Menelik Watson will be trying to play their way into the starting lineup on the offensive line. Domata Peko and Zach Kerr should provide more size and strength on the interior of the defensive front. And running back Jamaal Charles comes to Denver, after having spent the first nine seasons of his NFL career with the arch-rival Kansas City Chiefs.
However, there may be no bigger change for the 2017 Denver Broncos than absorbing the loss of defensive coordinator Wade Phillips.
Phillips had quite the history in the city of Denver.
He was hired in 1989 as the defensive coordinator under then-head coach Dan Reeves. Replacing the legendary Joe Collier couldn't have been easy, but Phillips put together unorthodox and highly successful blitz packages using Karl Mecklenburg (7.5 sacks), Simon Fletcher (12 sacks), Ron Holmes (9.0 sacks), and a rookie safety named Steve Atwater (129 tackles). The Denver defense held the opposition to just 14 points per game and went all the way to Super Bowl XXIV. Unfortunately, the San Francisco 49ers had a field day in that game, racking up 55 points in the most lopsided game in championship history. Yet, you couldn't deny that Wade Phillips' defense was a major reason Denver reached its third Super Bowl in four seasons.
Just three seasons later, Reeves would be fired and Phillips would be named the ninth head coach in Broncos history. After an up and down run with Reeves, John Elway played like a new man for Phillips in 1993. The veteran quarterback posted career highs in pass attempts, completions, and yardage. The wins, however, didn't come as easily. Denver would go 9-7 in Phillips' first season, barely making it into the NFL playoffs as a Wild Card. They were blown out by the Los Angeles Raiders, and then missed the postseason entirely in 1994, finishing 7-9. Phillips was released, former offensive assistant Mike Shanahan returned as head coach, and the Denver Broncos would go on a tear, winning back-to-back Super Bowls in 1997 and '98.
Meanwhile, Wade followed a familiar routine with four different NFL teams. He would achieve success as a defensive coordinator, only to eventually be named head coach and fizzle. Buffalo, Atlanta, Dallas, and Houston all saw their defenses improve under the guidance of the Son of Bum. They all struggled with Phillips acting as head man.
In 2015, the Denver Broncos hired Kubiak to replace John Fox as their new head coach, and Wade returned to the Mile High City in a familiar role. He took over a talented defense that had previously been more passive and reactionary, and turned them into an attacking unit that took the NFL by storm. In 2015 and '16, his defense allowed just 18.5 points per game while logging an incredible 93 quarterback sacks. In the 2015 postseason, they were historic. Facing a murderer's row of quarterbacks, the Denver defense held Ben Roethlisberger's Steelers, Tom Brady's Patriots, and Cam Newton's Panthers to an average of just 14.6 points as the Broncos won Super Bowl 50.
Wade has now departed Denver, taking control of the Rams' defense in Los Angeles. He will, no doubt, transform that unit into a nightmare for opposing offenses.
Yet, he has left a large shadow back in Denver. Von Miller blossomed under Wade. Quarterback pressure came from a number of different players, and a multitude of angles. No one teaches pass-rushing techniques and pass-rushing schemes quite like Wade Phillips. All of that pressure on opposing passers helped a talented defensive backfield turn into the vaunted Denver "No Fly Zone."
Now the Broncos will turn this elite defense over to Joe Woods, who will be making his debut as a defensive coordinator. He does have a track record of success as a defensive backs coach, having spent time with Charles Woodson, Antoine Winfield, Ronde Barber, and Brian Kelly before leading the No Fly Zone. He has spent the past two seasons coaching under Wade. Yet, for all of the talk of the quarterbacks, the offensive line, and the general lack of production on that side of the ball, the 2017 Denver Broncos season will rely greatly on one very important caveat: Can they replace Wade?