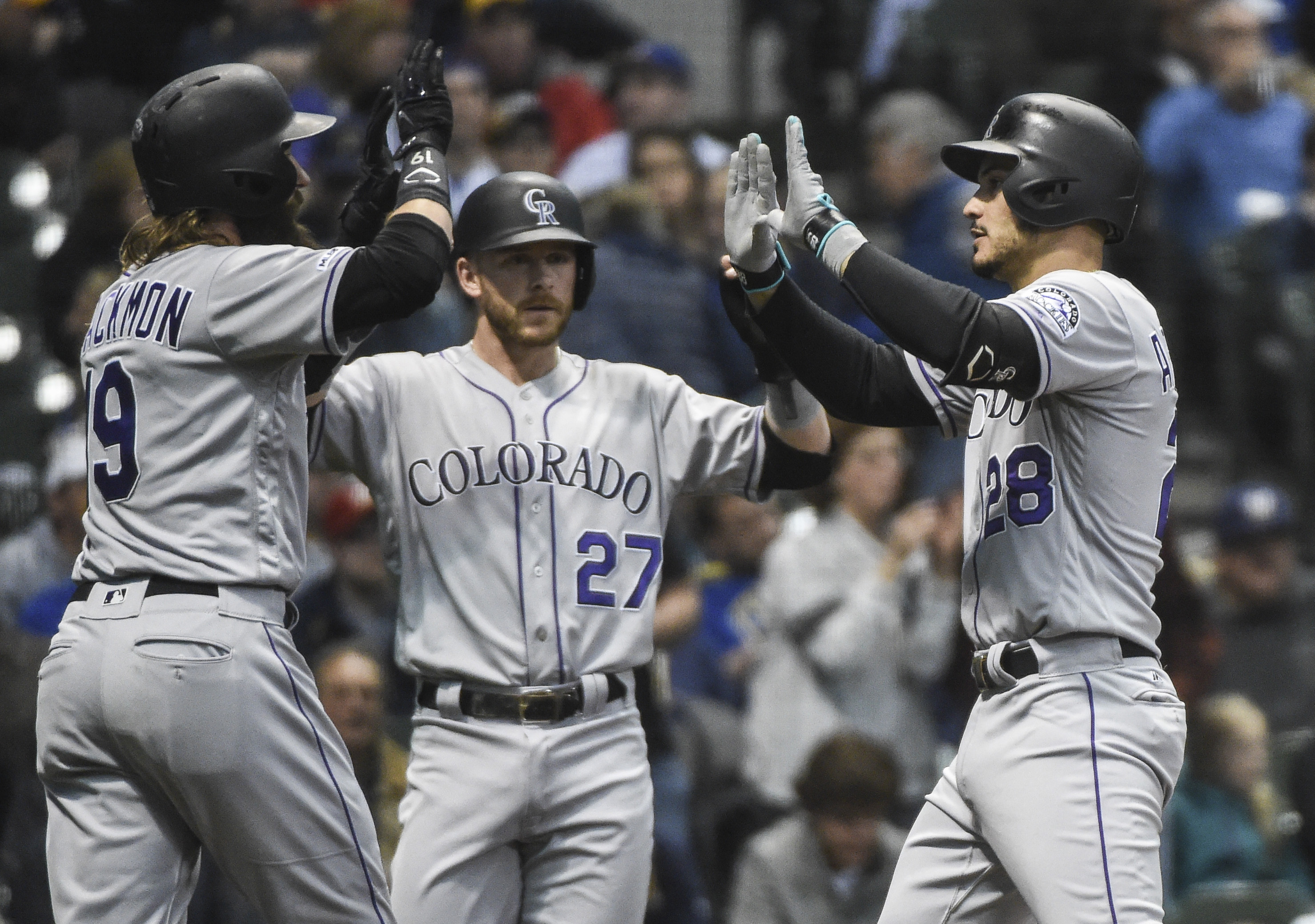 Being held accountable is what drives most businesses, with sports being heavily reliant on people being critiqued.
Everyone that has attended public schools has dealt with the queasy feeling that became synonymous with a poor report card. Handing it to your parents was like a modern-day torture technique designed by the teachers themselves to ensure your life was spent in shame.
The Rockies, up until their latest winning spell, were the brunt of the nation's ridicule. Now, with their record up to 15-17, they've rounded back into form.
Ahead are the grades for key areas of the Rockies through the first 32 games of the season.
Lineup
Expecting a momentous increase in production from the Rockies lineup in 2019, with only one move to support their efforts, was probably foolhardy. The days of the Blake Street Bombers are in the rearview mirror.
The home run artists that still reside on the club were missing in action early in the year. For 61 at-bats, Nolan Arenado was without a long ball. The same goes for Charlie Blackmon who's streak reached 81 before he finally planted a walk-off bomb into the right-field bullpen of Coors Field.
In the 10 games since his streak ended, Blackmon is slashing .367/.426/.673. Arenado, since his spree ended, is at .318/.388/.545. The two have also combined for nine home runs, excluding the balls that broke their respective droughts. 
Outside of the team's leaders, Trevor Story and David Dahl also have been as advertised. After setting multiple offensive records last year, the former is on his way once again, while the latter has stayed above .300 for nearly the season's entirety. Even Raimel Tapia has been a pleasant surprise including a three-game home run spree against the Washington Nationals and Philadelphia Phillies. 
The problem for the club comes from players outside their leading quartet.
Ian Desmond, Ryan McMahon and Daniel Murphy have all gotten off to slow starts. The trio has combined to hit .258, getting on base at a slightly better .288 clip. Both McMahon and Murphy have shown flashes, but their overall impact has been subdued by injuries. Though Desmond has begun to hit the ball in the air more, his average still resides below the Mendoza line (.196). 
It's been a mixed bag overall for the Rockies order, a trend that's produced 14 games with six-or-more runs. while also yielding no more than a single run, seven times. 
Grade: B-
Rotation
Seven different starters have toed the rubber for the Rockies, five of which have disappointed. German Marquez has continued his streak from last year's second half and Jon Gray has stepped up, leaving the rest as blemishes.
The most surprising of the group has been Kyle Freeland. A fourth-place finish in last year's National League Cy Young voting has given way to mass regression. His earned run average has ballooned from 2.85 to 4.81 and he's allowed three-or-more runs in three of his last four starts, including a seven-run bludgeoning courtesy of the Atlanta Braves.
A nagging blister played a role, while a 15.6-percent home run-to-flyball ratio added insult to injury. In his small sample of starts, Freeland's slider has also begun to flatten, allowing opponents to take advantage.
Adjustments are sure to come for the former top starter, but Tyler Anderson, Chad Bettis and company are still grasping for straws. Taking away the efforts of their top three has left the Rockies with a foursome that has hurled to the tune of an 8.33 ERA.
It's been a rough start overall for an area that the club was supposed to be strong. Positive days likely lie ahead but are far from guaranteed.
Grade: C-
Bullpen
With all the money invested in the bullpen by Jeff Bridich, many thought the results would be remarkable last year.
Instead, Bryan Shaw, Jake McGee and Mike Dunn all imploded. Whether it was injury or simply lackluster performances, the three failed to live up to the billing. With each returning, as well as Chris Rusin injured, the bullpen was a red flag.
The vision of Bridich came through, though it was altered from the original plan.
Shaw has turned back the clock to his days as a setup man for Cody Allen, Scott Oberg has taken over and thrived as a replacement for Adam Ottavino and Wade Davis has continued his success.
The saves have yet to accumulate the way they did last year for Davis. Instead, his 0.84 ERA is the best of the bunch for the Rockies healthy bullpen. Shaw is nearly spotless as well with a 0.95 ERA, though his .175 batting average on balls in play (BABIP) suggests some luck has played a part.
As a whole, the 'pens ERA (3.43) ranks fifth in the entire league, second-best in the NL. It may be unexpected, but the club's hopes hinge on that success carrying them to the postseason.
Grade: A