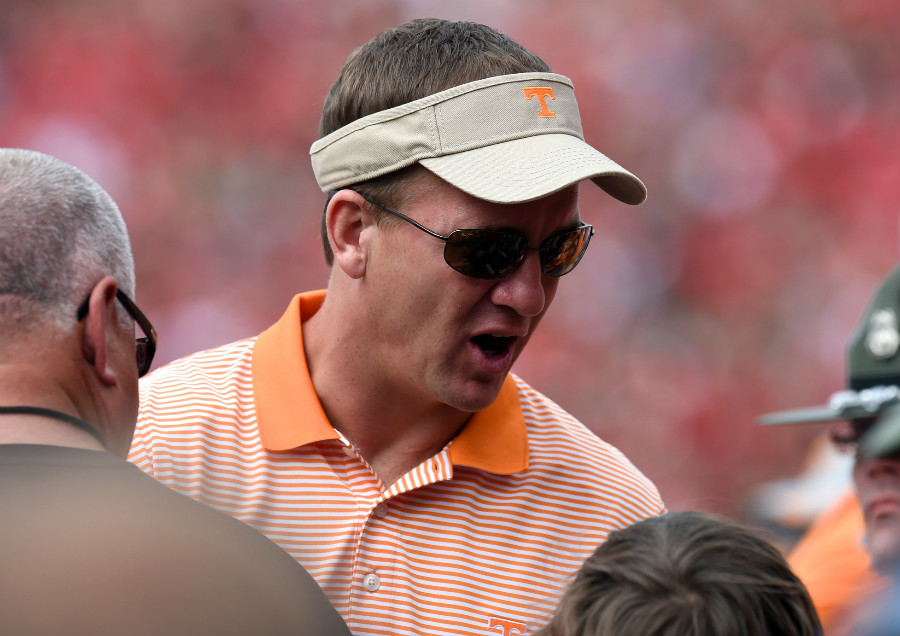 What will Peyton Manning do next?
The guy's locker has barely been cleaned out, but that's the question on everyone's mind. Apparently CBS offered him Phil Simms' spot in the broadcast booth next to Jim Nantz, but Manning decided against jumping into the media business — possibly thanks to some advice from the all-time great, John Madden. And if Manning had any interest in moving over to a front-office role, there were surely a handful of teams who would have offered him a gig.
Even his recent tutorship of Ryan Tannehill has many wondering whether a future in NFL coaching is in store.
But according to Mike Freeman of Bleacher Report, Manning's next career may have nothing to do with the NFL at all.
"I keep hearing that Peyton Manning wants to coach his alma mater," Freeman wrote on Wednesday. "Over and over, I hear it from NFL people I trust. I don't know if it's accurate. It seems too neat and tidy to be true."
It makes sense, though, doesn't it? Manning's connections to Tennessee have remained strong, and it might be the smoothest transition available. While a coaching gig in Knoxville would draw a lot of attention, it wouldn't bring nearly the media circus an NFL gig would bring, at least not nationally.
Still, it doesn't seem as if Manning is in too big of a hurry to make any decision, and that's probably the right move. For one, he deserves the time off, but two, it's a big decision.
And a decision will come — he's not one to sit around and do nothing — but in due time.