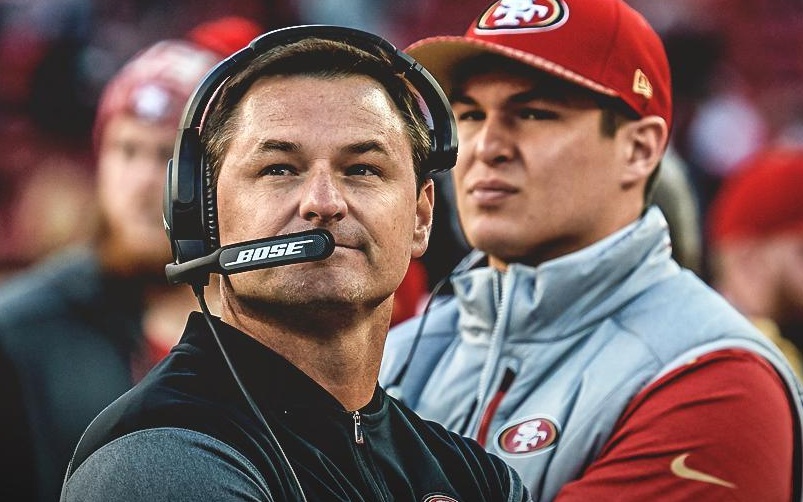 These are definitely exciting times to be a Broncos fan, as the news of the next coaching staff is changing daily, and even hourly, around Broncos Country.
After previously being interested in San Francisco 49ers' quarterbacks coach Rich Scangarello and being blocked, the Broncos will now not only interview him — for their open offensive coordinator position — but it will likely happen very soon. That, per our own Les Shapiro on Sunday evening.
@broncos continue to negotiate w/OL coach MikeMunchak. Probably have to pay him close to $1.5 mil to make lateral move. And he'll probably be paid more than the new (and less experienced) OC, presumably Scangarello. The Scangarello i- view probably happens tomorrow #broncos

— Les Shapiro (@LesShapiro) January 13, 2019
Shapiro drops two knowledge bombs on Broncos fans there in one tweet. We knew Mike Munchak was the likely favorite as Denver's next offensive line coach — which would be a big steal, as he'd be making a lateral move from the Pittsburgh Steelers — and the second part is even more important.
While the news came out about Gary Kubiak parting ways with the Broncos came on Friday, and there being a lot of different potential next offensive coordinators out there, the only one we've heard the Broncos request an interview with has been Scangarello.
But, Scangarello was blocked by the Niners because teams can block assistant coaches for going for new jobs unless the position they're interviewing for is head coach. That even applies to coordinator positions.
So, what happened? According to Les, he's not blocked anymore.
At one point he was. Not anymore. https://t.co/a5cIW2DE0c

— Les Shapiro (@LesShapiro) January 13, 2019
Maybe John Elway called in a favor to his buddy John Lynch. We don't know all the details, but the big news is the interview not only will happen, but it's supposed to happen as early as Monday, according to Shapiro's sources.
Who is Scangarello? Well, he's never been an offensive coordinator before at the NFL level, although he has been one at the college level for Northern Arizona and Wagner. At the NFL level, he's been the offensive quality control coach and QBs coach for the Raiders (2009), the QBs coach for the Falcons (2015) and just spent 2018 as the 49ers' QBs coach.
What has he accomplished while in San Francisco, under one of the most exciting, young offensive minds in the league in Kyle Shanahan? Well, he helped Nick Mullens to a 90.8 passer rating this year. That's a solid rating for a starter, let alone a third-string quarterback.
And when you go back a bit, Scangarello even discovered Mullens in the first place, telling the 49ers they needed to use one of their 30 allotted workouts to bring the quarterback in because he was something special.
John Lynch explained that in a story he told to The Athletic back in November. After seeing him on the practice field, San Francisco's decision-makers were highly impressed with Mullens and they found him as an undrafted free agent after the 2017 NFL draft.
Of course, Broncos fans are aware of Mullens, who sliced and diced Denver's defense in Week 14 for 332 yards and two touchdowns, feeding tight end George Kittle for a franchise-record 210-yard performance.
Mullens may not be a franchise quarterback, but for him to realize the success he did this year given he was the third-string quarterback is something special. And while the Broncos likely want someone with offensive coordinator experience, a huge plus is having an eye for talent, like Scangarello already seems to possess.
It's impossible to say how much credit Scangarello should be due for Shanahan's offense in San Francisco, and there's also no way of knowing exactly what kind of offense he would run for the Broncos, if he were to be hired as offensive coordinator.
But, that's actually exciting.
Kubiak's old-school system left a lot to be desired and was proven as ineffective during the 2015, 2016 and even the 2018 season, where he was "heavily involved" in the offense.
The Broncos need some new blood, along with new and innovative thinking. Scangarello, at 46, seems to be bringing that.
Update
Much more Broncos assistant coach updates have become public knowledge lately. Read them here.