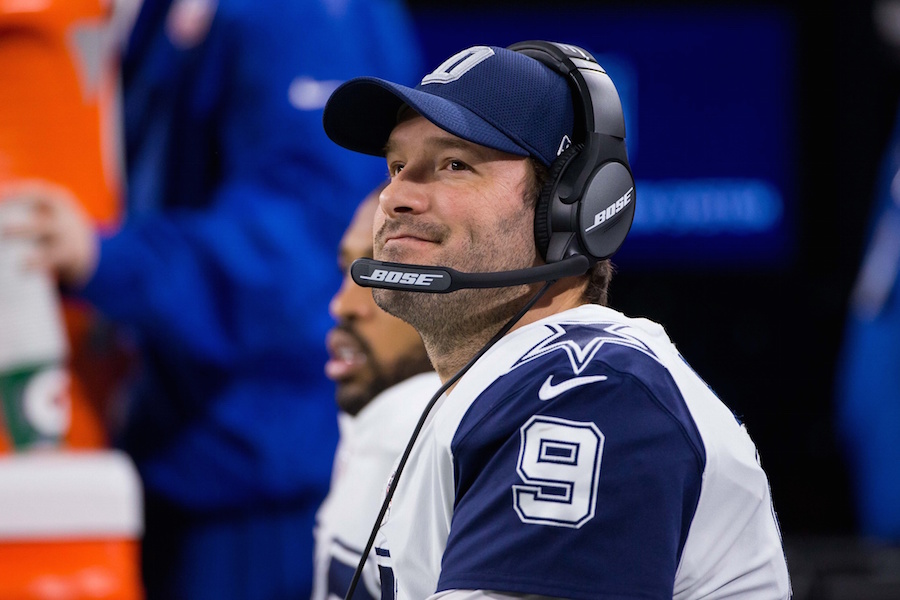 Tony Romo may want to play for the Denver Broncos, but that doesn't mean the feeling is mutual. According to NFL Network's Ian Rapoport, the veteran Cowboys QB lists Denver as his first option to land in 2017, but the Broncos are not interested a trade for his services.
Was asked about #Cowboys' plans for Tony Romo in 2017. No secret, #Broncos are his No. 1 spot. I'm told DEN is not inclined to trade for him

— Ian Rapoport (@RapSheet) January 15, 2017
James Palmer, who also covers the Broncos for NFL Network, confirmed.
This is true. https://t.co/nTawgnnEMO

— James Palmer (@JamesPalmerTV) January 15, 2017
Romo has been the top name on the QB trade market since Dak Prescott stepped in this season and Wally Pipp'd the veteran, leading Dallas to a No. 1 seed in the NFC.
The biggest problem facing any team that wants to snatch up Romo, a 13-year veteran with 78 wins and 248 touchdowns to his credit, is a massive 2017 contract that will only get bigger over its remaining two years.
Romo is owed a base salary of $14 million in 2017. That's small change compared to the $24.7-million cap hit ($19.6 million of that is dead money) he'll cost the Cowboys in 2017. And while the cost to the Cowboys goes down over the next two years if he's traded (their dead cap number falls to $8.9 million and then $3.2 million), the price for Romo's next team will skyrocket to $19.5 million in 2018 and $20.5 million in 2019.
The Broncos already have major contracts on the books for Von Miller, Demaryius Thomas, Aqib Talib, Chris Harris and Emmanuel Sanders in 2017, so quarterback was supposed to be a place they could save a few bucks with both Trevor Siemian and Paxton Lynch being on four-year rookie contracts.
Denver limped through 2016 with Siemian and Lynch, failing to make the playoffs at 9-7. Former head coach Gary Kubiak believed Siemian would propel the offense enough to make a run at a repeat of their Super Bowl title while Lynch learned at this side. Although Siemian's 2016 numbers were actually improved over Peyton Manning's in 2015, the offense as a whole took a step backwards.
Complicating matters in 2017 will be the installation of a new offense, as Kubiak has retired and new head coach Vance Joseph replaced offensive coordinator Rick Dennison with former Broncos OC and Chargers head coach Mike McCoy. Joseph said in his first week on the job that he anticipates an open competition for his starting quarterback job, meaning he's clearly not sold on either candidate. That kind of language could leave the door open for a possible trade, but unless Denver is willing to move one or more of its big contracts there simply won't be enough cap space available to accommodate Romo.