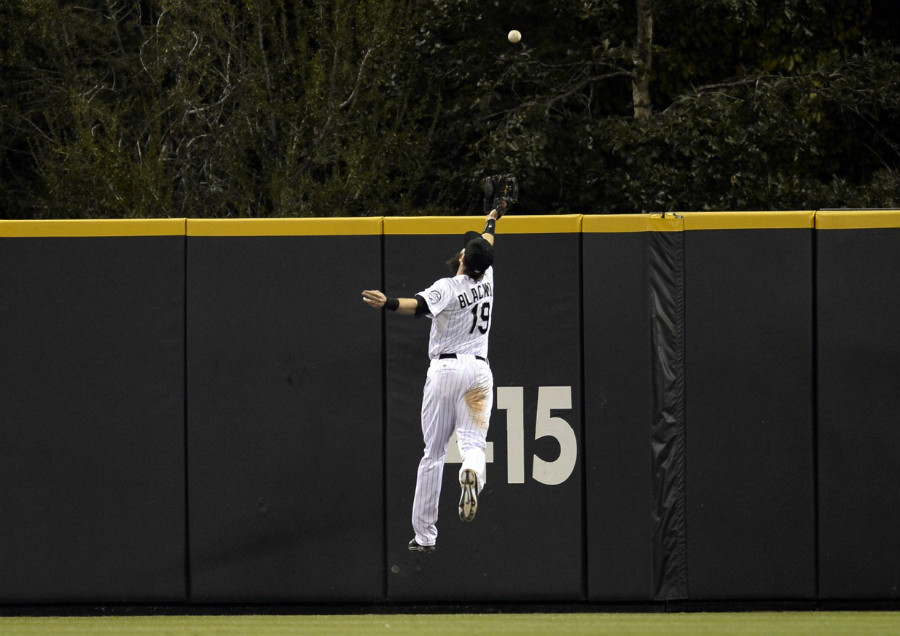 If they can't find pitching and the humidor isn't doing enough to keep balls inside the park, then what are the Rockies supposed to do?
Raise the wall, of course!
#Rockies raising fences 8 ft from CF end of visiting bullpen tout-of-town scoreboard.I had suggested this multiple times in columns. Like it

— Troy Renck (@TroyRenck) March 1, 2016
"The goal is to raise the wall heights to make it potentially more playable and more fair — for pitchers," Rockies general manager Jeff Bridich said, via Nick Groke of The Denver Post. "We really don't know, excactly, the effect it is going to have. We are going to live it together, this year, and see what happens."
This will raise the outfield wall between right-center and right field to 16 feet in total height, while an additional 5 feet down the left field line will raise that wall to 13 feet.
According to Groke, the fences won't block any current seats and will be installed in time for the Rockies' home opener on April 8.
But will it be enough to even the playing field? Manager Walt Weiss thinks so.
"I have thought about this for a long time," manager Walt Weiss said. "I thought it would eliminate some of the cheaper home runs that we see there. And if you could keep a ball in the bark here or there, it could change some things."
And apparently the Rockies have done a lot of research over the years; they believe the change could reduce total home runs by 5-6 percent.
"We had two decades worth of knowing this ballpark," Bridich said. "There have been a lot of ideas thrown out over time about what should be done, if anything. One of the nice things now is that with all of the advancements in technology, there is a lot of data and data sets that we can point to."
The Rockies players have some differing views, though.
Carlos Gonzalez said he'd have exactly one less HR last year with Coors Field's new fence. A line drive shot off a Carter Capps slider.

— Nick Groke (@nickgroke) March 1, 2016
'https://twitter.com/nickgroke/status/704755841086279680
Well, if they're going to raise it 8 feet, why not raise it 10 feet or 15 feet? Maybe what the Rockies need is a Green Monster-sixed wall (37 feet tall) circling the entire outfield.
Sure, the Rockies would have to take out a few rows of seats, but most everybody is watching the game from up on the Party Deck, right?