The ongoing saga between the Denver Broncos and star wide receiver Demaryius Thomas continues and things are not looking good for a long-term deal, according to multiple reports. The Pro Bowler and the franchise are reportedly "nowhere close" on terms as Wednesday's deadline of signing franchise players to long-term deals draws near.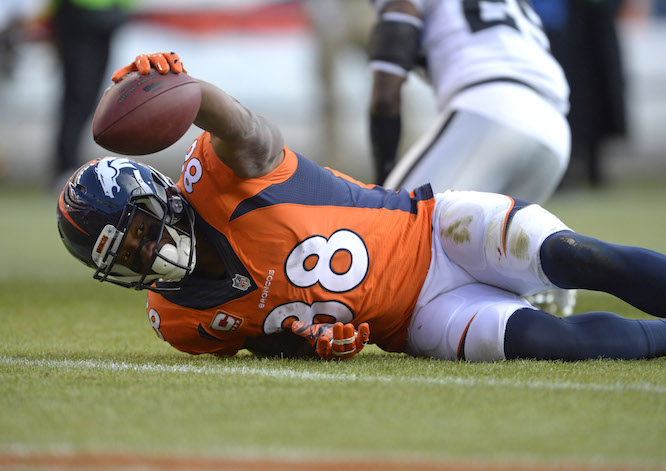 According to Pro Football Talk and Bleacher Report, a source has commented that it is "not likely" that the two parties will come to an agreement by Wednesday.
This means that the Broncos and Thomas will likely have to settle for a one-year contract only. But the terms could change moving forward. Denver could promise Thomas not to place the franchise tag on him in 2016 and offer more than the $12.8 million tender.
If Thomas gets paid $12.8 million during the 2015 season, Denver would have to increase his salary by 20% in 2016 in order to place the franchise tag on him. That is around a $15.3 million increase.
The Broncos are certainly at a crossroads here. The future of Peyton Manning past 2015 is quite murky, while Denver is still dealing with the aftermath of the Ryan Clady contract. Clady suffered a season-ending injury in week two of the 2013 season and he will miss the entirety of the 2015 season with a torn ACL.
Further complicating the matter, as Bleacher Report notes, is the alleged collusion that occurred between Denver and the Dallas Cowboys, which was originally reported by ESPN. The NFL Players Association believes the teams had contact regarding the contracts of Thomas and Dez Bryant, a franchise receiver for Dallas.
Denver may be trying to reverse a trend that has seen wide receiver salaries skyrocket in recent years without equivalent playoff success to follow.
---
Marcus Flowers, a Mile High Sports intern, contributed to this report
---