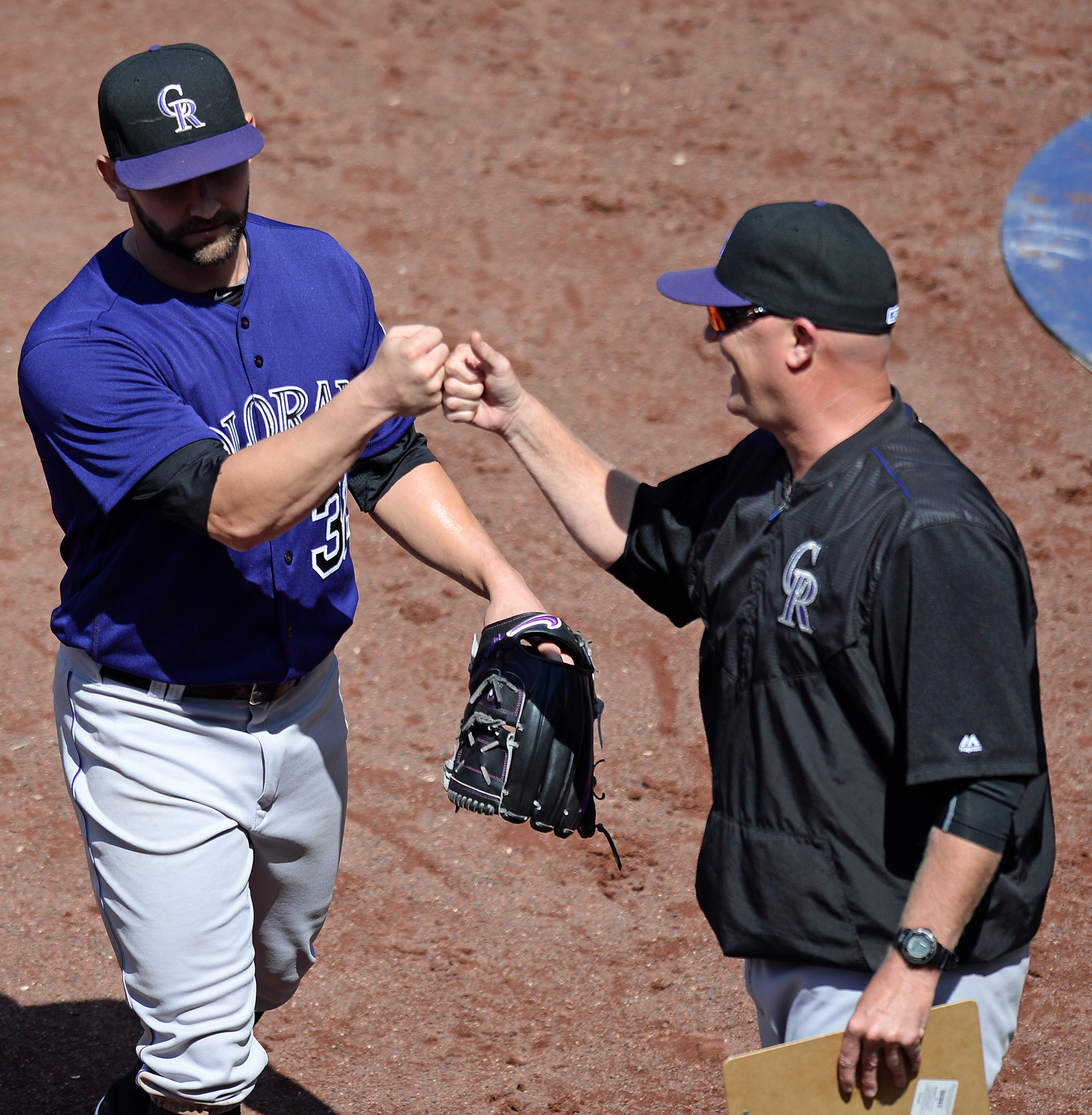 Imagine getting out of an organic chemistry exam at five in the morning. Then you have to wake up just a few hours later to take an analytical equations test that all semester has been more and more difficult to comprehend.
Well, the Boston Red Sox and San Francisco Giants are those early season tests for the Rockies. After getting back to Denver after a 10-game road trip, where some players didn't get to bed until 5 a.m., the Rockies looked comfortable handling any test with no signs of jet lag as they beat the Giants 5-2 in the series opener.
Manager Walt Weiss described Boston as a runaway train and the Giants were only the National League version of the Red Sox.
"Historically, a stretch like this would have killed us," Weiss said. "We knew a month ago this part of the schedule had some teeth on it. Obviously we're not out of it yet, but we're rising to the occasion and I'm happy how we've come out of this stretch."
That was never more prevalent than Tyler Chatwood becoming the first pitcher since Juan Nicasio in 2011 to go 7+ innings and not allow any earned runs and give up no walks at Coors Field. To put that in perspective, this has only been accomplished seven times by six pitchers in team history.
"I just love catching him because he never second-guesses himself," catcher Tony Wolters said. "He's getting better and better form each one of his starts. You have to be able to adjust your plan and Tyler did that. He could have thrown a complete game. He made my job easy."
This is all coming from a guy who hadn't pitched in two years and was having talks with his head coach about managing expectations in spring training. Now Chatwood has honed his talent both at home and on the road.
"I felt when I got hurt I was the best I had been in my career, so I was able to reflect on that for a while," Chatwood said. "After the second [Tommy John surgery] you realize you try not to throw pitches as hard as you can. You might not last very long. I feel like I've been throwing the ball well all year, and now I'm trying to attack hitters early so I can achieve my main thing by going as deep into the games as I can."
Chatwood was the most effective he has been at home this season by throwing only 84 pitches through seven innings. He took advantage of the Giants swinging early and often. The effectiveness only persuaded Weiss more to take his hurler out early. Weiss said he is trying to save his pitcher's arm whenever he can. The emergence of Carlos Estevez only made his mind more peaceful.
"We talked with Chatty in spring training about keeping expectations realistic because he is such a competitor and perfectionist," Weiss said. "He hasn't pitched in two years and you can't realistically expect for him to do what he is doing, but he's been a special kid."
After a homer-fueld night in Boston, the team found a different way to win back home by lacing doubles off reliever Albert Suarez after Matt Cain left the game in the second inning after an apparent hamstring injury. The untraditional lineup with DJ LeMahieu batting second and Trevor Story batting seventh paid dividends for their manager for a second consecutive night. Story looked especially comfortable in his new role, driving in two runs.
This might not be possible without the experience and versatility of LeMahieu. He said that having the experience batting anywhere in the lineup has developed his psyche in preparing for these changes. His approach doesn't alter no matter where he hits.
"No matter if I'm at the top or bottom of the order I'm just trying to do the same thing by getting on base for Nolan or Cargo," LeMahieu said.
Weiss said his offense stalled a little bit on the road trip and that this is why he made the lineup change to manufacture more runs. Both LeMahieu and Story are performing well in their new roles in the order, but Weiss doesn't anticipate Story staying at the bottom of the lineup.
"I like the fact that this lengthens our lineup. [Story] has done some damage the last couple of nights and it's nice to have that threat down there," Weiss said. "The big reason I put him in the two hole early on is the protection CarGo provides. As a young player it's the most protected part of the lineup. He's showing he can handle the ups and downs that an offensive player or anyone goes through, so I feel the freedom to move him around a little bit at this point."
Story said he can't remember a time in his minor league career that has helped him prepare for his new role in the seventh hole, one he has never played in the majors but looks quite comfortable in. Maybe he is taking notes from LeMahieu by saying that it doesn't really matter to him where he hits in the order.
"Sometimes you don't feel good but sometimes you try to work back to feeling good and competing so you can find different ways to win. We showed our versatility as an offense and whatever gives us the best chance to win is where I want to be at," Story said.
At least for two nights, Story hitting seventh has helped bring both the Red Sox and Giants back down to earth.
Looking Ahead:
Eddie Butler will pitch Saturday instead of Chris Rusin. Weiss said that Rusin was in play out of the bullpen in the finale in Boston which is the reason to push him to Sunday. Look for Jorge De La Rosa to be available for the next two games of the Giants series. De La Rosa effectively swapped places with Rusin from the rotation to the bullpen.