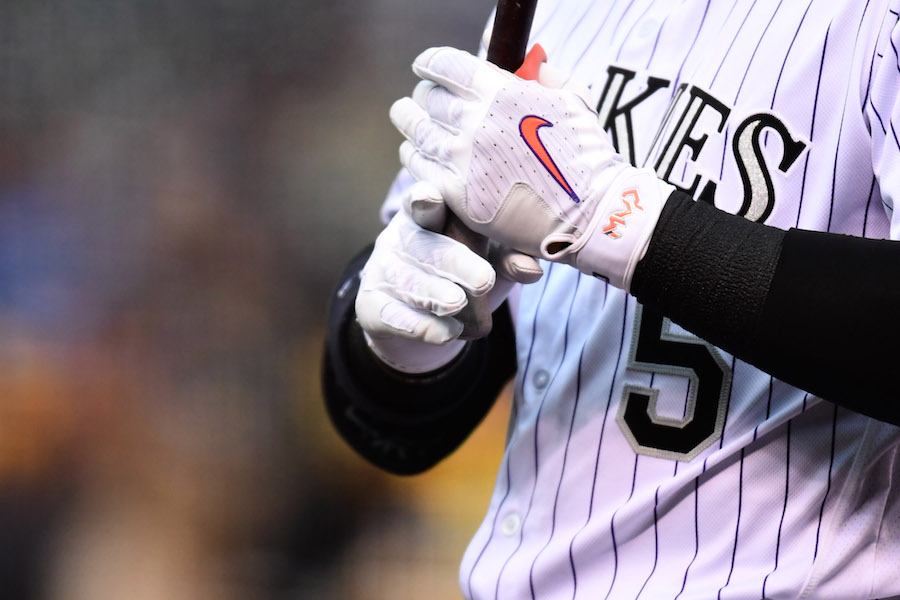 Welcome to the club, Carlos Gonzalez.
In signing a one-year contract to return to the Rockies for the 2018 campaign, Gonzalez put himself in position to join Todd Helton, Larry Walker, Troy Tulowitzki and Aaron Cook as the only members of Colorado's "Decade Club."
Presuming he takes the field on Opening Day, March 29, 2018, Gonzalez will become just the fifth player in Colorado Rockies history to have logged service time across 10 seasons for the organization.
Fitting that No. 5 should be the fifth one on that list.
"I'm glad I'm back wearing the same uniform that I've been wearing for the past nine seasons," Gonzalez told the media on Tuesday before diving right into a minor-league camp game.
"This will be number 10, which is special. You know, not a lot of guys can say I played 10 years with one organization, one uniform. So that's something that makes me feel really proud."
Gonzalez will spend a few days with the club's minor-league camp before rejoining his teammates on the big-league field after a longer-than-expected delay in signing as a free agent for the 2018 season.
Of course, Gonzalez still must stay healthy through the duration of Spring Training and get himself game-ready ahead of the start of the regular season to officially put a marker on year 10 with the Rockies. However, at 32 and more than accustomed to the process of prepping for a 162-game season, there's no reason to believe Gonzalez won't be there in Arizona to face the Diamondbacks on Opening Day.
For a time, it almost looked like it wouldn't happen.
The Rockies and Gonazlez waited until the midway point of Spring Training to come to terms on a deal that brought the three-time All-Star back to the team he's spent all but the first year of his MLB career. Gonzalez opted to test free agency following the 2017 season, declining a multi-year contract with the Rockies last year.
A sluggish first three-and-a-half months of the season put his future in Colorado in serious doubt. A red-hot August and September helped propel the Rockies into the playoffs — a one-game Wild Card loss to the Diamondbacks — but it wasn't enough to convince General Manager Jeff Bridich to re-sign him long-term. Gonzalez and his agent, Scott Boras, were then caught in the ice-cold free agency period that saw numerous former All-Stars sign for far less than hoped.
The Maracaibo, Venezuela native said that turning down the deal last spring was less about the money or length of the offer and more about wanting to experience free agency for the first time.
"It was a [first-time] experience for me. Compared to other years? It was different, yeah. But I'm happy it's over, happy a lot of good players are finding jobs and getting to play the game. At the end of the day, that's what matters the most. Just put a uniform on, just go out there and enjoy what you do," Gonzalez said.
As for those struggles last season that jeopardized his chances at a long-term deal with the Rockies or elsewhere, Gonzalez says the issues that were causing them — a nagging back injury and a sleep disorder, in particular — are all in the past. He's focused on carrying over the momentum from a September that saw him hit .377 and drive in 16 runs to help Colorado secure a Wild Card berth.
"I think it's kind of similar to 2014 when I had that knee surgery; I had a slow start and then I finished really strong. So, what you try to do when you go into the offseason, you try to keep working on the same thing and carry that into next year. That's what I'm working on right now," Gonzalez said. "I know I'm capable of playing at a high level."
High-level play has defined Gonzalez's career in Colorado. In 2010, his second year with the Rockies and first full season as a starter, Gonzalez won the National League batting title with a .336 average and an NL-best 197 hits. He finished third in MVP voting that year and won Gold Glove and Silver Slugger awards, but did not earn an All-Star nomination.
The next time two times Gonzalez earned a Gold Glove award, 2012 and '13, those also came with All-Star appearances. He added another Silver Slugger in 2015 and a third All-Star nod in 2016.
Gonzalez over his nine seasons in Colorado is a career .292 hitter, and he ranks in the club's top-five all-time in hits (fifth), runs (third), doubles (fourth), home runs (fourth) and RBI (fifth), among others.
With five hits this season he'll pass another longtime Rockie (and current Special Assistant to the GM), Vinny Castilla, for fourth on the Rockies' all-time hits list and can move into third, passing Dante Bichette, with 77.
Bichette and Castilla, however, never reached that rare 10-year mark with the club. Gonzalez in 2017 joined Castilla and Jorge De La Rosa as members of the nine-year club.
He has already passed one of the four other members of the decade club, Troy Tulowitzki, on the club's all-time hits list, and has the chance to pass another this year. If Gonzalez can replicate his 2016 season, in which he logged 174 hits, he would also pass Larry Walker on that list and trail only Todd Helton.
Beyond the individual accomplishments, Gonzalez this year can set his sights set on doing something no Rockies player has ever done: Reaching "Rocktober" for a third time.
Gonzalez played in the postseason for Colorado in 2009 and 2017 — the only player to appear on both of those rosters. A return trip in 2018 would make him the first player to don a Rockies uniform in the playoffs in three different seasons.
"We're excited," Gonzalez said about the prospect of doing something special with this year's club. "But at the same time, we know we have to work hard. This is a tough division. It's loaded full of talent, and we know that we're talented, too. Right now we're in a different spot because we've done it before — we won last year. We worked our way into the postseason, [but] we didn't finish business. So I think that's going to help us, too. Just to keep proving people wrong."
The the free-agent market proved as tough as any opponent Gonzalez has faced on the field, but the sweet-swinging lefty still ended up exactly where he wanted to be — back in Colorado for year 10.
"There's no secret," Gonzalez said Tuesday. "I always expressed that since day one. Even before I hit free agency, I said, 'This is the place where I want to be.' Obviously I wanted to see what was out there, but at the end of the day this has been my home for the past nine seasons. So, it's always good to go back home."
Gonzalez is back home for season 10. And he's just the fifth Rockies player to ever make that claim.