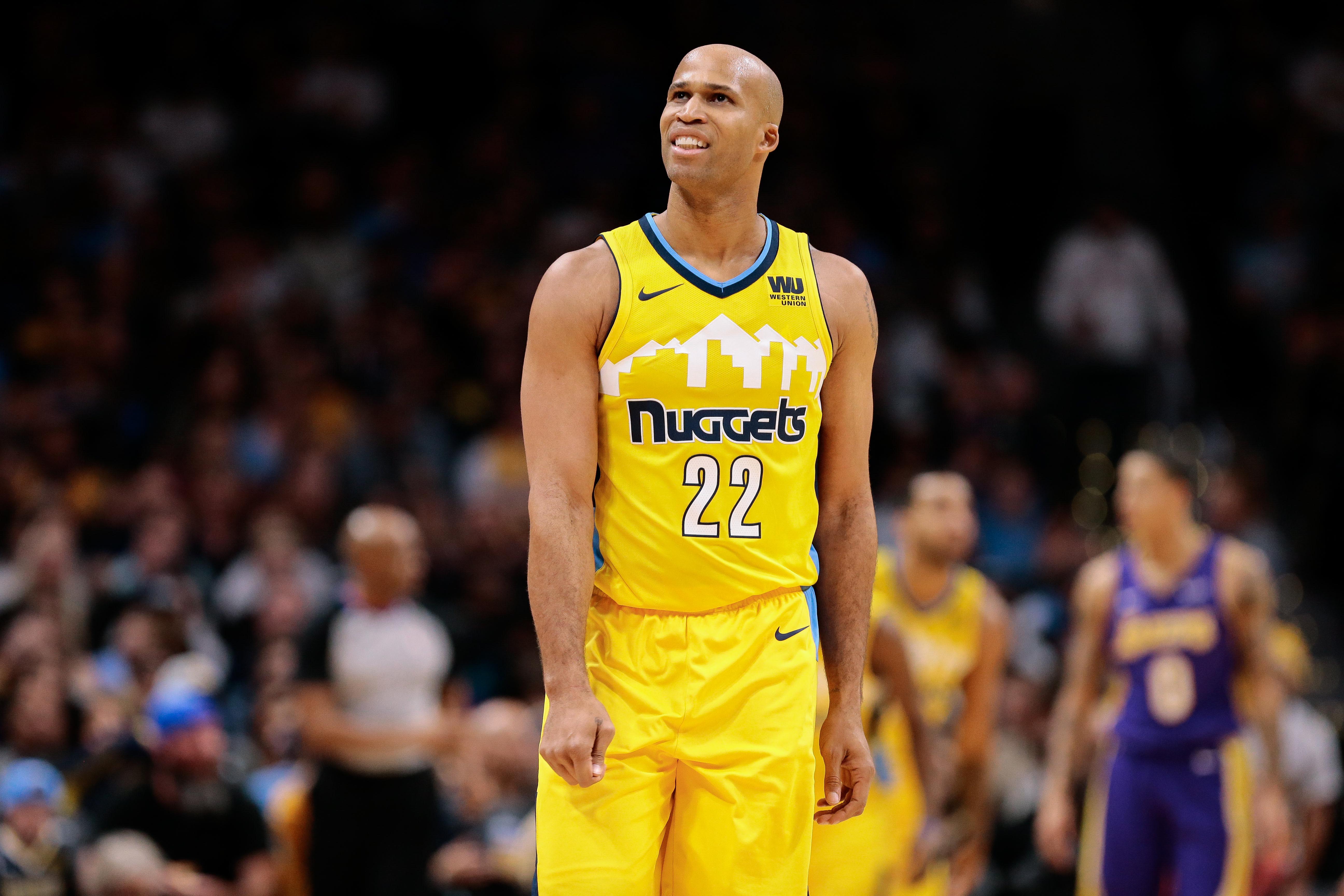 Richard Jefferson is the lone NBA Champion on the Denver Nuggets roster and he brought invaluable experience and veteran leadership to the young Nuggets' team throughout the 2017-18 season. The youthful Nuggets' roster needed to learn how to grow from an up-and-coming lottery team into a playoff contender this season and, without the guidance of Jefferson, the transition would have been much more volatile than it was.
Now, with the likelihood of Jefferson returning to the Nuggets being low and just one final media availability remaining as a member of the Nuggets' left, he made sure that he left one final warning to the younger stars on the team.
During Jefferson eight-minute-long soliloquy — which was actually a duet with Devin Harris standing and speaking to his right — Jefferson spoke of an "offseason of frustration", as he called it, and how building championship habits need to happen during offseasons in which you fell short. Jefferson sees the potential of an NBA Champion within the DNA of the Nuggets, but there is a massive amount of growth that still needs to be cultivated and encouraged before an NBA finals appearance is even in the cards. Jefferson sees the seeds of a championship-contending team beginning to flourish, but that is only the first step to true contention.
"I think that there are things sprouting but, just like a seed you plant, it sprouts before it becomes an oak tree. It takes time," Jefferson eloquently explained. "Ultimately, we can look at that we won six games in a row and we had a seventh game opportunity that went to overtime. There are a lot of positives in that, but you cannot just look at anything at the end. You have to look at the entire process."
---
We put ourselves in a position to where we had to win seven straight games to make the final playoff spot. Our guys answered that call and our coaching staff did a very, very good job making sure we were prepared, but we can't put ourselves in that position," Jefferson said. "You cannot put yourself without any room for error down the stretch and I think that was a learning lesson for the guys."
---
The next step in the process — a step that nearly every player spoke on at one point or another during their exit interviews — is learning to not drop winnable games to bad teams. This was one of the first things that Jefferson spoke on.
"We are one of the best home teams in the NBA. We lost to Atlanta at home and I think they were on the last day of a long road trip," Jefferson explained. "It is part of the experience, it is part of understanding, and it is part of learning, but we can't just say 'oh, that Minnesota loss; that hurt'. Yes, it hurt, but it weighs the exact same amount record-wise as the loss to Atlanta at home. If you win that game, you would be in a much better position going into the game (versus Minnesota). Every team has them, but your job is to try and not be every team. You have to try and focus on what you can control."
The last point that Jefferson made in his quote above is the most important. Each game weighs the same amount when looking from a winning and losing perspective. The Nuggets falling one game short of the playoffs for the second-consecutive year is clearly indicative of Denver dropping a few close games to teams that they are simply better than.
"You try to find silver-linings, but we are in professional sports and we are judged by our performance or lack thereof. If there is anyone in that locker room that is happy with improving from last year — if there is anyone in there that is happy with almost making it or that overtime loss — they are really mistaken," Jefferson exclaimed. "I feel like everyone in that locker room should feel like we underachieved a little bit this year. That should be your frustration going into the offseason; an offseason of frustration and I am going to work that much harder and put forth that much more effort because I feel we left some things on the table. Sometimes that comes back and manifests on the last game of the season."
Now, Denver needs to actually take all of these sprouting seeds and assist them in growing into the best version of themselves. That leaves the Nuggets' young core with a decision to make this offseason; embrace this, "offseason of frustration," as Jefferson put it, and fight to improve so as to not miss the playoffs next year, or fold out due to the exact same frustration. It was the goal of the players to make the playoffs — even if the front office and coaching staff have maintained that the 2017-18 season was not playoff or bust — from training camp until the final day of the regular season. After that failure, how will the team respond?
The first step towards the growth that Jefferson is referring to has already been accomplished as the youthful Nuggets won six of their final seven games in their pursuit of a playoff appearance. Those final seven games were a massive step forward in terms of mental development for a young team learning how to win. In those final seven games, Jefferson saw a team that was prepared for that type of a test. Denver saw itself become a team that was hungry and accepting of their situation. That growth is what propelled the Nuggets throughout their six-game winning streak.
"It is making sure that in those final six games that there are no excuses," Jefferson explained when reflecting on the growth of the roster throughout the winning streak. "There are no 'ah, maybe we should have done this'. No. Those guys were fully prepared and ready to go into that type of fight. We were in a playoff battle. We were in a playoff battle and we beat six playoff teams. We put the Clippers out and we had a chance to put Minnesota out. It took an overtime loss on the road where we had our chances to actually put our team out there. That is still a compliment."
---
We won more games than they did the year before, so that is an improvement, but think about it; if we go 4-2, we are two games out of the playoffs and we are all depressed way before that game. 4-2 would have been a really good record in our last six games but it would not have have been even close to enough," Jefferson said. "We actually needed to go 7-0. I think the guys knowing that they are capable of doing that is a positive, but not putting ourselves in a position to where you have to do that is the goal and that starts from game one next year."
---
Now, the Nuggets' get an offseason to grow, develop, and come back more hungry, more focused, and much more healthy. The only way to get that type of progression is to attack the offseason relentlessly and with a vigor that rivals the frustration that is internalized in every player on the Nuggets' roster after losing the winner-take-all game against the Timberwolves.
"You just tell them to embrace the pain," Jefferson explained. "The pain is good. The pain is what makes it good. It is what makes the playoff experience; just understanding that you can lose."
Jefferson — who was a self-described 'lovable loser' until his finals victory alongside LeBron James and the Cleveland Cavaliers — knows a thing or two about losing as well, but what is most important is that Jefferson knows how to learn and grow from losing. That is going to be the hardest part for Denver in their path to learning how to become a championship caliber team.
"I lost in the National Championship, I lost in two NBA finals, and I lost in the semi-finals of the Olympics before I was able to win a championship," Jefferson said. "Every single one of those moments fueled my fire when it was time to win a championship — every single one of those moments fueled that," Jefferson said. "You have to embrace that pain and embrace the amount of work that it is going to take to get over that hump."
Now, with Jefferson's impending free agency upcoming, Denver could lose their only semblance of championship pedigree on the roster. The Nuggets have little financial flexibility heading into the offseason and, after playing just 163 total minutes, it seems like it makes sense for both parties to go their own separate ways. Jefferson is not worrying about that though. He is taking the offseason one day at a time.
"I just play basketball, man. That is it," Jefferson explained in his exit interview when asked what he thinks his future holds in basketball. "Honestly, when you get to the senior age that I am at, you just take life one day at a time, but it is not whether or not I'll be here. It is whether or not I am playing basketball."
If nothing else, Jefferson will leave behind a warning from a champion to a young Nuggets' team with championship aspirations. Jefferson believes that this Denver team has something special brewing, and now is the time to accept the responsibility of being great.
"Not just to make the playoffs, right? Not just to be the seventh seed, but to put yourself in a position to get home court," Jefferson expand when asked what is the next step for the young Nuggets' roster. "Wanting to win a championship; that should be your goal. Not making it to the playoffs, but building championship habits that can last a lifetime."