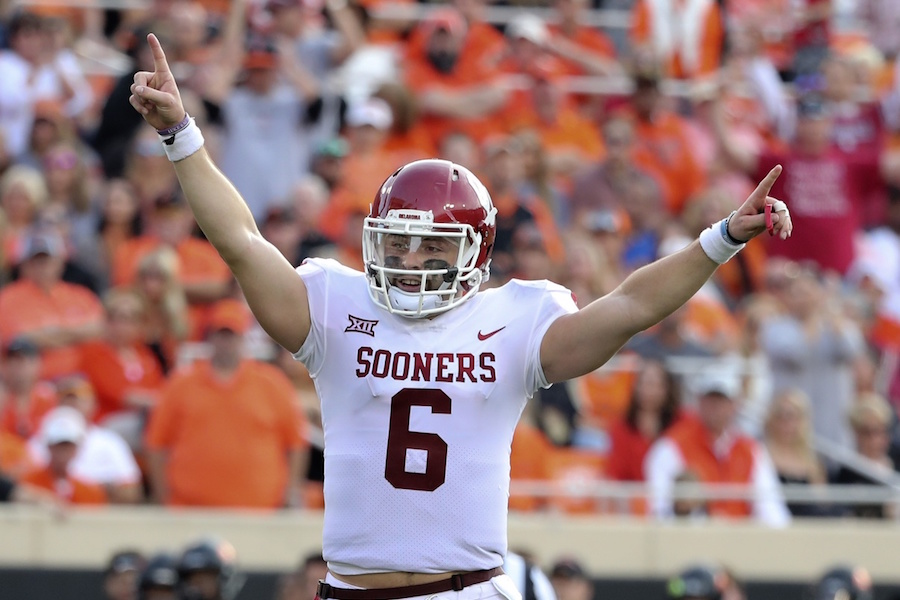 Here we go again. As the Broncos search for their next quarterback, their coaching staff is working with a stacked North team at the Senior Bowl; one that includes quarterbacks Baker Mayfield, the Heisman Trophy winner from Oklahoma, and Wyoming's Josh Allen, an athlete that leaves scouts drooling at his potential.
In an interview with Eric Goodman and Les Shapiro of Mile High Sports AM 1340 | FM 104.7, Neuheisel, once a college quarterback himself at UCLA before coaching at Colorado, seemed to believe the two were equally talented — and then, he talked himself out of it.
"I'd be happy with either; they've both flashed really good stuff this week," Neuheisel said. "But if I had to pick one today, I think I'd go with Baker Mayfield, just because he's enjoyed winning for so long in his life. He's always found ways to win."
The notion that Mayfield's six-foot height — basically the same as Pro Bowlers Drew Brees and Russell Wilson — will be a detriment was quickly dispelled. "I think we're in an era of NFL football where offensive coordinators at the NFL level are moving their offenses closer to what these kids are doing at the collegiate level," Neuheisel explained. "Look at [Houston's] Bill O'Brien and DeShaun Watson; look at [Philadelphia's] Nick Foles, just this week against the Vikings in the NFC Championship game; there was a lot of what the college game calls 'run/pass option', and basically, that's what Baker Mayfield is a savant at doing — and if that gets incorporated into whomever's offense in the NFL level, I think they'll have a real, real, particularly adept trigger-man at that portion of the offense."
"If that's to be the case, I think Baker Mayfield's my guy."
Neuheisel continued to explain why he believed that focusing on Mayfield's measurables misses the point about him. "There is a magic about Baker Mayfield that has existed for some time. You don't become a walk-on at both Texas Tech and Oklahoma and get to New York City as a Heisman finalist twice, unless there's something unique about you," Neuheisel said. "Yes, he is the product of a system; a system that allows him to have an offensive line that's blocking the run. He puts the ball in the belly of a back, sees what the defense offers, and then take it — basically, like dealing off the bottom of the deck — and throw it beautifully to a receiver that's not covered, because the linebacking level is playing 'run'. That is all what Nick Foles did against the Minnesota Vikings; so as offenses evolve back to a college [style], the pendulum swings back to this offense, which you saw in Kansas City; which you saw in Houston, with DeShaun Watson before his injury."
"I think Baker Mayfield can be fantastic; and what he does have — and this is absolutely a paramount piece to playing quarterback — he has that 'it factor' in the huddle. Guys in the huddle like playing with him; they like his leadership. He has a unique sense about him to make everybody feel like they're involved — everybody plays better when he's their quarterback.
Click here to listen to the full interview with Rick Neuheisel, including what he had to say about how rookie quarterbacks adjust to the NFL and if he would spend the Broncos' big bucks on Kirk Cousins, or listen to the podcast below.
Catch Afternoon Drive with Goodman and Shapiro every weekday from 4p-6p on Mile High Sports AM 1340 | FM 104.7 or stream live any time for the best local coverage of Colorado sports from Denver's biggest sports talk lineup. Download the all-new free Mile High Sports Radio mobile app for Apple or Android.