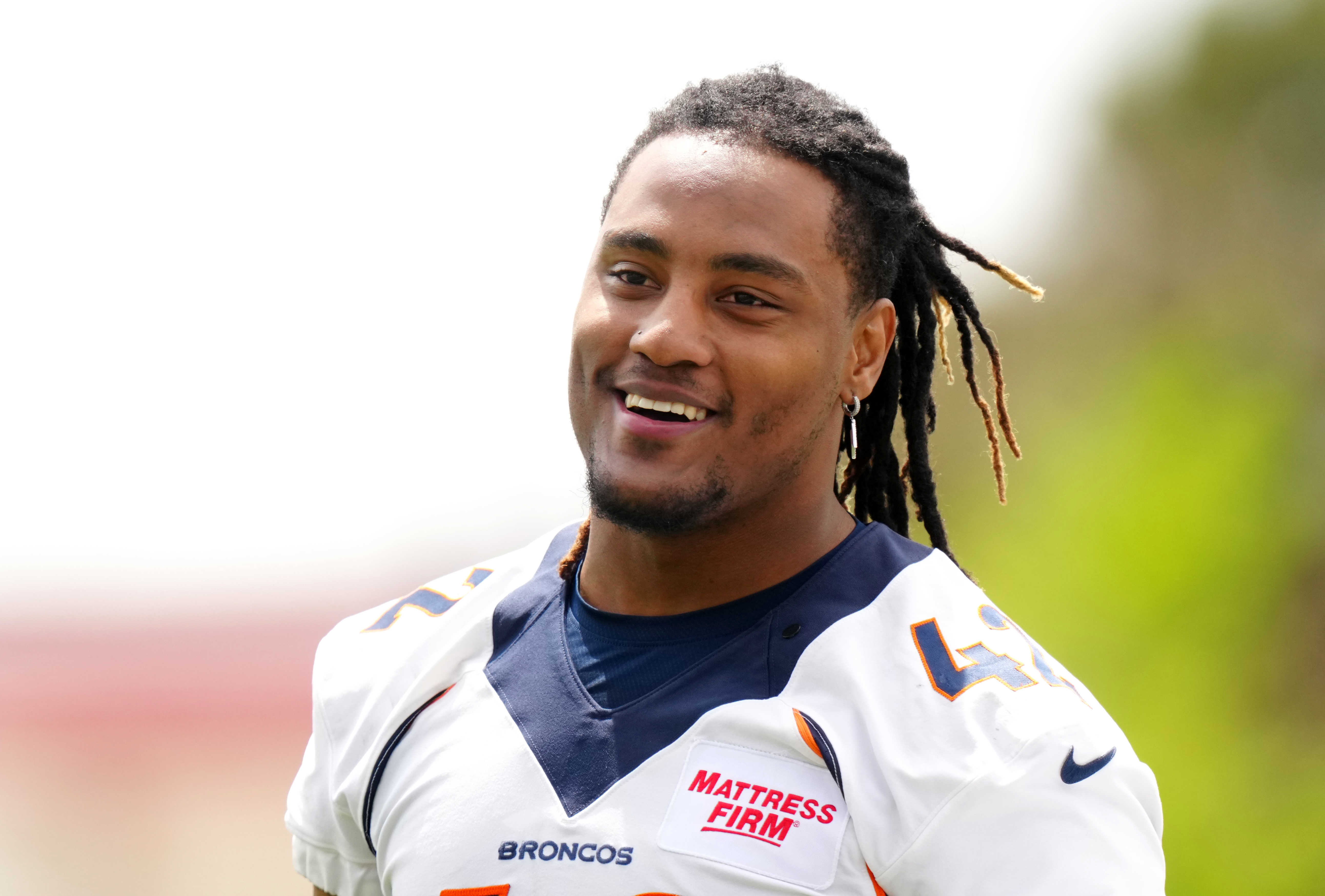 Two weeks of training camp are now in the books for the Denver Broncos, and we're starting to get a better idea of which standout stars we should be entranced by, and which problem areas we should be troubled with.
With that in mind, let's take a look at who the biggest risers and fallers are for the team in this edition of the Denver Broncos Stock Report.
Risers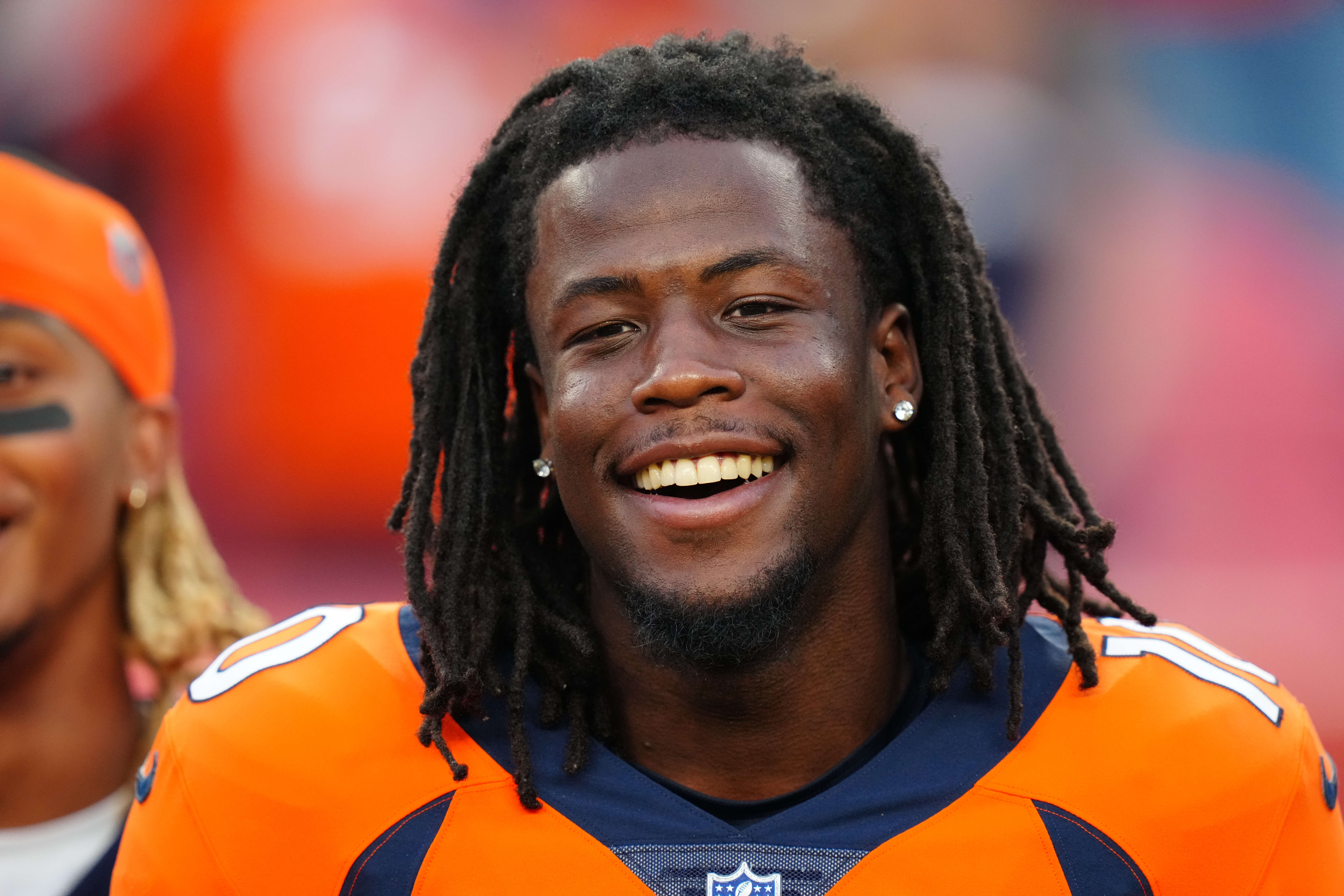 Jerry Jeudy
After facing a silly amount of criticism despite a strong training camp, Jerry Jeudy turned in one of his best performances in orange and blue we've ever seen at Saturday's practice.
He was seemingly unguardable and quickly became one of Russell Wilson's go-to targets for the day, as it felt like he was wide open on practically every single rep he was out there for. In the clip below, you see him dust Essang Bassey with five-plus yards of separation, and although the Broncos haven't released too many more clips of Jeudy from Saturday's practice, you can rest assured knowing that was almost an every-down affair.
IT'S BEAUTIFUL 🤩#BroncosCamp x @jerryjeudy pic.twitter.com/9f4IGiQcI4

— Denver Broncos (@Broncos) August 6, 2022
Jeudy wasn't just bullying Bassey either.
One of his most impressive reps came when he beat Patrick Surtain II on his release off the line of scrimmage and even had a step or two on Surtain as he made a beeline for the endzone. It was only the second time all camp that Surtain was thoroughly beat on a rep, and although he did a good job with his recovery, it would've been a touchdown had Johnson not thrown a terrible pass that sailed harmlessly out of bounds.
If Jeudy can build off that performance, it'll mean big things for Denver's offensive hopes.
Baron Browning, Nik Bonitto & Aaron Patrick
The Broncos' Baron Browning experiment was much-maligned at first, because they were taking a proven quality starter at a shallow position group, and were moving him to a position he hadn't proved he could play at a high level yet.
However, Nathaniel Hackett and Co. must be thumbing their noses at all of us now — and rightfully so — as Browning on the edge has been a revelation throughout camp practices.
Baron Browning continues to be *That Dude* ™️

Shows impressive ability reading the run when the ball is run at him, and his chase down ability when it's run away from him is phenomenal

The burst off the line and bend when rushing the passer is also great

Comp: Tasmanian devil

— Zach Segars (@Zach_Segars) August 5, 2022
Against the pass, he is consistently earning Von Miller comparisons for his rare burst off the line of scrimmage and ability to bend the edge — from the same writers who watched Miller in training camp for 11 seasons.
Against the run, he's shown incredible growth. He consistently puts himself in an excellent position to set the edge, and his ability to chase down plays from the backside is truly special.
It appears the staff presently has him battling Malik Reed to be the first edge rusher off the bench behind Bradley Chubb and Randy Gregory, and that's a battle he should certainly win.
Nik Bonitto should also be climbing up the depth chart in short order after the tremendous camp he's had. Playing opposite of Browning has led to him being outshined, but during Friday's scrimmage period, Bonitto still tallied a bevy of pressures and a couple of sacks.
Bonitto just had a nice rep against Garett Bolles. FLEW into the backfield with his quick first step, and Bolles ultimately recovered and buried him, but the pressure forced a quick checkdown to Boone.

Boone showcased his wheels though, taking it for a MASSIVE gain

— Zach Segars (@Zach_Segars) August 6, 2022
He still has a lot more to prove against the run, but he should thrive as a designated pass-rusher very early in his career.
Last, we need to discuss Aaron Patrick, who was an afterthought for many before camp started, but has quickly emerged as a valuable special teams contributor and solid rotational pass-rusher. Expect him to make the roster.
Damarri Mathis, Faion Hicks & Delarrin Turner-Yell
With the pads coming on this week, Damarri Mathis was absolutely terrific at practice, and consistently looked like the third-best corner out there — trailing only Ronald Darby and Patrick Surtain II, with K'Waun Williams sidelined.
Nathaniel Hackett on Damarri Mathis' remarkable camp (@MileHighSports' @CodyRoarkNFL with the question) pic.twitter.com/eXqnLBhQ3o

— Zach Segars (@Zach_Segars) August 5, 2022
Going back to draft day, everyone knew how talented Damarri Mathis was, thanks to his 9.7 relative athletic score (which translates to him being a 97th-percentile athlete at the cornerback position, maybe the most athletically demanding position in the sport), but what has really stood out so far at camp has been his technical advancement. On Saturday, he put on a 'how to defend the deep ball' clinic, beautifully squeezing receivers out towards the sideline, and beautifully contesting every pass that came his way.
Paton might've done it again, folks.
Faion Hicks also had some great moments in practice on Saturday, though his gorgeous technique on the deep ball was met by an even better rep from Seth Williams, who hauled in the tough contested catch on him, despite near-perfect coverage. The staff has clearly taken notice of Hicks, who has seemingly begun to climb the team's depth chart at nickel-corner. He's definitely a name to watch following Essang Bassey's horrific Saturday.
Last, is Delarrin Turner-Yell, who was largely anonymous through OTAs and much of training camp but had a solid showing during Saturday's practice. On a day where Max Borghi was running rampant through Denver's defense, Turner-Yell was one of the few players that consistently contained him, firing downhill twice for two solid shots.
DTY comes up and pops Borghi after the checkdown

— Zach Segars (@Zach_Segars) August 6, 2022
He has to prove more in coverage, but he should be an excellent special-teamer and plus run-defender as a rookie.
Mike Boone & Max Borghi
Back during OTAs, Borghi was a member of this Denver Broncos roster, but to be honest, he was fairly unimpressive, and it came as no surprise when he was the running back that drew the short straw and was expelled from the roster.
Now, Borghi is back on the Broncos' roster, and it looks like he never should've left. His speed and burst, which seemed lacking during his first stay, were impossible to miss on Saturday, as he tore off multiple long runs around the edge of the defense. Borghi showed excellent prowess operating as a one-cut back in Coach Hackett's scheme. He'd scan for the whole, plant his foot, and charge upfield to pick up solid yardage.
We play a football game in ONE WEEK‼️#BroncosCamp Day 🔟 highlights: pic.twitter.com/HnahAdOIvd

— Denver Broncos (@Broncos) August 6, 2022
A roster spot might be out of the question, but he seems to be passing by Tyreik McAllister as the favorite for a practice squad spot.
Part of the reason stealing a roster spot is probably unrealistic for Borghi, is how good Mike Boone has looked. Boone's fresh legs are like an odd mole on your waiter's forehead — extremely apparent and impossible not to notice, even if no one wants to bring it up.
On Saturday, he took a quick check down from Wilson — which was forced by Browning's pass rush — turned upfield, and quickly took it for a big gain, and arguably a touchdown. That play has been the norm as of late, as Boone refuses to be forgotten in a loaded backfield.
Fallers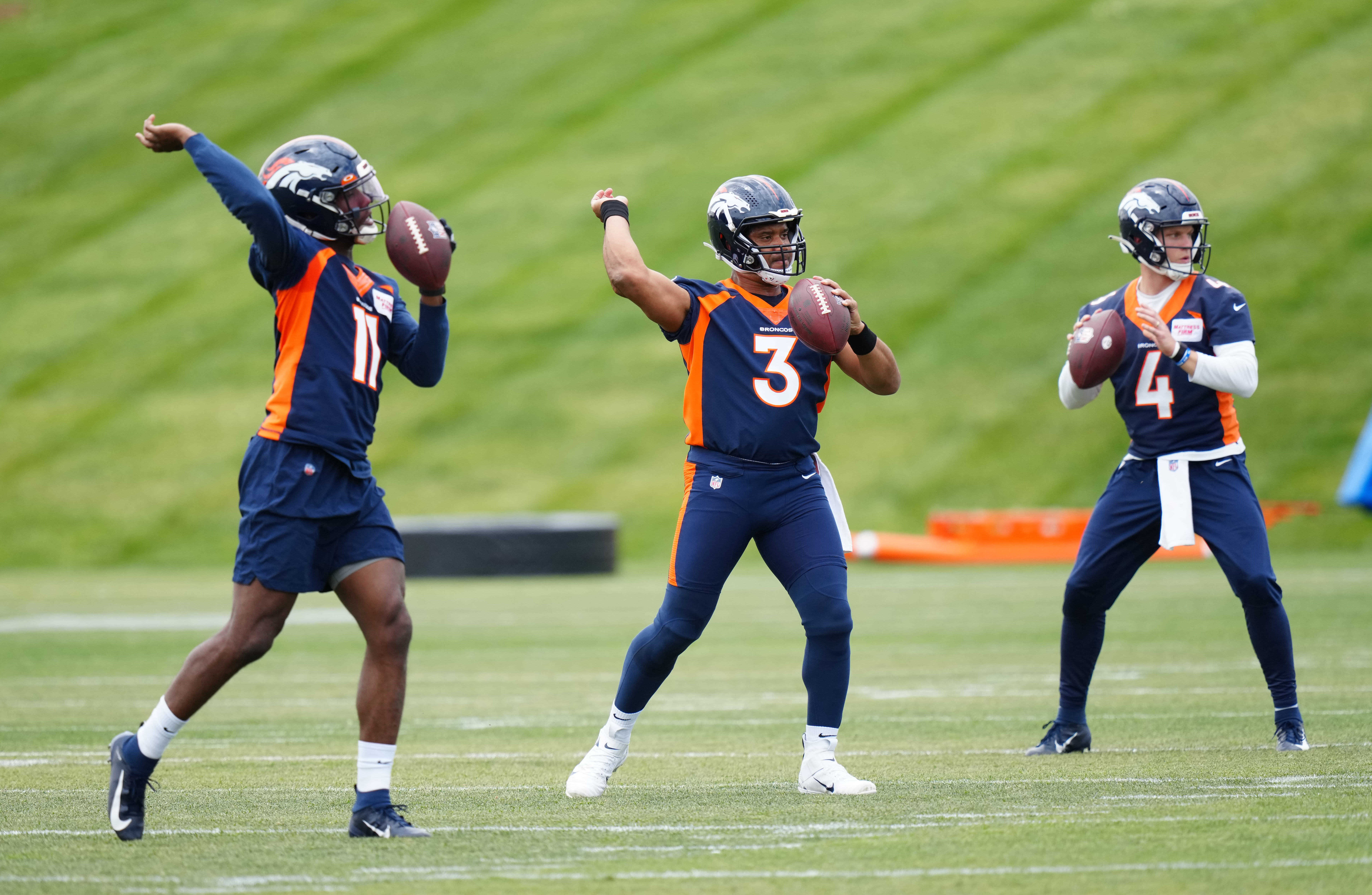 Backup QB situation
Ok, so maybe we will have to talk about the Denver Broncos' quarterback this offseason, but at least it isn't the starting quarterback we're debating.
Now that we're 10 days in, it seems pretty clear that the hiccups weren't just an outlier and that Denver might want to invest in another backup quarterback — despite it arguably being too late in the offseason to do that.
Nonetheless, Johnson has been borderline dreadful, frequently missing open receivers and uncorking squirrely passes that perplex the viewer. Now, he's hit on a few impressive throws, including a beautiful rainbow of a deep ball to Darrius Shepherd for a 60-yard score, but quarterbacks are supposed to be able to hit their target at least some of the time. The problem is the frequency at which he's missing.
Brett Rypien has undeniably been the better of the two so far through camp, but unfortunately for Broncos Country, that has much more to do with Johnson's unstable play than a developmental leap from Rypien.
As it stands now the Broncos are in deep trouble if Wilson misses any time. However, they may be left without a solution, as there doesn't seem to be a better free agent available at this point in the summer.
Essang Bassey, Ja'Quan McMillian & Donnie Lewis Jr.
The Denver Broncos' secondary is absolutely loaded, and the competitions at the back end of that defensive backfield depth chart, have been some of the more fascinating ones to watch so far. That said, it's clear that some have begun to separate out as those that are probably not going to receive a roster spot.
Ja'Quan McMillian and Donnie Lewis Jr. are two of those players.
Lewis Jr. had a number of standout plays during OTAs, but that hasn't carried that over into training camp, and he has tumbled down the depth chart as a result. McMillian is in even greater danger though, as he didn't stand out at training camp, and rather than just being uninspiring, he's been burnt regularly.
Darrius Shepherd just routed up McMillan for a big gain.

Virgil just tore him up a couple reps later on a slant

Then Josh Johnson misses a WIDE OPEN Jerry Jeudy (just sent Bassey to the shadow realm and had 4-5 yards of separation on the go). Over threw him BAD

— Zach Segars (@Zach_Segars) August 6, 2022
Lastly, we need to discuss Essang Bassey, who right now, appears to be the coaching staff's top nickel-corner outside of K'Waun Williams.
That said, he is almost certain to plummet down the depth chart after his Saturday practice. What Jerry Jeudy did to Bassey that day was borderline presidential — in the sense that it was a war crime likely to go unpunished. Jeudy had his best day of practice, hauling in big play after big play, and he was wide open for all of them.
Some of that is a credit to Jeudy's route-running, but Jeudy has been running routes all training camp, and he hasn't had a day quite like that until he was gifted the pleasure of matching up with Bassey so frequently.
While Williams recovers from injury, the Broncos might want to invest in a free agent at nickel-corner or turn to a different on-roster solution.