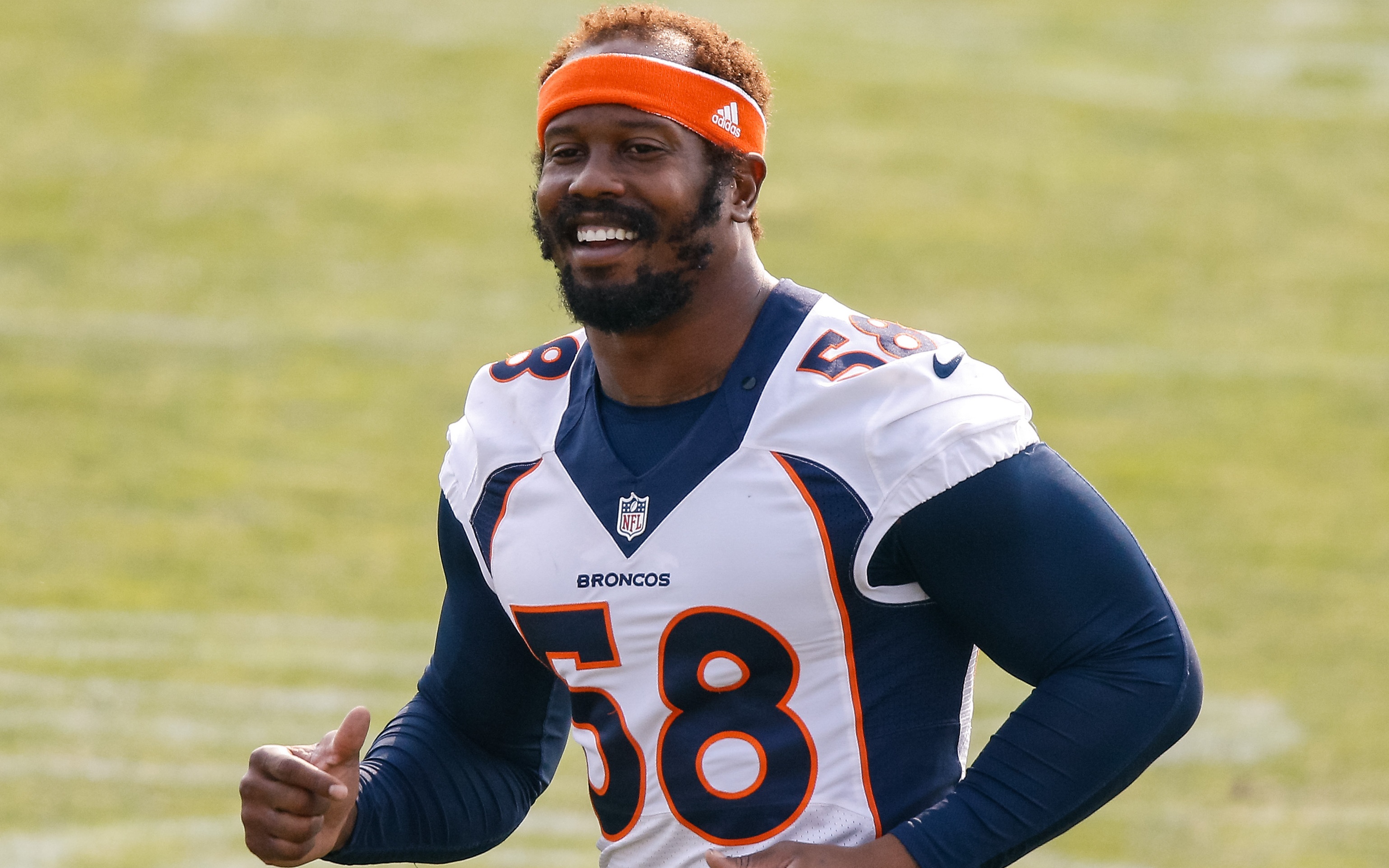 For incoming General Manager George Paton, the current state of the Denver Broncos is a win-lose situation.
The bad news first: He's got a lot of work to do just in terms of managing the team's current roster. Then comes free agency, and the draft rounds out his first go-around as the head man in terms of personnel decisions in Denver.
These next 10 weeks are massive for the Broncos' immediate future.
The good news for Paton is that, with so many contracts up, he has the chance to really mold this team in his image.
And it's not like John Elway is leaving him with a pile of rubbish; these Broncos are a "QB away" according to Michael Lombardi and some others in the local media as well. But that still means Paton has a lot of decisions to make regarding the Broncos' 31 free agents, some 18 of them unrestricted.
So, what should Paton do in terms of the roster as it is? This is his roadmap:
Von Miller
Paton has yet to reach out to either Von Miller or Kareem Jackson per Mike Klis of 9News. They could have started negotiating with both of them last Friday per their team options, and picking it up would guarantee $7 million this year for Miller.
But, if Denver picks up his last-year option, he would be the highest-paid player on the roster yet again, this time as a $22.2 million cap hit as long as he makes the 53-man roster.
What Paton should do is try to get Miller to re-negotiate his deal, stretching it out into say, three years for $35 million. Denver could pay him $12-15M this year and save the rest towards the cap. Plus, it gives Miller a chance to finish his career out in Denver, like he posted on Instagram recently.
Spotrac says Miller's "market value" should be $10.3M this year, and coming off an injury season at 32 years old, hopefully the greatest defender in Denver history will restructure for the good of the team.
Kareem Jackson
Similarly to Miller, Paton should see if the veteran safety will take less than the $12.8M cap hit he's expected to get if his option is picked up. Jackson is 33 years old, but he's also been lights-out as a partner to Justin Simmons.
Last year, Pro Football Focus graded Jackson as the sixth-best safety in the NFL, while Simmons — a rising star — was their eighth-best at the position. Jackson's hard hitting nature blends well with Simmons' ball-hawking abilities; they're arguably the best safety duo in the NFL.
Justin Simmons
The thing is, Denver may choose one or the other on Jackson and Simmons, and if that's the case, Simmons has to be the one they go with. It sounds like the Broncos will franchise tag him for a second straight season in hopes of working out a long-term deal. And while no safety has made $15M per year, Simmons may be the first to do so.
He's racked up nine interceptions the last two years alone, along with 24 passes defensed and 189 tackles. And, he's only 27 years old, meaning he's got 3-4 years of prime abilities still left in the tank.
Simmons should be signed to a 4-year deal; hopefully Paton doesn't have to break the bank on him. But, he may end up being Denver's highest-paid player this year.
Shelby Harris
Harris is the last of the key group of defenders the team needs to keep together to retain their borderline dominance.
Look, Denver didn't have Von Miller a single snap last year and dealt with a ton of injuries, but they were still a solid unit thanks to Harris, Bradley Chubb, Simmons, Jackson and more.
Harris is huge in the middle because he does a little bit of everything. He can get after the quarterback, with 8 QB hits and 2.5 sacks this year, which is better-than-average production from the interior of the defensive line. And when he doesn't get to the quarterback, Harris knows just when to throw his hands in the air, wave them like he just don't care and bat down the football. He's enjoyed 16 of those the last two years in Denver and 23 in his career.
The Broncos were able to bring him back on a one-year deal last season, and it would be nice to see him get something in the neighborhood of a 3-year contract this time around.
Phillip Lindsay
He's not a defender, and he is a restricted free agent. So, the Broncos should be able to bring the hometown stud back. Spotrac calls his "market value" $10M per year, but Denver should be able to keep him in orange and blue for a lot less than that.
The rest
Tim Patrick is another offensive player Paton should bring back, and be able to do so for around $1 million per year. Jeremiah Attaochu really came on late last year, earning four sacks in the last five games of the year, and if they can get him for around $2M per, they should.
Alexander Johnson played for a mere $615k last season but has been one of Denver's best defenders recently. He's due for a big-time raise, but he's also an RFA, and our Zach Segars said the team should put a first-round tender on him.
Denver's already cut A.J. Bouye to save $11.6M and they will likely cut Jurrell Casey to save another $11.8M this year. Currently, Denver has $39.46 million in cap space to work with, and that could top $50M by releasing Casey.
Paton has a ton of money to work with, and if he does it right, Denver's defense will keep their most important pieces at least for 2021. Then, he'll have plenty of money to pay a big-time quarterback if, say, Dak Prescott becomes a free agent or the Broncos trade for Deshaun Watson.