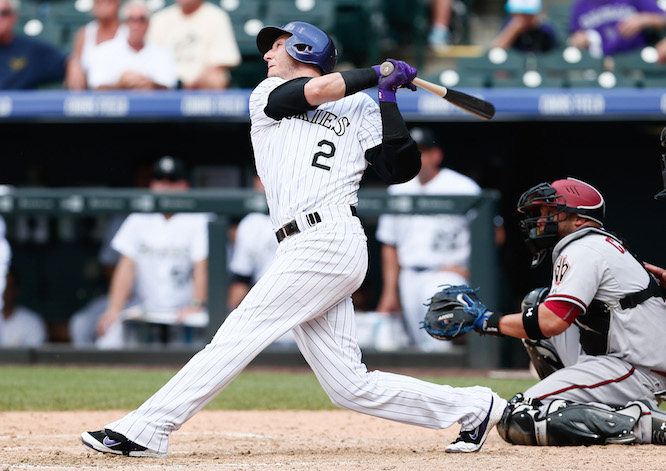 Terrell Davis is probably the closest thing.
Fans of the Broncos were robbed of what could have been. Oh, we got plenty of magic in just four seasons (the final three were more tragic than magic); those four were so good they catapulted him all the way to Canton. But four was far from enough. What if TD had been healthy for all seven? Or 15, like Emmitt Smith?
What if Troy Tulowitzki would have been healthy?
Ever.
Tulowitzki played 13 seasons (in total) and only eclipsed the 140 games-played mark three times. He surpassed 25 home runs just four times, despite being one of the best power-hitting shortstops of all time*.
*If only…
Who knows what could have been if Tulowitzki was healthy? We were robbed.
And that goes far beyond statistics. Sadly, one of the most likeable Rockies off all time departed on a sour note – and plenty of it was his own fault, too. Instead of being celebrated like Todd Helton (who was banged up by the end, too), Tulowitzki was more or less asked not to let the door hit him in the backside. By the end, not only was he plagued by injury, but he was grouchy, angry, frustrated.
Can you really blame him?
Somewhere along the line, the fun-loving, fist-pumping, miracle-making rookie (and yes, he should have been the 2007 Rookie of the Year, unquestionably should have been the Gold Glove winner that year, too), stopped having fun. Somewhere along the way, the phrase "plays the game the right way" became his downfall. "Plays the right way" became a job and not a game. "Serious" defined him. He once played with a smile that was contagious. But that smile slowly turned upside down; instead he played with an intensity that wasn't. He attempted to lead with that same intensity, and it worked with some and probably not with others. The Rockies – as were led by Tulo – seemed like a team that didn't enjoy coming to the ballpark every day.
And as much as anyone who loved to watch him go deep into the hole and make miraculous throws from what seemed like Lakewood to Commerce City – just in time for the out – hates to say it, he earned a reputation for being "un-clutch." Sure, we can recall a few big hits; but we can remember plenty of big moments that ultimately were too big.
Terrell Davis, by contrast, grinned from start to finish. Nobody cared if he was a leader or not – he just looked like he loved what he was doing so damn much, that was all the leadership anyone needed. Was there ever an instance where the press wrote one negative thing about TD? Was there ever a time when cameras caught him doing anything but smiling (or running someone over)?
With both Tulowitzki and Davis, we weren't the only ones robbed.
Davis was robbed of historically great numbers (although he still managed to earn plenty of them) and a third or fourth Super Bowl (perhaps). Tulowitzki was robbed of hits and homers and unthinkable flashes of leather. He probably wasn't robbed of titles – the Rockies have never quite shown they're capable – or was he?
Tulowitzki was robbed in different ways than Davis.
The Broncos running back played with multiple Hall of Famers. Tulowitzki played with none. Whether Davis was healthy or not, the Broncos never left the cupboard bare – there was always talent in Denver, so long as Pat Bowlen and Mike Shanahan were running the show, and the goal was to win it all (which it always is). If Shanahan had the luxury of the game's best running back for a few more years, the Broncos would have – without a doubt – done everything they could have to surround him with a title-worthy roster.
But for Tulowitzki – outside of 2007-09 – did the Rockies ever surround him with "enough"? Sure, there were some nice players who played alongside No. 2, but realistically, there was rarely (if ever) a pitching staff remotely worthy of a title run. The tandem of Matt Holliday and Tulowitzki was over in the blink of an eye. The Rockies have written some big checks of late, but when Tulowitzki played in purple, too much of the team's dough went to an aging Todd Helton and Tulo himself. Carlos Gonzalez played roughly three seasons of his prime with Tulowitzki, but neither were given much help when playing together. The Rockies never broke the bank during free agency, nor did they hook any whales near the trade deadline when the team was in contention. Outside of 2007, it never felt like any of Tulowitzki's teams had a real shot.
Then again, can you blame the Rockies? Would you go all in when your best player is always one random incident from (another) season-ending injury?
Come to think of it, the Rockies, who were wise enough to draft the ultra-talented shortstop from Cal State Long Beach, were robbed, too.
The career of Terrel Davis is tragic in many ways. But it's remembered in only the most positive light.
The career of Troy Tulowitzki is tragic, and highlighted by that darn asterisk – if only…
And what a shame.
Feels like everyone got robbed.