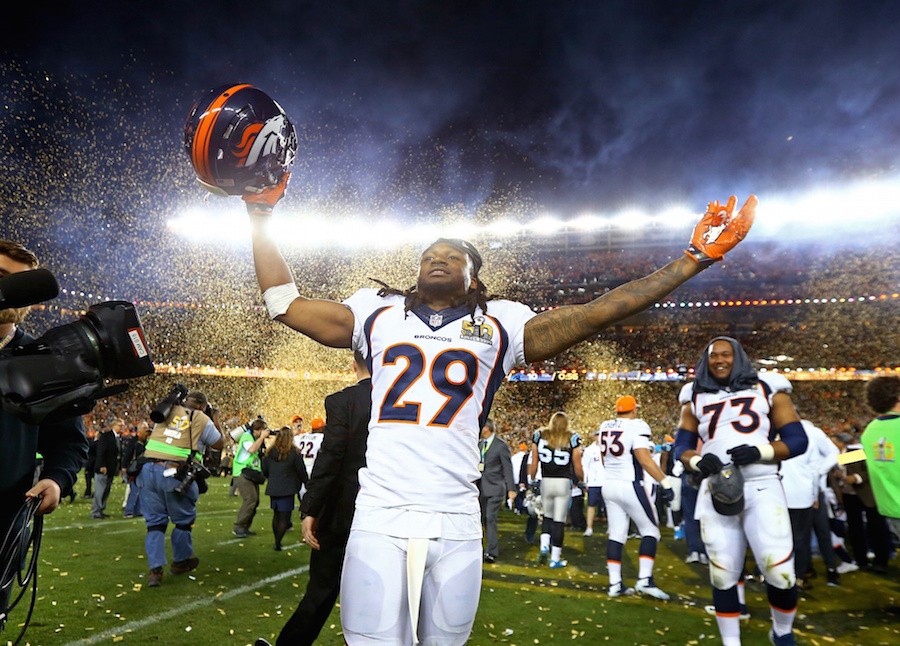 On February 7, 2016, the Denver Broncos ascended once more to the NFL's summit with a dominant, 24-10 victory over the Carolina Panthers in Super Bowl 50.Cornerback Bradley
Roby, then in his second season with the Broncos, had two tackles in the title game, and took some time to join Eric Goodman and Les Shapiro of Mile High Sports AM 1340 | FM 104.7 to reflect on the two-year anniversary of the Broncos' third Super Bowl championship.
"I just remember pre-game; I remember running out of that field and seeing so many celebrities out on that field, and it was a beautiful day and a beautiful stadium in San Fran — in Levi's Stadium, I believe it's called — I just soaked it all in," Roby said. "I just remember the visual… I remember seeing the interviews on the sidelines, and I just thought, 'Wow, I'm in the Super Bowl."
"And then winning; having the confetti drop down and all that, having my family on the field with me — it was just a beautiful time."
Delving deeper into Roby's memories of the game itself, he suggested that the defense know that they had MVP Cam Newton and the Panthers right where they wanted them. "That… drive when they fumbled," Roby recalled. Von Miller had stripped the ball from Newton deep in Carolina territory, where Malik Jackson eventually rolled on top of it in the end zone for a Broncos' touchdown. "When we did that, I knew the game was over."
"I just knew they weren't going to be able to match our intensity the whole game."
Click here to listen to the full interview with Bradley Roby, including more of his memories of Super Bowl 50, as well as his thoughts on teammate's Aqib Talib's current situation with the Broncos, or listen to the podcast below.
Catch Afternoon Drive with Goodman and Shapiro every weekday from 4p-6p on Mile High Sports AM 1340 | FM 104.7 or stream live any time for the best local coverage of Colorado sports from Denver's biggest sports talk lineup. Download the all-new free Mile High Sports Radio mobile app for Apple or Android.