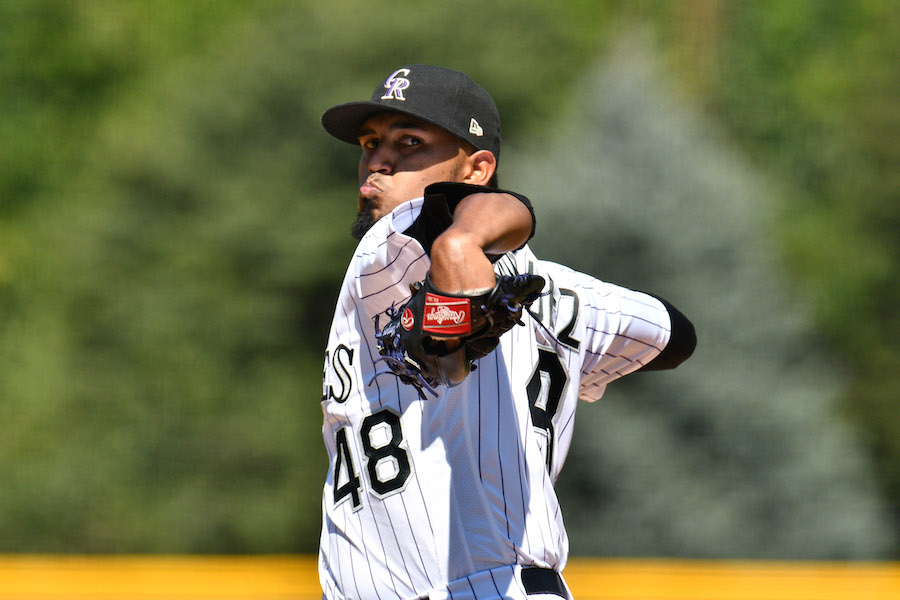 The Colorado Rockies on Opening Day 2017 got the chance to see if their $7 million gamble would pay off.
It started to, right there in Game No. 1 in Milwaukee.
Greg Holland, himself, was taking a gamble signing with the Rockies of all teams after missing the entire year prior recovering from Tommy John surgery.
The former Royals All-Star closer issued a leadoff walk there at Miller Park before earning his first of 41 saves on the season, tying a Rockies franchise record.
The gamble paid off for both sides. The Rockies, backed largely by a performance that earned Holland his third career All-Star nod, made the postseason for the first time since 2009. Holland earned his $6 million base for 2017 (he was guaranteed $7 million overall) plus an additional $7 million in incentives and met the benchmarks that allowed him to opt out of the second year of his contract, which he did.
The hot stove market played a cold trick on Holland, though. The right-hander not only chose not to exercise a player option that would have paid him a $15 million base in 2018 with $8 million in available in incentives, he also walked away from a qualifying offer of $17.4 million from Colorado this offseason. Holland wound up settling for a one-year deal with the Cardinals for just $14 million — a deal that was not struck until Opening Day of the 2018 regular season.
The Rockies, for their part, had to wait longer than that to see their big investment from the 2018 offseason pay dividends.
Wade Davis this offseason signed the biggest contract ever given to a relief pitcher (by yearly average), $52 million over three years, replacing Holland at the back end of Manager Bud Black's bullpen.
Two games into the 2017 season, Holland already had two saves to his credit.
Two games into 2018, Davis had yet to throw a pitch for the Rockies.
***
The preceding tale is a cautionary one. Not to relief pitchers who overvalue their worth, but to Rockies fans who are anxious to see their team take the leap from Wild Card qualifiers to legitimate National League West (and thus NL pennant) contenders.
The Rockies this offseason invested more than $100 million in the bullpen, with more than half of it going to Davis. Free agents Bryan Shaw and Jake McGee each netted $27-million deals. That trio, combined with Chris Rusin, Mike Dunn, Adam Ottavino and Scott Oberg, gives Colorado — at least on paper — one of the best bullpens in the National League.
There is no need to qualify just how good Colorado's offense and defense is. They're as good on the field as they are on paper. The starting lineup boasts… A pair of top-5 finishers in MVP voting last year (Nolan Arenado and Charlie Blackmon) who also won Silver Slugger awards; three multiple-time Gold Glove winners (Arenado, Carlos Gonzalez, DJ LeMahieu and Gerardo Parra); three former batting champions (Blackmon, LeMahieu and Gonzalez); and 12 total All-Star appearances (Arenado, 3; Blackmon, 2; Ian Desmond, 2; LeMahieu, 2; Gonzalez, 3). There are more accolades to catalog, but those aren't the point of this cautionary tale.
The point is this: For as great as the Rockies' lineup will be this year, and for as great as the bullpen should be this year, it could all be undone if the starting pitching doesn't deliver.
Just like it didn't deliver in the first two games of the season.
Paying one of the best closers in the game top dollar is all well and good, but he has to have the ball in his hands with the opportunity to do his job.
Colorado in 2018 is betting on a group of five starting pitchers with a combined 79 major league wins to their credit. Even when Antonio Senzatela and Jeff Hoffman, who won 10 and 6 games as rookies last year, respectively, are included, Colorado's top seven pitchers do not have a combined 100 MLB victories. Their manager, by comparison, has 121.
A bettor in Vegas might put everything on red or black at the roulette wheel. The Rockies are all-in on green.
The front office and coaching staffs at 20th and Blake are fiercely optimistic about this pitching staff. Not just the now very wealthy members of the bullpen, but the young starters as well.
That entire group is the subject of this month's cover story in Mile High Sports Magazine, "Built from the Mound Up" by Doug Ottewill.
His feature dives into the sea change that has occurred at 20th and Blake under Jeff Bridich, with big nods to pitching coaches Steve Foster and Darren Holmes. For the first time in possibly franchise history the Rockies have a pitching plan that might actually float. But will it set sail fast enough?
The Rockies' Opening Day rotation is young. The average age is just 26.20. The top seven starters in the organization average 25.66 years old.
Colorado this offseason chose not to chase free-agent pitchers, from big names like Jake Arrieta to quality starters like Alex Cobb to one-year rentals like Lance Lynn. Perhaps they believe they can always add a starter at the trade deadline if needed.
They added reliever Pat Neshek last year for a reasonable price and the move paid dividends. But starters often come at a higher price — both short- and long-term.
Black has routinely bristled at the notion of calling 26-year-old No. 1 starter Jon Gray an "ace." His logic proved quite founded in each of Gray's last two starts — a disastrous outing against the Diamondbacks in the 2017 NL Wild Card Game, and much of the same against those same D-Backs on Opening Day 2018.
Tyler Anderson, 28, started Game 2 this year in Arizona and didn't make it out of inning three. Anderson showed sparks of greatness in both 2016 and 2017, but has been unable to keep the candle lit for long stretches.
Gray and Anderson have to do more for the Rockies in 2018 than they did in 2017 (10 and 6 wins, respectively). And more than raw numbers, they need to come up big in big games.
Chad Bettis, 28 and coming off a year in which he beat cancer, is the heart and soul of the staff, but at some point Black will need arms, too.
Second-year starters Kyle Freeland, 24, and German Marquez, 23, offer plenty of hope, having tied for the team lead in wins (11) in 2017, but leaning on such inexperience can be risky. The same holds true for Senzatela, 23, and Hoffman, 25, both who figure to contribute this year but are on watch for stamina/health reasons.
Colorado last year made the playoffs on the back of surprising performances from the seven pitchers mentioned above. Rookies started more than half of Colorado's 162 games last season, winning 38 times. Here in 2018, they're not going to surprise anyone.
Gray and Anderson have proven, at times, they can be a dangerous 1-2 punch atop the rotation. Now they have to do it not just at times but most of the time. The same is true with Bettis.
The pressure is on these young pitchers to deliver.
***
Davis did finally take the ball for the Rockies in Game 3 of the 2018 season, striking out two batters and earning his first save for Colorado.
Marquez pitched 5.0 innings in the game and did not allow an earned run.
Rusin, Shaw and McGee each pitched a scoreless inning. Shaw earned the win and McGee registered a hold.
Blackmon hit a pair of solo home runs in the 2-1 victory.
Three games in, Bridich and Co. finally started to see the return on their investment.
Investing $100 million in the bullpen is a fine approach, assuming those pitchers get the ball with the lead.
The Rockies are gambling that a group of 20-somethings can do just that.
A gamble paid off last year. But this one feels much, much bigger.