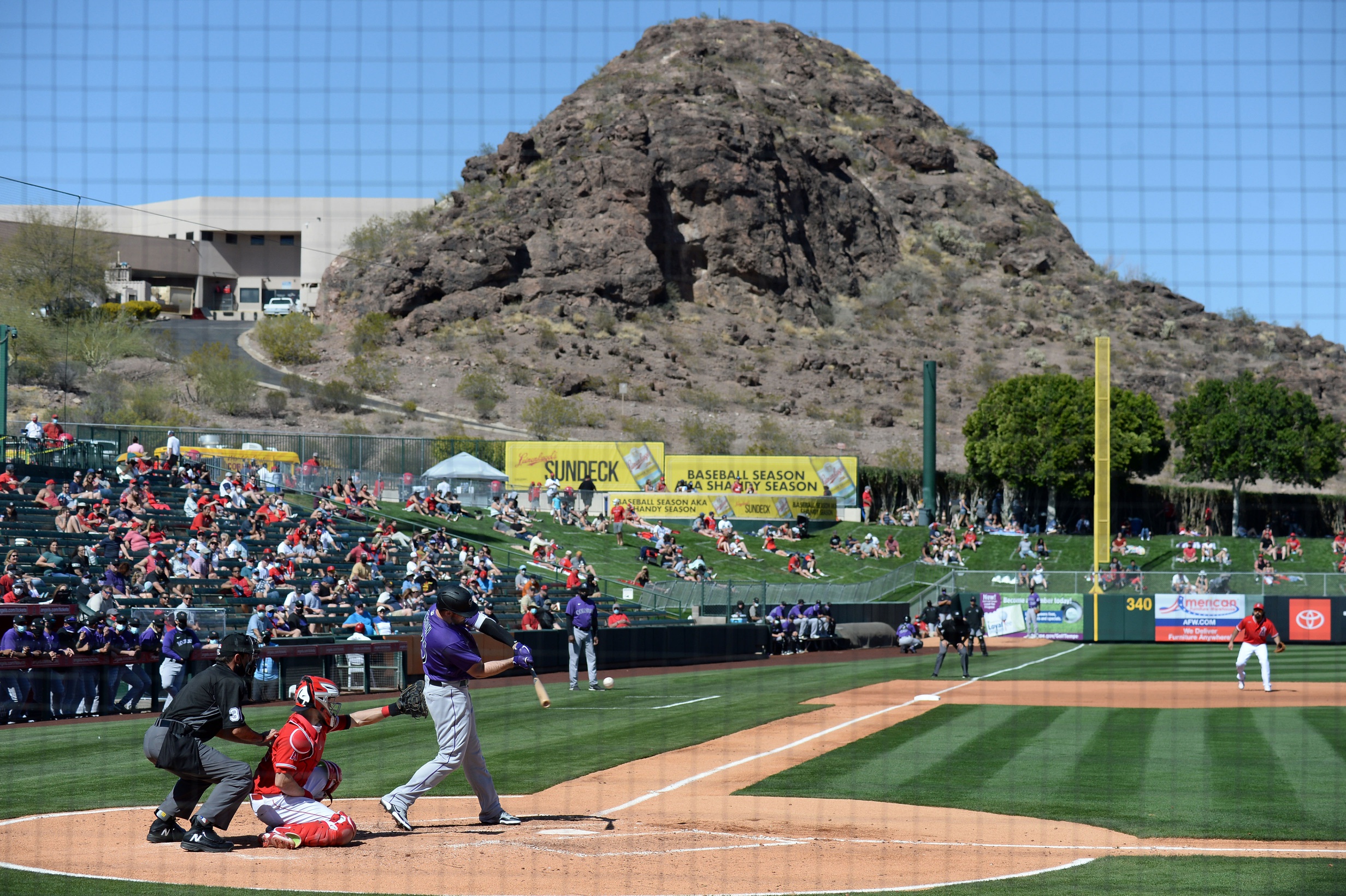 The Colorado Rockies have officially entered the Cron Zone.
The club has purchased the contract of veteran first baseman C.J. Cron, along with utility infielder Chris Owings, further clearing up their Opening Day roster picture. The Rockies also optioned 40-man roster players Phillip Diehl and Antonio Santos to Triple-A, and reassigned pitchers Brian Gonzalez, Ryan Rolison, and Chad Smith, as well as outfielder Jameson Hannah, to minor league camp.
Cron, 31, has had an excellent spring, posting a .324/.375/.676 line with three homers while consistently making hard contact over the course of 40 plate appearances. Cron slugged .548 in 52 plate appearances for the Detroit Tigers in 2020 and owns a career .257/.312/.464 batting line.
Owings has performed well in Cactus League play, too, amassing five extra base hits as part of a .267/.324/.600 line. He appeared in 17 games for the Rockies last season prior to suffering a season-ending injury on Aug. 19. Owings hit .268/.318/.439 while seeing time at six different positions.
Of the players on the Rockies' 40-man roster, 30 remain in big league camp. Colroado also still has 10 non-roster invitees with the major league spring training group, including roster hopefuls Chi Chi González, Greg Bird, and Connor Joe. Trimming the roster down to 26 should be fairly easy for the Rockies from here, but there are a few areas of difficulty.
Brendan Rodgers will start the season on the injured list, so that takes care of one of the 30 rostered players. Colton Welker, who has not played above Double-A, is not likely to make the jump to the majors at this point. From there, the Rockies would have to make tough decisions on the likes of outfielder Yonathan Daza (out of options) and reliever Jordan Sheffield (a Rule 5 pick who would have to be returned to the Los Angeles Dodgers if not kept on the 26-man roster). They also must decide whether relievers Ben Bowden and Lucas Gilbreath are ready for the majors; if one or both fit the bill, Colorado might have to cut bait with established arms such as Jairo Díaz or Carlos Estévez.
None of that, of course, accounts for the likes of the aformentioned González, Bird, and Joe. All three can be optioned to the minors should the Rockies choose to do so. Joe is the most intriguing of the three in terms of potential relative to recent performance; the 28-year-old outfielder and first baseman is hitting .360/.515/.800 with three homers and a pair of doubles in 33 plate appearances this spring. The last time he played any meaningful baseball prior to the 2021 Cactus League slate, Joe posted a .300/.426/.503 line at Triple-A Oklahoma City.
It's worth noting that once the season starts, the Rockies will have the option of carrying a taxi squad of up to five players, at least one of whom must be a catcher, on road trips. That's where some of the veteran players currently on the fringes of the big league roster could come into play.