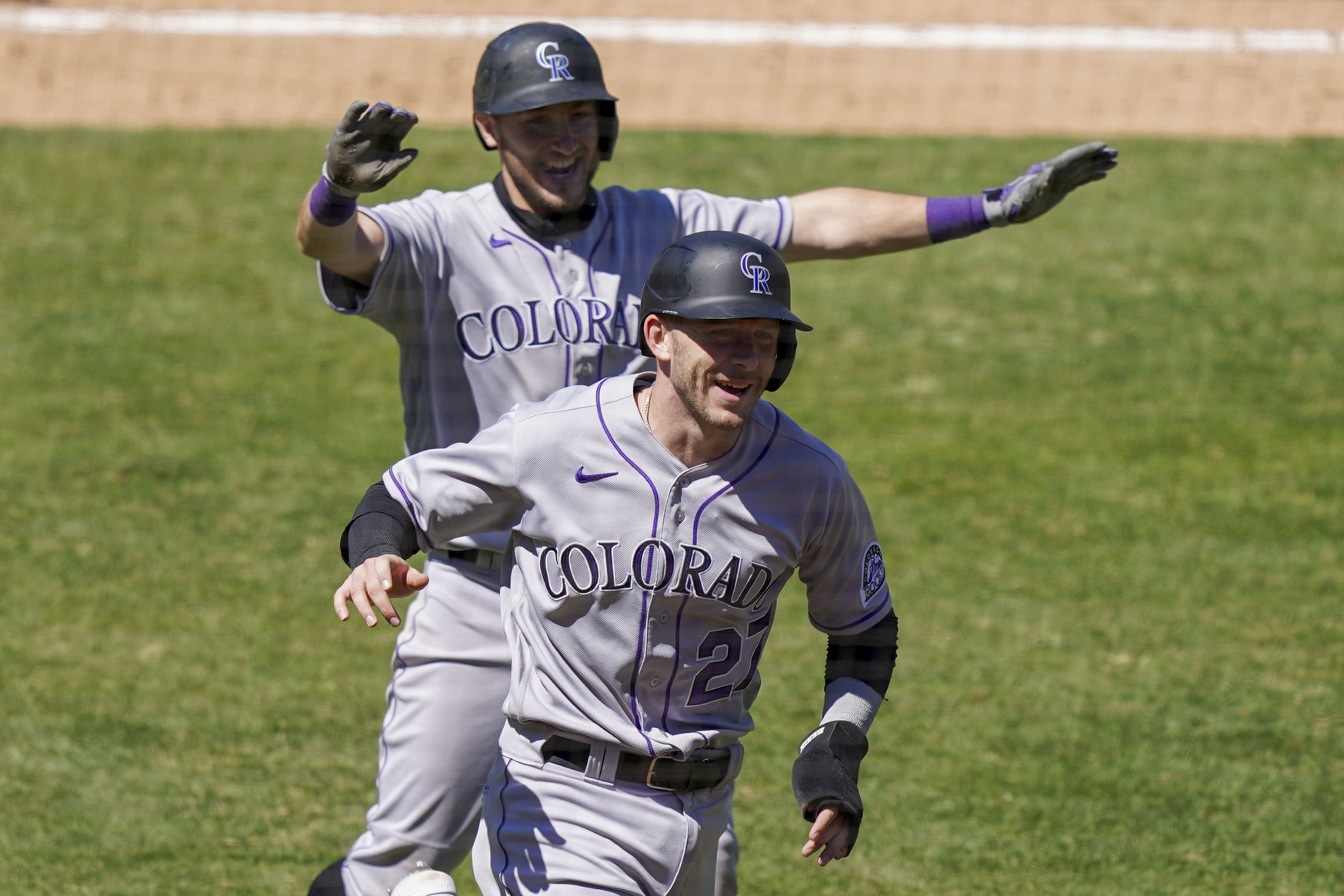 Things certainly are different in 2020.
The Colorado Rockies continued their torrid start to the season on the mound and picked up the pace offensively en route to beating the Oakland A's, 8-3 on Tuesday and 5-1 on Wednesday, to complete a two-game sweep in a stellar, complete road performance against a team that reached the playoffs in each of the past two seasons.
The previously much-maligned Colorado bullpen, which allowed just one run during the three-game series in Texas, again surrendered just a single tally on the scoreboard in seven innings of work in Oakland. The collective ERA of the Rockies' relief corps sits at 1.08, which, as of this writing, is the best mark in all of baseball. A big reason for the success of the Rockies' bullpen has to do with the mix of fastball velocity and command of secondary offerings. Three of the five relievers (Carlos Estévez, Daniel Bard, and Jairo Díaz) who appeared in the two-game series for the Rockies averaged better than 95 mph on their fastballs; Tyler Kinley, at 94.9 mph, wasn't far behind. And Estévez and Díaz, in particular, were able to mix in well-timed—and well-placed—breaking balls in hitters counts on multiple occasions to help them through their innings.
The Rockies' starters in this series deserve heavy praise, as well. Germán Márquez was dominant in his second start of the season, striking out eight batters while allowing just one run—a first-inning homer off the bat of All-Star Matt Chapman—on four hits and a walk in six innings of work. Márquez pounded the zone, throwing 66 strikes as opposed to just 29 balls, and used his slider extremely effectively to complement at fastball that averaged 95.8 mph; the Rockies' ace induced swinging strikes on a third of the sliders he threw. Márquez was especially good against Ramon Laureano, owner of a .412/.500/.647 line entering the game. Laureano struck out three times—all swings and misses on sliders—against Márquez, who owns a 1.54 ERA through two starts. That performance came a day after Antonio Senzatela struggled with efficiency but ultimately helped his team win by limiting the A's to two runs in five innings. When Senzatela was aggressive—which he's fully capable doing successfully, particularly with an uptick in velocity and improved secondary offerings, at least if you ask the Rockies' coaching staff—he was good. But he threw more than 30 pitches in the first inning and scuffled again in the third as a result of nibbling around the fringes of the strike zone. But all in all, Senzatela recovered well and finished with the exact type of "good enough" start that he's become known for over the years.
The Rockies' offense, as was not the case in Texas, showed up to support the rolling pitching staff—especially in Game 1 of the series, when Colorado batters managed 15 hard-hit balls (batted ball events that exceed 95 mph in exit velocity). The likes of David Dahl and Tony Wolters didn't have a ton to show for their quality contact, but Sam Hilliard, who entered the series without a hit, homered and doubled to lead the Rockies. Game 2 was a little bit of a different story; the Rockies plated five runs as a result of timely hitting more than anything. Charlie Blackmon provided the biggest blow on a ninth-inning comebacker that was mishandled by A's reliever Jesús Luzardo and resulted in a pair of runs to turn the Rockies' two-run lead into a four-run advantage. But earlier in the game, Wolters came a few feet from a hitting a grand slam, instead settling for a 368-foot single. It was the eighth of 13 balls put into play by Wolters in 2020 that qualifies as hard-hit, a sign that the Rockies' perennially light-hitting catcher is making some strides at the plate to couple with his generally strong work behind it.
Of course, not all is completely well with the 4-1 Rockies—now the full-season equivalent of roughly 11-3—as they return to Denver for their 2020 home opener against the San Diego Padres at Coors Field on Friday. Not a single one of the team's regulars owns a batting average of higher than Trevor Story's .278, and Blackmon, Nolan Arenado, Ryan McMahon, and Daniel Murphy—players who will be depended upon heavily to contribute to or, in some cases, carry the offense—all have an OPS of under .600 through the first five games of the season. Coors Field should help that, but it also might put a few dings in a pitching staff that has been nothing short of sterling to this point, so it will be of great importance for the Rockies to find a balance against a rapidly improving Padres team who will be battling Colorado for first place in the NL West. At the end of July. Who would've guessed that?
2020 is wild.