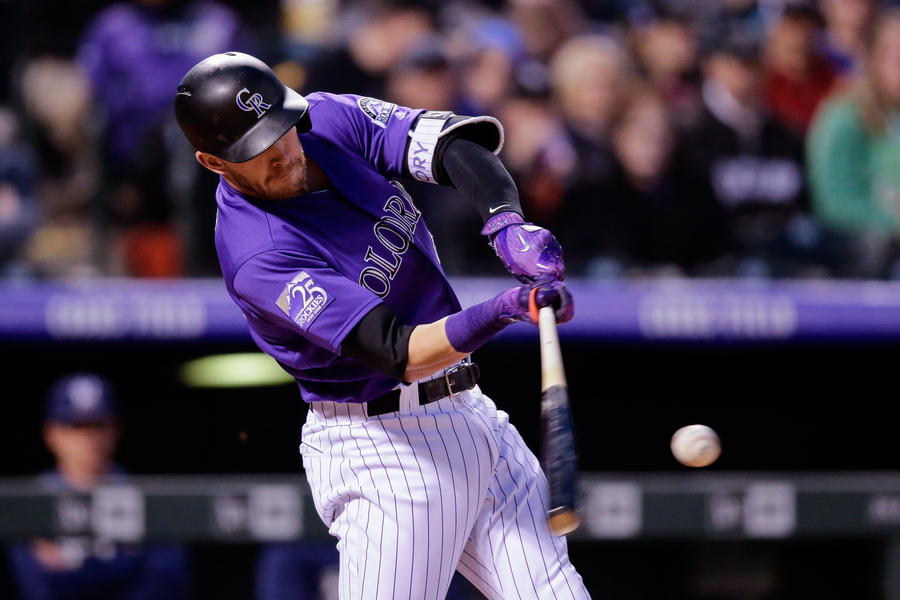 Colorado has now won four out of their last five games, and they aren't looking to slow down. The Rockies come into Wednesday's game at 30-25 and are looking to sweep the Giants, who have to consider Coors Field a house of horrors. Colorado has now won 12 out of their last 13 games at Coors Field against the Giants, and lately, the bats are getting it done.
The Rockies are now 4-1 on their nine-game home stand and could pad their lead for first place in the NL West with a sweep. Perhaps even more importantly, Colorado has now had a season-best fourth straight night of nine-plus hits.
The offense has finally started to break out for the Rockies, and with the offensive firepower that they have, this shouldn't come as a surprise. The Rockies have mainly won games thanks to their pitching this season, but that's changed during this home stand. Colorado has now scored more than five runs in five straight games, their longest stretch of the season.
First baseman Ian Desmond, whose atrocious start has earned him jeers from the crowd, has shown signs of breaking out of his slump. Desmond went 2-for-5 Tuesday night, and he's hitting .286 since May 18. A solid contribution from Desmond the rest of the way would be huge for Colorado's playoff aspirations.
Desmond hasn't been the only one contributing of late. Outfielder David Dahl hit his first career pinch-hit home run on Tuesday; his sixth hit in the last five days. Dahl's driven in six during that same span, and has proven that he deserves to be in the starting lineup everyday.
Trevor Story has been spectacular against the Giants, including three hits, one home run, and four RBI in this series. Now batting .240 with 11 homers, 39 RBI, and eight steals, Story find himself in the NL's top five in RBI with 39.
Nolan Arenado has continued to be the Rockies' most productive hitter this season, and with six hits, two home runs, and five RBI on the home stand, Arenado may be putting together a career-year – which is saying something.
Last but not least, over his last three games, outfielder Carlos Gonzalez has been on fire; hitting .615 with a homer and three RBI. If Gonzalez's swing has returned to form, then look out – the Rockies' offense could become a run-creating monster.