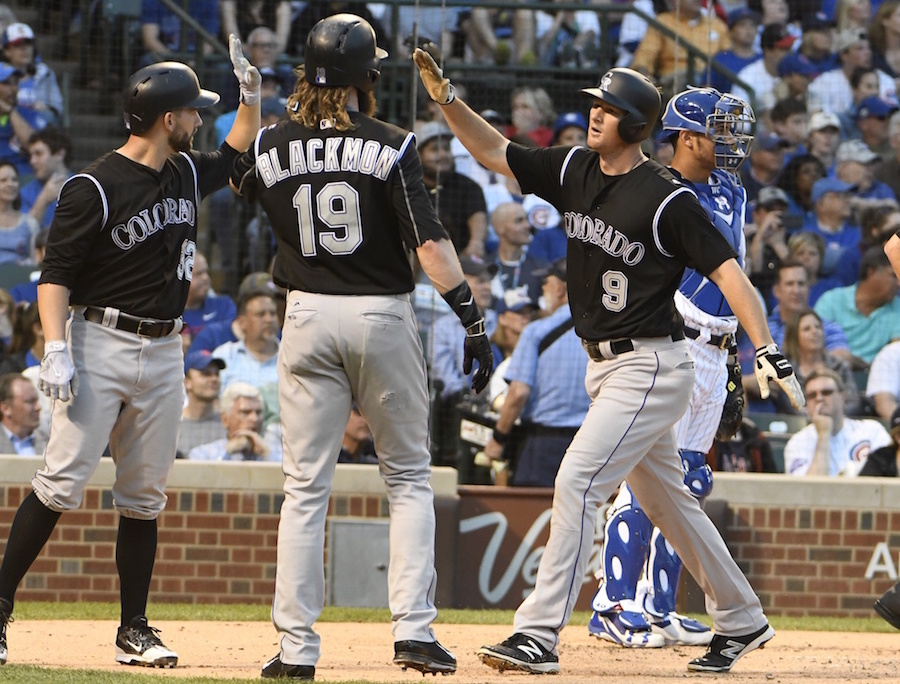 The Colorado Rockies had to dig deep to earn their season-high fifth consecutive win on Friday night at Wrigley Field. From starting pitcher Tyler Chatwood to closer Greg Holland and every position player in between, taking game one of a four-game series with the Chicago Cubs required a gutsy effort on all fronts. But the Rockies were able to bear down and keep the 'W' from flying with a 4-1 victory, their 39th of the year.
Chatwood put the Rockies in an early hole in the bottom of the first inning when he allowed a solo home run to Kris Bryant. That was all he would allow Chicago to do on offense, however, limiting the Cubs to just three more hits over his six innings pitched. Chatwood walked two and struck out four to improve his record on the season to 6-7 and drop his ERA to 4.37. Scott Oberg allowed a leadoff single in the seventh, but induced a double-play to get out of the trouble. Jake McGee worked a perfect eighth, but Greg Holland was not so fortunate in the ninth. After walking Anthony Rizzo on four pitches to open the inning, Holland fell behind 3-1 on his old teammate Ben Zobrist. Holland dug deep, however, and forced a lineout to center followed by a pair of ground outs to earn his 22nd save on the season. In total, Colorado pitchers forced 16 ground ball outs.
Playing from behind in the second inning, Colorado rallied with two outs to score all of their runs. With the bases empty, Tony Wolters hit an infield single to get the rally going. Tyler Chatwood followed that up with a single of his own off John Lester. Charlie Blackmon double home Wolters before DJ LeMahieu had the big hit of the game. LeMahieu drove a 2-1 fastball into the basket in right-center field to cap a four-run, two-out rally. It was all the offense Colorado would produce, but all they would need.
With the win, Colorado set a new mark on the season for most consecutive wins with five straight. It's a bit of a surprise that total is just five for the team that leads the National League in wins. Three of those wins have come against the participants in last year's World Series, Chicago and Cleveland. Colorado can extend the win streak on Friday afternoon. German Marquez (4-3, 4.53 ERA) gets the start for Colorado. Mike Montgomery (0-3, 2.21 ERA) goes for Chicago. First pitch is 12:20 p.m. MDT.