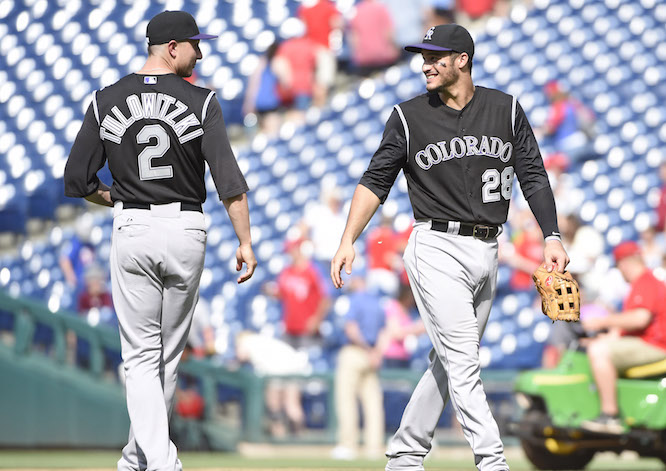 Despite a disappointing first half of the season, the Colorado Rockies did end on a high note, notching the first ever franchise sweep over the Atlanta Braves. The Rockies now head into the latter part of the season hoping for some sort of momentum, still 8.5 games outside a Wild Card spot.
We here at MHS put together a list of the five questions the Rockies need to turn their attention to if they really plan on making some sort of second half comeback. That may be easier said then done for a team below .500 both home and away.
1. Any changes to the starting pitching rotation?
Colorado's offense has performed quite well, with a team on-base percentage of .321 and batting average of .272, but the less-than-mediocre pitching has been the major problem all season. It's no secret the Rockies bullpen has performed sub-par thus far, carrying the second-highest ERA in the league – 5.00 behind only Philadelphia (5.44). Colorado's starting rotation also leads the league in fewest innings pitched of 476 2/3 innings and an NL-low of 334 strikeouts.
Jorge De La Rosa is scheduled to start Friday's 8 p.m. MDT game against the Padres in San Diego. Former Rockies third overall pick in the 2013 draft Jon Gray is expected to make his Major League debut at some point this season. Gray has 49 strikeouts in his last seven starts for Triple-A Albuquerque. Had it not been for a start where he allowed six runs, the 23-year old righty would've had an ERA of 3.34 rather then his current of 4.35.
While Chad Bettis and Chris Rusin have done their best, they're not long-term answers for the middle of the rotation. The Kyle Kendrick experiment has proved to be a disaster, leaving Colorado with few legitimate options outside of De La Rosa. The Rockies may be trying to save Gray a call-up until rosters expand, but they need some kind of shake-up. The offense has been too productive to be continually failed by the pitching staff.
2. Can Rox do anything about their troubles at Coors Field?
The Rockies are 21-24 at 20th and Blake, a record partially salvaged by the four-game sweep of the Braves to end the first half. Even in the last two years when Colorado has struggled, they've maintained a better home record of 45-36 in each of the past two years. We're halfway through the 2015 season and it's shaping up to be another repeat of 2012 when the Rockies had its worst season in franchise history, winning only 35 games at Coors – 64 wins total. Maybe it's the 22 hours and 24 minutes in weather delays Colorado has endured that's playing a role in their home woes, not to mention the four rainouts. They must find a way to win at home if they hope to resurrect the season.
3. Are there any trades on the horizon amid mid-season struggles?
Troy Tulowitzki and Carlos Gonzales would likely generate the most interested trade partners, both having posted big numbers over their careers (though they come with major contracts). Tulowitzki is signed with Colorado through 2020 and Gonzales until 2017, but history tells us the Rockies will need a king's ransom (see Matt Holliday) to make a deal happen. Other players that could be on the trading block are closer John Axford and first baseman/catcher Wilin Rosario. Axford has been stellar this year and could bolster a bullpen. The emergence of Ben Paulsen makes Rosario expendable and the Baby Bull's big bat could attract some suitors.
4. Can Walt Weiss bring them together?
Individually, Colorado has very talented players in Tulo, CarGo, Nolan Arenado and D.J. LeMahieu, but there seems to be something lacking in how the team gels in-game. If anyone, the blame should be put squarely on Weiss. It has been reported that Weiss has had communication issues with his All-Star shortstop. If Weiss is able to generate a better relationship with standout players, that will eventually show on the field. Until then, having a winning record is out of sight for the men in purple.
5. Can the Rox shake the injury bug?
Much of the Rockies collapse in the last two years have been because of injuries. Tulo and CarGo each had season-ending injuries last year and more recently have they began to get back into the swing of things. This season, starting pitchers Jordan Lyles and Tyler Chatwood, closer Adam Ottavino, outfielder Corey Dickerson and first baseman Justin Morneau have all been hurt. Dickerson is the closet said to return, coming off a plantar fasciitis injury, but has no specific timetable when that will be. Lyles and Chatwood are both finished for the year and Morneau might be back towards the end of the season, but what good will he be at that point? Even though they haven't seen major stars go down as in years past, injuries certainly haven't helped Colorado yet again.
If the Rockies have any hopes of playoff contention, making a change in the pitching rotation is the least they can do.
After the three-game series against the Padres, the Rockies will play the Rangers beginning July 20 at Coors Field.
---
Mike Tolbert, a Mile High Sports intern and MSU-Denver student, contributed to this report
---