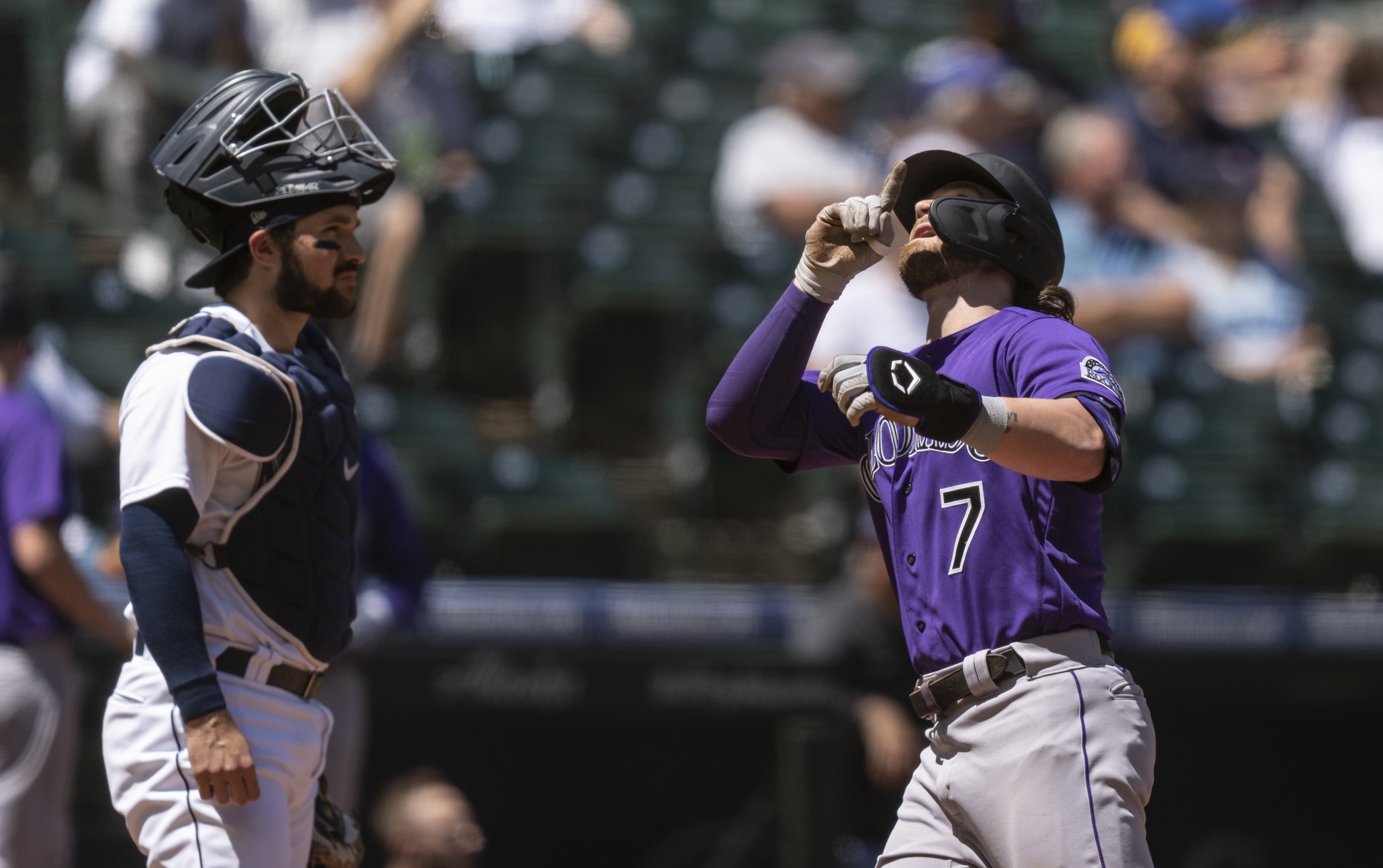 The Colorado Rockies split a two-game road series against the Seattle Mariners, but the result feels like a gigantic win.
Starting pitchers Kyle Freeland and Germán Márquez combined to allow just two runs in 14 innings of work, and the Rockies got just enough offense behind them to lead the team to its first non-losing road series of the season. The Rockies, now 6-28 on the road in 2021, had gone 1-2 or worse in each of their previous 10 series away from Coors Field.
Colorado's offense sputtered on Tuesday, coming up with just one run—a solo homer off the bat of C.J. Cron—on four hits in a 2-1 loss. That was despite the best outing of the season from Kyle Freeland, who struck out seven batters in six innings of one-run ball, allowing just five hits and a walk. Freeland, who has struggled to find the zone with any sort of consistency this season, threw 60 of 92 pitches for strikes but still found himself positioned for a loss upon his exit. Cron's homer tied it up in the top of the seventh, but Tyler Kinley served up a solo shot to Shed Long Jr. in the bottom of the eighth that sealed the game for Seattle.
The Rockies benefitted from the long ball to a much larger degree on Wednesday, getting two homers from Trevor Story and another from Brendan Rodgers en route to a 5-2 victory. What felt like an offensive onslaught given the Rockies' road performance in the category to this point in the season backed up a gem from Márquez, who allowed just a run on two hits while striking out seven in eight innings. Márquez was perfect through 5 1/3 frames before surrendering a solo homer to Taylor Trammell.
Still, even what feels like a big win for the Rockies didn't come without some bad news. Raimel Tapia, who entered Wednesday with an 18-game hitting streak, went 0-for-4 with a walk, failing to get a hit for the first time since June 1.
Trending up
Brendan Rodgers went 3-for-7 with a triple and a two-run homer in the series. The 24-year-old infielder is making the most of what is his first real stretch of consistent playing time as a big leaguer. Rodgers is hitting .316/.375/.614 with four homers over his last 64 plate appearances spanning 18 games—15 of which were starts.
Trending down
Joshua Fuentes wasn't the only Rockies player to go without a hit in Seattle, but after finishing the series 0-for-7 with four strikeouts, the infielder is hitting just .152/.170/.217 in 47 plate appearances over his last 15 games. Fuentes is developing into a notoriously streaky hitter whose stretches of success are usually fueled by unsustainable luck on balls in play. He doesn't walk much—just twice this month, compared to 16 strikeouts—and he doesn't hit for enough power to make up for it. Those things make for some rough stretches, kind of like the one he's in the midst of now.
What's next
The Rockies stay on the road for a three-game weekend set against the Milwaukee Brewers, against whom Colorado managed a split last wekeend at Coors Field. Jon Gray, Antonio Senzatela, and Chi Chi Gonzalez will take the mound as the Rockies shoot for their first road series win of the season.