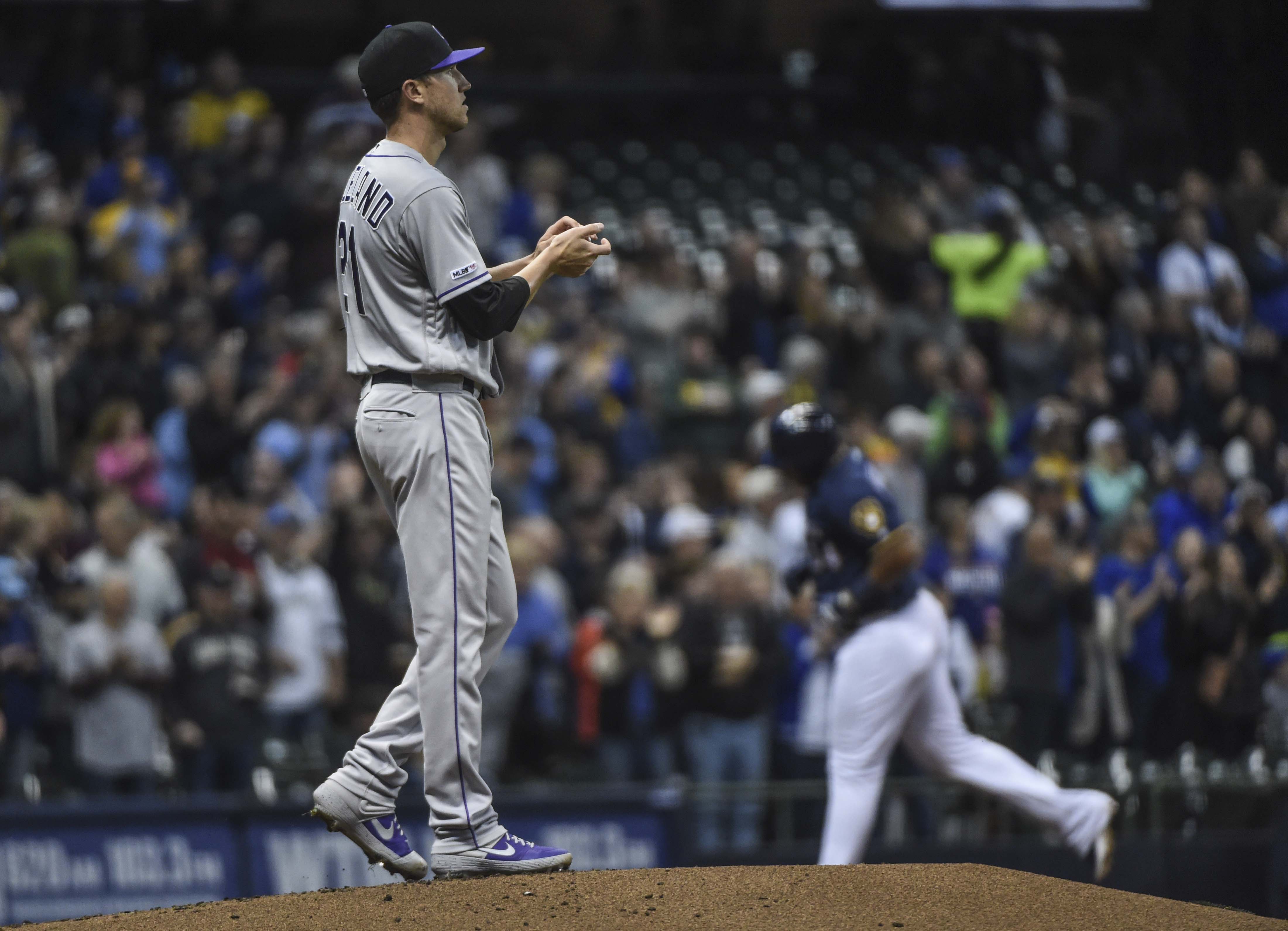 On the flight from Atlanta, the Colorado Rockies packed their best leather, leaving their streaking bats behind. As a result, they fell 5-1 in the opening contest of a three-game set against the Milwaukee Brewers.
The matchup was an opportunity for revenge for the visitors who fell in a sweep at the hands of the Brewers in last year's National League Division Series. Without their superstar, Christian Yelich, the latter still continued their groove at the plate.
Ahead are takeaways from the Rockies' latest transgression.
Freeland battered in first start back
Kyle Freeland's year, his blister notwithstanding, has been one with several pains. After a 2.85 earned run average to show for his efforts last year, his tally has jumped to 4.81 thus far in his latest season with the club.
Following a 10-day injured list stint, Freeland was activated prior to the Rockies' latest game, replacing DJ Johnson on the active roster.
In his sixth start of the year, Freeland struggled from the game's onset, failing to yield his typical pinpoint control. In the end, he allowed five earned runs across six innings, striking out three.
Of the 26 batters he faced, 10 were able to barrel a ball with an exit velocity over 95 miles per hour. 
On the bright side, in typical "bulldog" fashion, he was able to get the final 10 batters of his start out. The final stretch allowed him to outlast opposing starter Zach Davies and conserve the club's bullpen in the process.
Given a golden opportunity, bats fall flat
Many words could be used to describe the pitching of the Brewers so far, but effective isn't one of them.
Before holding the Rockies to only a single run, they'd allowed teams to strike to the tune of a 5.16 ERA, the second-worst rate in the National League. The starting rotation's mark had been even worse at 5.55, fourth-worst in the entire league.
While Freeland was able to break up the no-hitter on a bunt single, Charlie Blackmon, Trevor Story and Nolan Arenado combined to go 0-for-12.
The offense's woes came despite entering the contest on a hot streak.
In their last six games, Bud Black's lineup had produced 45 runs en route to a pair of series wins over the Washington Nationals and Atlanta Braves.
The team will chalk it up as an off day. Taking advantage of Davies who had struggled to the tune of a 6.10 ERA in two prior starts against the Rockies was likely a more favorable outcome.
Aguilar entered cold, left with a heat stroke
If a pundit was tasked with picking a player of the night prior to Monday, Jesus Aguilar would've been a high-risk choice. He turned his struggles to triumphs on the heels of an 0-for-15 streak. 
Prior to their latest meeting, Freeland's nemesis on the Brewers was Aguilar. Already 2-for-5 against the southpaw, he added a pair of home runs to his resume.
In trouble already in the first frame, Freeland hung a slider, allowing Aguilar to take a ball out to centerfield, setting the hosts up with an early 3-0 lead. He added to his outburst with an opposite-field shot on a changeup that failed to sink far enough, expanding the club's lead to 5-0.
The multi-homer effort was the sixth of the slugger's career and ended his 73 at-bat streak without a long ball to begin the 2019 campaign.
Rockies compose a personal highlight reel
On ESPN's SportsCenter, the top-10 plays are a chance for athletes to show off their gifts to a national audience. The Rockies attempted to make quick work for the staff in Bristol.
First, it was Ryan McMahon robbing Lorenzo Cain of a hit on a ball hit 108.8 miles per hour:
"No chance, that's what you got." – McMahon pic.twitter.com/gWSspE01qC

— MLB (@MLB) April 30, 2019
Per Statcast, the same ball has produced a .770 batting average across the league.
Not to be outdone, Ian Desmond laid out to rob Yasmani Grandal in centerfield:
Come on Yasmani, don't you know Ian Desmond is out there in CF! See if the #rockies can comeback from a 5-0 deficit on @ATTSportsNetRM pic.twitter.com/Cis1LOBrBc

— AT&T SportsNet™ | RM (@ATTSportsNetRM) April 30, 2019
Both Story and Daniel Murphy were able to make spectacular catches as well, with Murphy's in the form of a diving effort to his left, Story a leaping grab to his right.
The bevy of plays were further examples of a Rockies team that has thrived in the field for multiple years. Ironically, McMahon, Desmond and Murphy are all occupying different positions than they were originally drafted to play. The former was originally a third baseman, while Desmond and Murphy were slated to occupy shortstop and second base respectively.