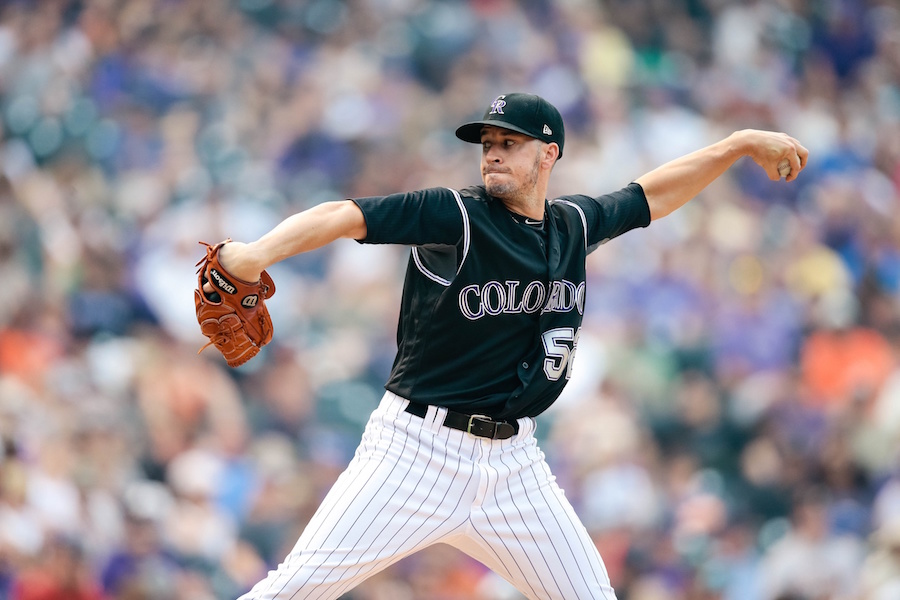 The Colorado Rockies' negotiating squad was in high gear as the club announced on Friday that it had agreed to one-year deals with four different players to avoid arbitration.
News broke early Friday morning that the Rockies and Charlie Blackmon shook hands on a $14-million one-year deal. In the afternoon, it came out that they had agreed to a deal with DJ LeMahieu worth $8.5 million.
The club also officially announced on Friday that it had agreed to terms with starting pitcher Chad Bettis and relief pitcher Chris Rusin, both on one-year deals. (News of Rusin's deal first came out Thursday).
Rusin will reportedly earn $1.28 million and Bettis will earn $2 million, according to USA Today's Bob Nightengale.
Bettis, 28, made nine starts for the Rockies in 2017 after recovering from a testicular cancer diagnosis received in the offseason, going 2-4 with a 5.05 ERA (46.1 IP, 26 ER), 11 walks and 30 strikeouts. He made his first start of the season on Aug. 14 vs. Atlanta and tossed seven shutout innings with six hits, no walks and two strikeouts in a 3-0 Rockies win. His performance in 2017 earned him MLB honors and our Comeback Athlete of the Year.
Originally selected by the Rockies in the second round of the 2012 First-Year Player draft, the Lubbock, Tex., native has gone 25-23 with a 5.01 ERA (416.2 IP, 232 ER), 142 walks and 309 strikeouts in 98 career appearances, 69 starts, with Colorado (2013-17).
Rusin, 31, went 5-1 with two saves, a 2.65 ERA (85.0 IP, 25 ER), 19 walks and 71 strikeouts across 60 appearances for the Rockies in 2017, leading the National League with 85.0 innings pitched out of the bullpen. In 84 appearances as a reliever with the Rockies since 2015, Rusin has gone 8-2 with a 2.50 ERA (137.0 IP, 38 ER), the lowest ERA by a reliever in franchise history (min. 135.0 IP).